Finding your perfect resort in the Mamanuca Islands

The Mamanuca Islands is a cluster of 32 small to medium sized islands visible off the coast from Nadi International Airport. It's close proximity, dream-like weather, beautiful beaches and snorkelling lagoons along with some of the best island resorts in Fiji make this the most popular region for a holiday and rooms are usually booked out several months in advance during the high season of June to September.
Please view our recommended Mamanuca hotels from the links below for detailed information including room interior photos and independent reviews.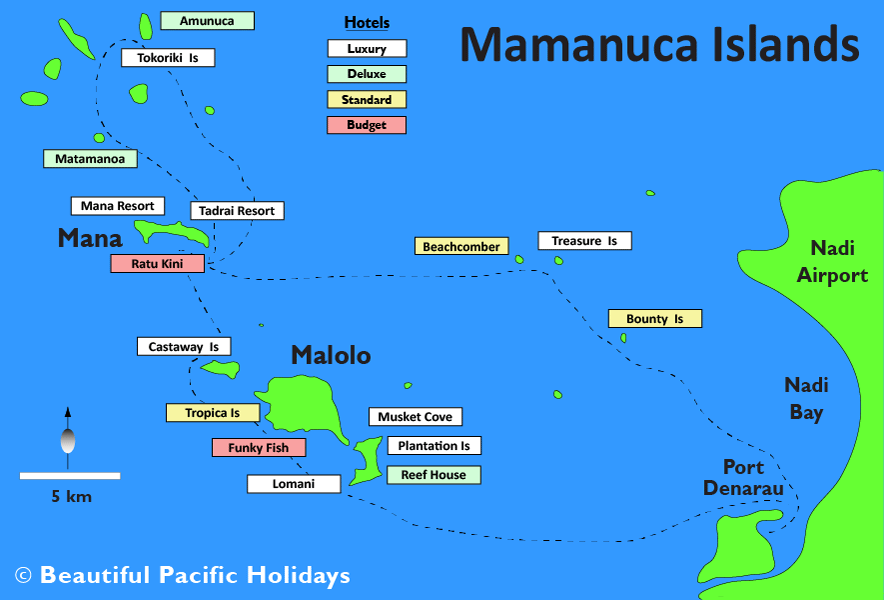 Mamanuca Islands Hotels Overview
Most hotels in the Mamanucas are on small islands and cut-off from the outside world - only Malolo and Mana have more than one accommodation and independent restaurants to explore.
Can't find what you're looking for?
View our comprehensive
Fiji Islands Accommodation Directory
Mamanuca Islands Travel Information
South Sea Cruises operate a passenger ferry from Port Denarau in Nadi four times a day serving all island resorts on a circuit and taking between 25-minutes and 2-hours to reach. The journey itself is a great sightseeing cruise and some hop aboard just for the views. If you arrive in Fiji outside of the schedule and want to head straight out to the islands, you can hire a water taxi from either Port Denarau or Vuda Marina and these will get you to your resort within an hour. For the ultimate arrival consider a seaplane or helicopter which give you fantastic views of the islands along the way, or if you have a small group you can charter a light aircraft from Nadi Airport to Mana and Malolo Lailai (Plantation, Musket Cove, Lomani).
Find out more about Travel to the Mamanuca Islands