Easter Island Holiday Planner

What's Unique About Easter Island?
Easter Island is famed the world over for its enigmatic stone heads, or Moai, which were carved hundreds of years ago. These heads are representations of ancestor gods, and are found all over the island, on sacred platforms called Ahu. Many mysteries and controversies surround both the Moai and their makers; the vast majority of tourism is driven by Easter Island's murky past, which is marred by slavery, natural disaster, and internal conflict – the last led to the toppling of many of the Moai.
Where is Easter Island?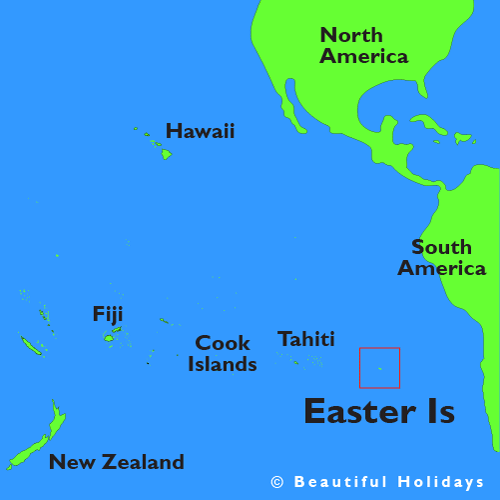 Easter Island Travel Guide

Easter Island (Rapa Nui in Polynesian) is one of the most remote inhabited islands in the world. A special territory of Chile, Easter Island is famous for its 887 statues called moai created by the early Rapanui people. It's one of those places that everyone has heard of, and hardly anyone has considered as a holiday destination … but it has a fascinating history and some amazing historical and architectural sites to explore. Aside from seeing first-hand the monolithic moai statues you learned about in school, you can spend time leisurely exploring the massive volcanoes, endless network of caves, and lava tunnels that make up this fascinating island. It's a place of survival and loss, and of revival and renewal.
Easter Island is one of the most unique lands you will ever encounter; the whole island is like an open air archaeological museum filled with relics and ruins from a lost culture. There are fascinating lava formations, deep volcanic craters, beaches, clear deep-blue waters, and about 1,000 archaeological sites with more than 4,000 catalogued petroglyphs.
Ahu Tongariki is the best place to see Moai – damaged by war and a tsunami, these status were restored to their original glory in the 1990s, and can now be seen as they were originally intended. Runa Raraku is another notable sight. This quarry, located in a volcanic crater, is where were the statues were carved from; some partially finished Moai remain here, abandoned by craftsmen centuries ago. Rano Kau is another enormous volcanic crater, noted for its natural beauty. It has its own micro-climate, and bottom contains a lake. The village of Orongo is also the centre of the strange rituals related to the Birdman Cult, which replaced ancestor-worship and statue making. You can see Birdman paintings and carvings at the excellent visitor centre, as well as around the area.
Exploring the many caves on Rapa Nui and neighbouring Motu Nui should be on everyone's must-do list, but be aware there are tiny crawl spaces and narrow openings with what were likely ambush points hundreds of years ago – make sure you have a torch and backup batteries, without light it can get dark as pitch and it would be easy to get lost. It is important to be aware that although it is free to observe and photograph the monoliths that formerly guarded the people of Easter Island, they are actually more fragile than they appear, so do not touch them. Many Moai are located on ancient ceremonial platforms and burial grounds called "Ahu". Please, do not walk on the Ahu! This is considered extremely disrespectful (even if others are doing it).
Hanga Roa, the island's largest town and port, is the main centre for accommodation and restaurants on the island. You can buy souvenirs at the shop here, as well as at the island's market. Ahu Vinapa is located near the airport, and is another mysterious Easter Island; archaeologists have long argued about the significance of the ruins. If you want to relax, head for one of the island's two sandy beaches, or rent diving or snorkelling equipment. You may also want to explore the island's extensive and deep cave system, although be careful you don't get lost!
Easter Island is a paradise of sandy beaches and fantastic dive spots. Sit on a balmy beach surrounded by a lush coconut tree forest, then hop in the water and enjoy the sights underwater. About a kilometer south of the island are the islets Motu Iti and Motu Nui, sites of the Bird Man culture that followed the Ancestor culture (from which the maio came) and popular scuba and snorkelling dive spots. The locals will be happy to direct you to the various sites on their island; they are some of the nicest people in the South Pacific.
You can hire a quad bike or mountain bike, or hike into the fascinating interior to see more ancient sights. In the evening, kick back and enjoy a pisco, the local tipple
Easter Island Travel Information
Easter Island is a very out-of-the-way holiday destination, but there are regular flights from Tahiti and Santiago. Mataveri International Airport (also called Isla de Pascua Airport) is the most remote airport in the world, located 3760 km from Santiago, Chile and Lima, Peru. It's at Hanga Roa on Easter Island. Flights are available via Lan Chile to Easter Island from Santiago, Chile and Papeete, Tahiti. With no competition, flight costs range from 285AUD to 950 AUD. For something completely different and quite authentic, the tall ship the Soren Larsen sails from New Zealand to Easter Island once a year; the trip takes 35 days. For ground transportation, there are rental cars and jeeps at a few rental agencies in Hanga Roa, as well as a few dirt bikes and motor scooters.
Easter Islands Accommodation

There is a wide selection of hotels on Easter Island available, with opportunities of staying in a private home being a great way to experience the local culture.