Holiday Planner

What's Unique About Wallis & Futuna?
One of the world's least known countries and one you've probably never even heard of, Wallis & Futuna is a Polynesian French island territory in the South Pacific, about two-thirds of the way to New Zealand from Hawaii, somewhat near Fiji and Samoa. As part of France they have all the benefits of colonization – like new cars and satellite TV – without losing any of their traditions, cultures, or privacy – and that's exactly how they like it. With airfare and the cost of living quite high there, they really don't go after tourist dollars, making this tiny country an amazing, unspoilt holiday destination … if you have the means.
Wallis & Futuna
Where in the South Pacific?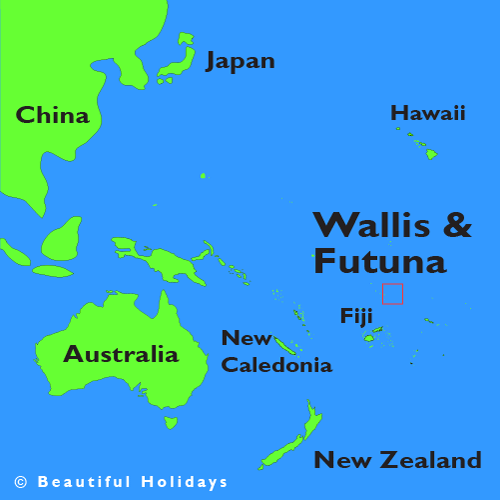 Wallis & Futuna Accommodation
There are a few small hotels in Mata-Utu on Wallis but otherwise accomodation is scarce

Wallis & Futuna Travel Guide
The islands of Wallis and Futuna make up an obscure French colony, roughly in the middle of Polynesia. The locals seem quite happy to be largely unknown by the outside world, and largely have the beaches and lagoons all to themselves. There's virtually no tourist infrastructure apart from a handful of hotels and restaurants on each of the main islands. Enjoy snorkelling, walking the peaceful coastline, and visiting the handful of historical and inland sights. Wallis and Futuna would make a great destination for couples, or for yachties seeking empty harbours in half-forgotten lands.
Wallis and Futuna consider themselves as very different islands with the only thing unifying the two being French rule. The residents of both islands keep to the old ways; the chieftains' rule is far more important than that of the French, for instance. Futunans trace their roots to Samoan travellers of long ago, and Wallis' to Tongan.
There are in fact three islands and three kingdoms here – Uvea, Alo, and Sigave, which are still ruled by three kings. The three islands, each a high volcanic mass, sit about 260 km apart: the island of Wallis (the most populous), the island of Futuna, and the uninhabited island of Alofi, plus another 20 uninhabited islets, totalling 274 square kilometers. The story is that the entire population of Alofi was killed and eaten by the (then) cannibals of Futuna in one raid late in the 19th century
Wallis is the administrative capital, and has a larger population – visit here to swim in the lagoon, and visit the surrounding uninhabited islets. Futuna's traditions have remained largely unchanged for thousands of years, and it is still inhabited by two rival kingdoms of Alo and Singave. From Futuna, you can visit Alofi, the neighbouring island with virtually no inhabitants – a 2003 census put the population at 2, and landowners from Futuna occasionally come over to tend to their crops. Futuna did used to support a population, but they must have been pretty bad neighbours – legend has it that they had a bad falling-out with warriors from Futuna, who ate them. Get a boat here to enjoy the peace and quiet of the island. Talietumu is a huge, once-fortified Tongan settlement that was built about AD 1450. In the lovingly refurbished structure you will see a defensive wall surrounded by landscaped lawns, numerous structures, large platforms, and a stockade base. In its heyday, the paved stone roads of the site were reserved solely for the use of the king, whose feet were never allowed to touch ground. Take the time to wander through this ancient archaeological wonder.
Another must-see is Lake Lalolalo, the most amazing of the crater lakes on Wallis. The lake is an almost perfect circle with sheer rocky cliffs that drop 30m into the 80m-deep water. You'll see tropical birds skimming the surface and you'll swear you're dreaming – nothing real could look this incredible. Don't clear any jungle here, it is still tabu; this makes Lake Lalolalo and the surrounding areas some of the best-preserved primal forest you will ever explore and enjoy.
Leava is the capital of Futuna – here you can find supermarkets and a small harbour. There are also a number of small villages dotted around Futuna; speak to locals to find out about traditional island life. Mata-utu in Wallis, the colony's capital, has a cathedral and the King's Palace, a striking colonial building. You should also visit Talietumu, a 14th century Tongan fort. Both Wallis and Futuna are little-visited and their relative isolation is part of their appeal. There is no ATM in Futuna, so take whatever cash you will need. Try to learn some French before you go.
Wallis & Futuna Islands Travel Information
There is one airport on Wallis with a paved runway, and one on Futuna, unpaved. Aircalin, out of New Caledonia, is the only airline that goes to Wallis, and it flies there just three times per week. The island of Wallis has about 100 kilometres of highway, of which 16 paved; Futuna has just 20 kilometres of road, none of which is paved. Neither island has taxi service, nor is there any public transport. Imidisser Garage and Dinh François are usually willing to rent you a car, but cruising slowly around by scooter is perhaps the best way to see the sights and soak in the picture-postcard beauty. Yachts occasionally visit the island, but there are no ferries.
Wallis & Futuna Country Facts
Total islands: 3 + 17 islets
Total land mass: 264 km²
Capital: Mata-Utu
Main Island: Wallis
Int'l Airport: Hihifo, Wallis
Population: 15,000
Language: Wallis, Futuna, French
Tourists: 4,000 per year
Accommodations: 6
Money: CFP / Euro
Wallis & Futuna Main Attractions
1) Churches of Wallis
2) Lalolalo Crater lake, Wallis
3) Kiriti (Cricket)
4) Alofi Beach, Alofi
5) Taleitumu Site, Wallis
6) Hike Mt Kolufatufatu, Futuna
7) Kava Drinking on Futuna