Travel Guide to Rarotonga, Cook Islands

Overview
This article was researched by our local South Pacific travel experts:
Rarotonga Holidays Overview — West Rarotonga — South Rarotonga —
Muri Beach — Avarua Town — Rarotonga Travel Information
Rarotonga is the heart-beat of the Cook Islands with the international airport and capital and is where the majority of tourists stay for their entire holiday. The island has a population of just under 10,000 people and is just 67 sq km in size and takes an hour to travel around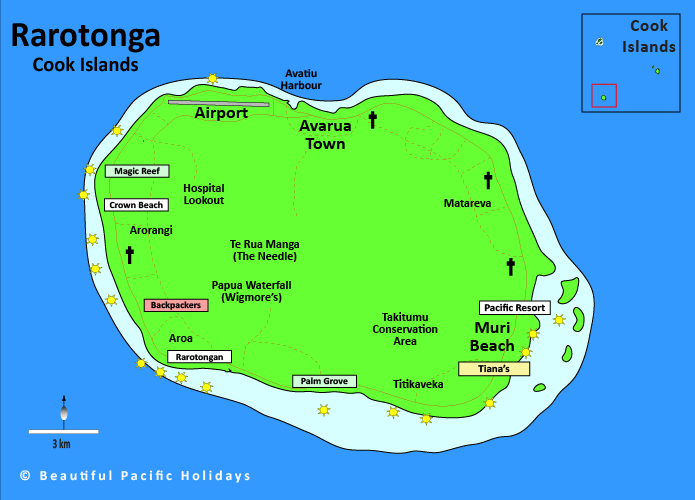 Rarotonga Map & Pictures
Reasons to Visit Rarotonga
Romantic Holiday Break
Family Holiday on the Beach
Relaxing Island Style Atmosphere
Excellent Crafts, Restaurants & Bars
Sightseeing by Moped or Walking
Best Rarotonga Hotels
Rarotonga Holiday Planner
Rarotonga is populated along most of its coast with local family houses and tourist accommodation sitting side by side. There are beautiful beaches along the entire west, south and south-east coastline with Muri Beach being the most popular. The interior has steep mountains. lush rainforest and several hiking tracks to summits. Rarotonga has a very charming and laid back holiday atmosphere with good restaurants and bars making it a popular choice for those looking to have a little fun on holiday.
Rarotonga in the Cook Islands is where almost 90% of tourists spend their entire holiday. The international airport and main town are along the rocky north coast of the island. Most of the beach hotels and other Rarotonga accommodation properties fronts an almost unbroken stretch of sand running down the west coast, along the south coast and midway up the east coast ending at fabulous Muri Beach with its uninhabited lagoon islets. The island of Rarotonga takes under an hour to travel around the coastal road with great views of the lush tropical mountains along the way. The most popular way to travel is by moped and costing from just NZ$ 75 for four days, many tourists give it a go.

Read our independent Rarotonga Accommodation for reviews on all accommodation or select from our recommended selections from the the directory below:
West Rarotonga

The West coast of Rarotonga is one long stretch of sandy beach backed mostly by ironwood trees with plenty of small resorts and self-catering bungalows along the coastline. There are six good independent restaurants which all within walking distance of each other. Being leeward side of the island, it is protected from the prevailing winds and has the sunniest weather making it more favourable for sunlovers. Sunsets are a another definite bonus. The main disadvantage is the lagoon which is generally too rocky for swimming and too shallow for snorkelling.
See our detailed West Rarotonga Accommodation Guide
South Rarotonga

Overview
The south coast is the quietest stretch on Rarotonga and has lovely beaches making it a good choice for romantic holidays. There are several lovely small collections of beach bungalows here and the lagoon has the best snorkelling in the Cook Islands. The south coast is about 30 minutes by road from the airport and Avarua Town.

See our detailed South Rarotonga Accommodation Guide
Muri Beach, South East Rarotonga

Overview
Muri Beach is the liveliest and most developed tourist region on Rarotonga with almost twenty accommodations to choose from and a number of independent restaurants for dining out. This is a good spot for both couples and families with a protected sandy bottom swimming lagoon and lots of watersports. Whilst the beach and uninhabited islets make for the most picturesque beach setting on Rarotonga, the downside is that the tradewinds can pick up in the late afternoon sometimes blowing in cloud cover whilst the rest of the island bathes in sunshine.

See our detailed Muri Beach Accommodation Guide
Avarua Town, North Rarotonga

Overview
One of the highlights of Rarotonga is its Saturday morning market in Avarua Town where you'll find local handcarfts sold alongside exquisite black pearls and can sample fresh coconuts and other local delicacies.

Avarua Town sits on a rocky coastline five minutes from the international airport. There's only a handful of motel style accommodations along this north coast which makes a good base for more adventurous holiday-makers to revel in the town's island style nightlife and explore the foothills which give an insight into the laid back Cook Islands lifestyle as well as having beautiful mountain scenery.

See our detailed Avarua Town Accommodation Guide

Rarotonga Travel Information
The small international airport is on the north coast of Rarotonga and there's decent public transport around the island and plenty of companies offering car or moped hire and small group sightseeing tours. The main town of Avarua has decent souvenir shops, banks and lively bars and there are lots of independent restaurants dotted around the island..