Pitcairn Island Holiday Planner

What's Unique About Pitcairn Island?
The Pitcairn Islands is not a tourist destination although thye occasional traveller does reach its shores. There is no airport and the only way to reach the island is by sea via a usually rough landing in a small boat - the occasional cruise ship passes by, dropping off researchers or other officials to visit the island. Pitcairn Island is most famous for being home to descendents of English seamen from the Mutiny of the Bounty and their Tahitian lovers and companions. When they arrived at the island in 1790 it was uninhabited and the mutineers set fire to the boat to avoid discovery by the English navy in pursuit of them.
Pitcairn Island
Where in the South Pacific?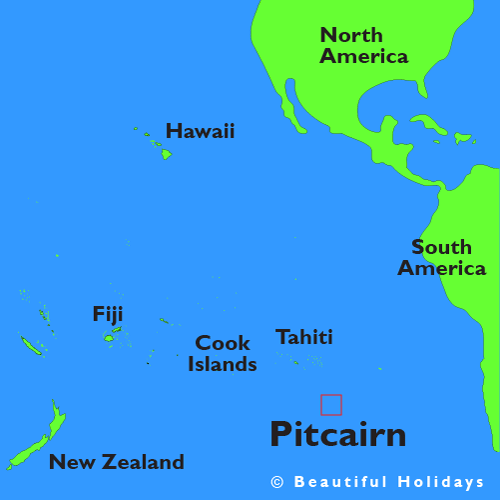 Pitcairn Island Accommodation
Accommodation on Pitcairn Island is hosted by locals via a community hometsay program
Pitcairn Island Travel Guide
Pitcairn is a collection of four rocky islands. It remains a British Overseas Territory and is home to the least populated jurisdiction in the world.
Pitcairn Island Travel Information
There's only one way to get to Pitcairn Island and that's by boat. Supply boats depart from Santiago in Chile and take passengers visiting the island, but it's a long journey that few tourists make.
Country Facts
Total islands: 4
Total land mass: 47 km²
Capital: Adamstown
Main Island: Pitcairn
Int'l Airport: None
Population: 50
Language: English, Maoris
Visitors: < 10 per year
Accommodations: 1
Money: NZ$
Pitcairn Island Travel Highlights
1) Bounty History
2) Quirky Islanders
3) Petroglyphs at Down Rope
4) Henderson Island
5) Pitcairn Landing
6) Mutineer's Grave