Planning your Holiday

Overview
This article was researched by our local South Pacific travel experts:
Vanuatu Travel Guide — Five Things to Know about Vanuatu — Vanuatu Islands Travel Details
Vanuatu Islands are surrounded with incredibly turquoise waters filled with a variety of unusual marine life, including more than 4,000 species of marine molluscs. The entire island nation is perfect for divers of any skill level as well as adventurous travellers. Swim with dugongs, hunt for giant coconut crabs, explore the villages of the various tribes, stroll on both black and white sand beaches, or watch the world-famous land diving ritual on Pentecost, a centuries-old ritual celebrating the annual yam harvest that is said to have been the inspiration for bungy-jumping.
The major attractions in visiting Vanuatu are for its fascinating and accessible culture, to witness the fiery plumes of the world's most accessible volcano, and to dive the world's most accessible wreck. Vanuatu is hot on adventure tourism.
In March 2015 Cyclone Pam, a severe category 5 storm, hit the main island of Efate and most of the outer islands including Tanna with considerable force. The cyclone caused widespread damage to infrastructure and homes, some deaths and devastation to the majority of the islands small villages and plantation gardens. Our thoughts are with the people of Vanuatu whist the country recovers from what is considered the worst natural disaster to hit the Pacific region. Vanuatu is very much open for business and welcomes the support of tourism to its islands but please note that some services may be limited during the re-building phase.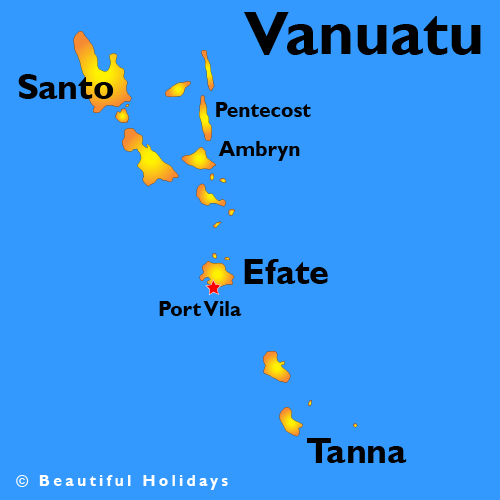 Vanuatu Map
Things to Do in Vanuatu
Tribal Villages on Tanna
Pentecost Land Divers
Yasur Volcano, Tanna
Dive the SS Coolidge Wreck
Kava Tour in Port Vila
Most Popular Places to Stay
Vanuatu Travel Guide

Vanuatu is a string of 82 islands extending in a north-westerly direction towards the Solomon Islands, roughly parallel with Cape York in Australia making it one of the hotter and more humid of the South Pacific destinations, and far enough north to be prone to Malaria outbreaks.
Vanuatu is located on the so-called "Pacific Ring of Fire", an arc of fault lines circling the Pacific Basin that is prone to frequent volcanic activities. An ecological curiosity of Vanuatu is the giant banyan tree, often seen dominating a village meeting spot or dancing place; the giant trees on Tanna Island are so huge they are actually visible from space. Also unique is a prehistoric giant tree fern which has great cultural significance and is used in many of the large carvings sold in Port Vila.
Efate Island is the main island of Vanuatu lying in the heart of the group with wild beaches, cascading waterfalls and several smaller offshore islands including a UNESCO heritage site. Port Vila, the pretty seaside town and capital of Vanuatu, lies on a peninsula on the south-west corner of the island and has the countries main international airport at Bauerfield, 20-minutes north of the city centre. Port Vila also has the majority of the islands large hotels and several small boutique resorts on its outskirts alongside pretty beaches with good snorkelling reefs offshore.
The other major tourism centre is around Luganville Town on the northern island of Espiritu Santo, which also has an international airport. Santo, as it is better known, is ideal for explorers with jungle walks in its rainforest, whilst scuba divers come in their droves to dive the wrecks near the town, notably the President SS Coolidge, as well as staying in one of several upmarket boutique beach resorts for that ultimate romantic retreat.
The outer islands of Vanuatu, especially the lightly populated outer islands, are like a string of tropical dreams. Ambae off the coast of Santo, believed to have been the inspiration for Bali Ha'i in "The Tales of the South Pacific", has a semi-active volcano with three thermally-heated crater lakes. Ambrym Island, at the foot of Pentecost where the land-divers perform their cultural spectacle, is one of the few places on Earth where you can observe a real, bubbling, swirling lake of lava; whilst Mt Yasur on Tanna Island is the world's most accessible active volcano and can be visited on day and night tours to marvel at its fiery antics.
Five Things to Know about the Vanuatu Islands
1) Vanuatu produces the strongest kava (a mildly narcotic ceremonial drink) in the South Pacific- you can sample the brew in one of the many kava bars around Port Vila and most villages have a bar too.

2) In the colonial era, Vanuatu was governed partly by the English and partly by the French. As a legacy, some villages teach English at school and so speak English, whilst others teach only French. Each village has its own unique mother tongue and between villages, the locals communicate in pidgin. This means that most people speak at least three languages, and sometimes four.

3) Cargo cults are something of an oddity in Vanuatu and there are several villages where a mysterious stranger once turned up on its shores and has been idolised by the village ever since.

4) During World War I1, the Japanese war machine almost reached the shores of Espiritu Santo - a large American naval base was established near Luganville and a few Japanese fighter planes were shot down in the bush - there are plenty of WWII war relics to explore.

5) Vanuatu has a few world claims: apart from the UNESCO world heritage site on Lelepa Island, it has the world's most accessible active volcano (Yasur on Tanna Island), the world's most accessible large wreck dive (SS Coolidge in Espiritu Santo) and world's first underwater post office (Hideaway Island, Port Vila).


If you're looking for great places to stay, check out our favourite Vanuatu Beach Resorts

Vanuatu Islands Travel Details
Vanuatu has two international airports: the majority of flights arrive at Bauerfield 6km north of Port Vila. There are daily flights from Brisbane and Sydney, and some direct flights to Melbourne, with either Virgin Australia or Air Vanuatu, whilst Air New Zealand fly from Auckland. There are also direct flights to Vanuatu';s second international airport on Espiritu Santo, with Air Vanuatu offering direct flights from Brisbane to Pekoa Airport a few kilometres east of Luganville Town.
You can hire a vehicle at both Port Vila and Luganville airports, or see the islands by bus or perhaps a small aircraft.