Holiday Planner

Overview
For one of life's most exhilarating adventures consider travel to the Solomon Islands. With mysterious and very traditional kastom villages boasting skull clans, rainforest abounding in wild orchids and colourful tropical birds, active and often fiery volcanoes, and above all else, some of the world's most pristine coral reefs for both scuba diving and snorkelling, this almost forgotten part of the world is a true paradise. It's not the easiest destination to reach, or travel around, and plush resorts aren't that common, but this all adds to the rustic charm of being one of the world's best kept secrets.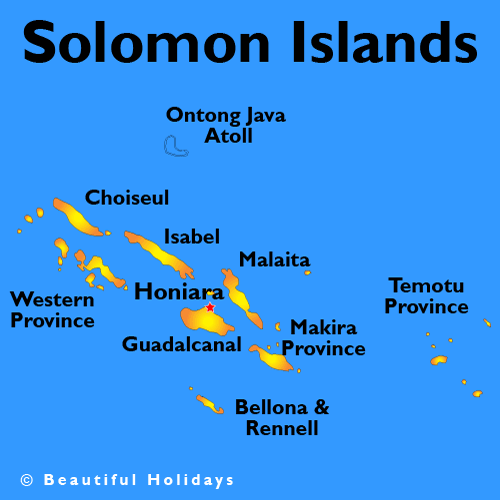 Solomon Islands Map
Why Visit The Solomons?
Off the Beaten Track Adventures
World Class Scuba Diving
Culture & Kastom Villages
World War II Relics & Wrecks
Dugongs & Dolphins
Top Regions to Explore
Solomon Islands Travel Guide
The Solomon Islands is located east of Papua New Guinea and just south of the equator, consisting of nearly one thousand islands. It covers a land mass of 28,400 square kilometres. The capital, Honiara, is located on the island of Guadalcanal close to the international airport and where most travellers' journeys begin.

Travelling Around The Islands
Honiara is the stepping stone and where most travellers spend a day or two getting to know the islands and exploring its fascinating connection with WWII and some of its fiercest battles still living in the memories of countries from both sides of the war. It was here in 1942 that the bloodiest and longest campaign of WWII resulted in the loss of close to 38,000 lives, and marked the turning point of the war in the Pacific. There are numerous battle sites and war relics in Honiara and throughout the islands, including a whole heap of boat and plane wrecks that appeal to scuba divers.

See as many of the islands as you can during your stay here. The most popular region to visit is the Western Province, where coral islands encircle huge lagoons, and the locals use ancient magic rituals to summon sharks and where turtle nesting beaches can be found. The Central Province area, just an hour by boat from Honiara, is another popular region for tourism. Here, the Nggela Islands are most famous as a dive destination due to the wealth of coral reefs, exciting underwater topography, and hundreds of sunken WWII wrecks. It's a wonderful spot for snorkellers, too, and anglers will find the waters full of opportunities for sport and game fishing.
Solomon Islands Travel Information
Honiara International Airport (on Guadalcanal Island) is the main hub of the country. It is located ten kilometres east of Honiara. Bus and taxi services are available to get to and from the airport. Only a few airlines fly into Honiara on a regular basis: Solomon Airlines, Virgin Australia, Air Niugini and Fiji Airways.

The most frequent routes are with Virgin Australia from Brisbane in Australia. Solomon Airlines flies into Honiara also from Brisbane, as well as Nadi in Fiji, Port Vila in Vanuatu and Port Moresby in PNG. Fiji's national airline, Fiji Airways, flies from Nadi to Honiara with convenient flight connections from Los Angeles.
Solomon Airlines offers almost 150 scheduled domestic flights a week linking 31 airstrips in the Solomons. Their 18-passenger Twin Otters and nine-passenger Britten-Norman Islanders are fun to fly in. Island-hopping routes such as Honiara-Gizo-Munda-Seghe-Honiara and Honiara-Bellona-Rennell-Honiara allow you see several islands without backtracking. All domestic flights are heavily booked - reserve as far in advance as possible.