Beautiful Tahiti Holidays

What's Unique about the Tahitian Islands?
The islands of French Polynesia, collectively known also as the Tahitian Islands, are scattered over 2.5 million square kilometres in the middle of the Pacific Ocean, and have a total land area of more than 4,000 square kilometres. There are some 130 islands and atolls in French Polynesia, grouped into five archipelagos. The Society Islands is by far the most popular to visit on holiday, a collection of six large volcanic islands all quite close together and include Tahiti Island (for which the country is often called), Moorea and Bora Bora. More than 80 per cent of tourism is based between these three islands. The Tuamotu Group is a collection of massive coral atolls, Rangiroa being the second largest in the world. These low lying atolls with huge inner lagoons have fantastic scuba diving as well as being production centres for Tahitian Black Pearls. The Marquesas in the far north are dramatic volcanic islands with sheer cliffs and traditional villages but little tourism.
A holiday in the Tahitian Islands conjure up images of breathtaking tropical mountains tumbling into turquoise lagoons, snorkelling with manta rays, watching the sun set from an overwater bungalow and being invigorated by the sophisticated ambience which blends Mediterranean with the South Pacific. The country, officially known as French Polynesia, and become symbolic with romance, over water bungalows and the iconic island of Bora Bora, but holidays here are also amongst the most expensive in the world, which is just another reason why it is such a popular honeymoon destination!
Known officially as French Polynesia, the Tahitian Islands is one of the most expensive holiday destinations to visit in the world. But this only heightens the exotic appeal to its most common visitor - the affluent romantic couple - and it's no surprise that a Tahitian honeymoon is amongst the most desirable for couples from Australia, USA and Europe. The islands are also well known for the exotic women with long flowing hair depicted by famous artist Paul Gauguin and for its fabulous even more erotic island dance performances.

French Polynesia Travel Information
French Polynesia is a 7-hr flight from Australia and New Zealand, or a 6-hr flight from Los Angeles, connecting on to Europe. French make up the majority of its tourists, followed by Americans. French is the national language and being an international territory of France it has a sophisticated tourist infrastructure, good education and health care and excellent restaurants, nightlife and shopping.
The main airport is Faa'a International Airport, built on the lagoon about 5 km west of Papeete, near several major hotels. There are many places to hire a vehicle to find your way around the larger islands; on the smaller islands, which you can get to by fast passenger boat or medium sized jet plane, there is usually public transport of some sort, or places where you can hire a bicycle to see these tropic paradises up close and personal. Helicopter jaunts sightseeing around the islands are also very popular for those with cash to spare.

Fun Things to Do on Holiday in the Tahitian Islands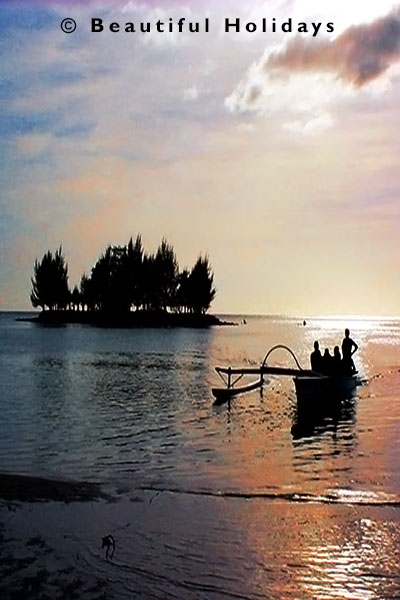 Huahine, Raiatea, Tahaa and Maupiti all offer a more laid back holiday atmosphere with the Polynesian people going about their daily lives. Great scuba diving although beaches are only average.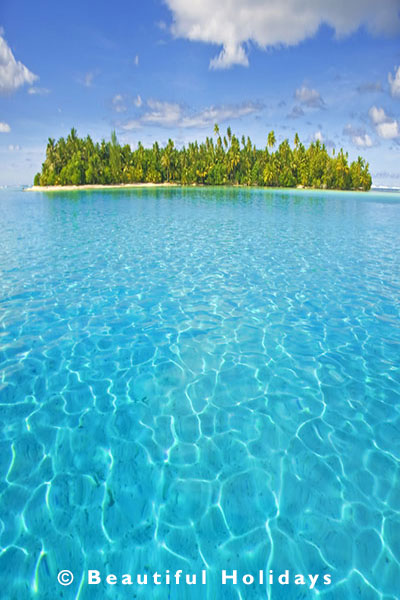 These massive atolls consist of tiny coral islands surrounding deep lagoons and are prime for scuba diving with sharks, rays and dolphins in abundance. Come here also to chill out with the locals.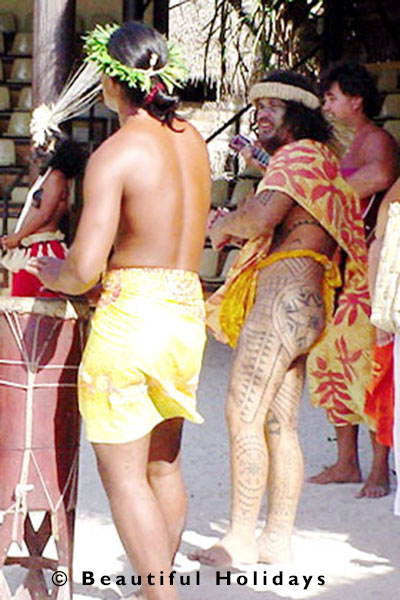 The mysterious Marquesas are very remote tropical islands with a very traditional culture where full body tattooing is still widely practiced. This is an eco lovers paradise with great walks and historic sites.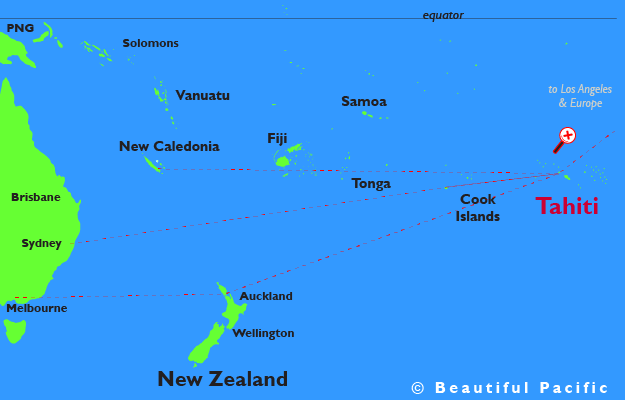 Our Tahiti travel guide provides more detailed information on all the different regions to visit to help you decide where to go and what to do. Alternatively, try out our interactive Tahiti picture map above to help you visualise the islands and find out where all the different hotels are located.
Holidays in the Tahitian Islands

French Polynesia is about as close to the ideal Polynesian getaway paradise as you will find. Even though Moorea and Bora Bora in the Society Islands are two of the most popular tourist destinations in the Pacific, and attract the rich and famous from around the world, it remains a tropical haven. There is a selection of very high end, international hotel and resort accommodations to be found on many of the islands; for those who prefer the simpler and more authentic local experience, there are several types of accommodation which come under either fares (bungalows) or pensions (guest houses). Be aware that everything is very expensive in French Polynesia, including the simpler accommodations, restaurants, and even groceries. If this is your first time visiting Tahiti for a holiday, we recommend you use our Tahiti Holidays Planner. Here you'll find detailed travel information about all the different regions to visit, what to do on your holidays and where best to stay depending on your interests and budget.
There's a good selection of accommodation in Tahiti with plenty of large brand resorts (Hilton, Intercontinental, Sofitel, Le Meridien and Pearl all have resorts on Tahiti, Moorea and Bora with packages visiting all three) as well as more affordable and intimate guest houses, although at these, English may not be readily spoken.
If you're searching for the ideal place to stay at the right price, we have visited in person over 100 resorts in Tahiti and stayed overnight in many of these. Our recommendations are found throughout our travel guides but can be found all in one place in our handy Tahiti Hotels Guide featuring both the popular large beach resort and hotels sold by most travel agents, as well as highlighting the smaller, lesser-known properties which include boutique villas and locally owned self-catering bungalows ideal for families or couples looking to do their own thing.
Watersports are excellent at all the main destinations with snorkelling tours, kayaking and jet ski adventures readily available. Head to Tuamotu for scuba diving or Tahiti Island for world class surfing.
Romantic holidays in French Polynesia are hard to beat. For many, a honeymoon in Tahiti is a life-long dream with couples visiting to marvel at Bora Bora's beauty and stay in an over-water bungalow.
Despite being tagged as expensive, families can enjoy good value French Polynesian holidays on Moorea or Bora where resorts are extremely child friendly and the lagoons a great playground!
Holidays in other South Pacific Islands