Planning your Trip to the South Pacific Islands

The South Pacific Islands - Melanesia, Polynesia & Micronesia
The South Pacific islands are scattered in a huge ocean larger than all the other oceans put together but its landmasses are tiny. The region comprises of around 30 island nations, some mere dots on the atlas. The largest island nation is Papua New Guinea (PNG) followed by New Zealand which are both quite considerable land-masses, but it's then followed by Fiji whose collective islands compressed would be smaller than Wales! In terms of cultural identity, the South Pacific Islands are split into three regions: Polynesia, lying in the west and including Samoa, Cook Islands and Tahiti but also extending north to Hawaii and south to New Zealand; Melanesia, in the east and including Fiji, Vanuatu and the Solomon Islands; and Micronesia in the north-west and including Kiribati, Guam and the Federated States of Micronesia.
Whilst most tourists travel to the South Pacific islands for a relaxing beach holiday, there's something here for everyone. There are islands with large hotel chains and casinos, lively beach resorts for a family holiday with all-day kids clubs. For romance there are boutique resorts for honeymoons and beach chapels for weddings. Those looking for an adventure holiday can experience world class scuba diving and surfing, white water rafting or great sea-kayaking expeditions and at the end of the day wind down with a massage by the beach or do yoga in a tree-house surrounded by tropical birds.

To find out more about each South Pacific island, please navigate using the map below: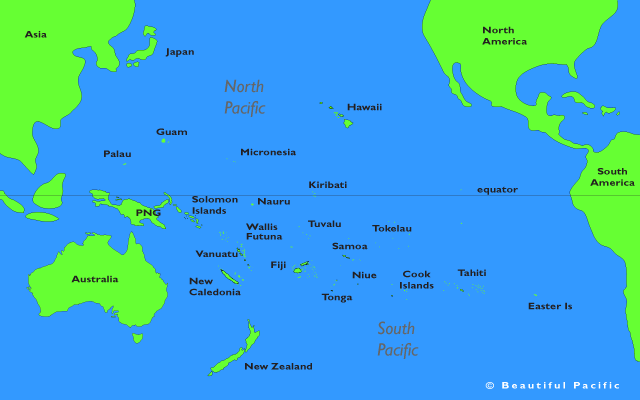 Choosing a Destination in the South Pacific Islands
Whilst there are numerous South Pacific islands to visit, only a handful of them offer mainstream tourism. Tuvalu, for example, has tourist arrivals numbering less than one hundred people a year.! Even the Solomon Islands, one of the larger group of islands in the South Pacific, has less than 10,000 tourist arrivals each year, and the majority of these are either business travellers or hard-core scuba diving enthusiasts. The following South Pacific island destinations are listed by tourist popularity. Fiji, the most popular, received almost 900,000 tourists per year in 2018, almost the same as its total population, but compared to Hawaii's 10million annual tourists it doesn't feel overcrowded! The second most popular country for tourist arrivals was French Polynesia with 220,000 tourists, the majority arriving from France and USA.
ISLANDS by POPULARITY (# tourists per year in 2019)

# 1 - Fiji Islands (880,000)
Fiji is the number one hot spot in the South Pacific and received over 800,000 tourists a year pre Covid-19, but this is not even a tenth of what Hawaii receives! But Fiji has what most other places around the world don't have: literally hundreds of small tropical islands with stunning beach resorts and nothing ever feels crowded or face-paced. Visit Fiji for perfect white beaches, snorkelling reefs and smiling locals performing traditional dances. Fiji has resorts that cater to families, wedding parties and honeymooners, but Fiji's charms are for everyone. Away from the beach, you can try out white-water rafting or golf. And the food's great too – fresh, tropical fruits, fish marinated in lemon and coconut milk and, thanks to immigration from India, you can dine on spicy curry.
read our detailed guide to Fiji Islands
# 2 - French Polynesia (220,000)
French Polynesia is one of the best known destinations of the South Pacific, partly because of the alluring tale of Mutiny of the Bounty and the exotic paintings of Paul Gauguin. With its palm trees, crystal waters, volcanoes and lush forests, all your South Sea fantasies are made real. You can visit here on a cruise, but French Polynesia is best experienced on a longer visit, where you have time to relax and enjoy the amazing sights and stay in an overwater bungalow. The destination is famous for luxury and is one of the most desirable places in the world for honeymoons. The food is great too – thanks to the French influence, you can enjoy fine wines and European cuisine with a local flavour, although you should try the barbecued sucking pig at indigenous-style buffets.
read our detailed guide to French Polynesia
# 3 - The Cook Islands (170,000)
The scattered Cook Islands have a small population, but you'll be assured of a great welcome even at the international airport where a serenader welcomes each plane load of tourists and your hosts wait outside with a flower lei. This South Sea paradise is largely undeveloped, and its islands are peaceful sanctuaries where you can sunbathe, swim and windsurf to your heart's content. Rarotonga and Aitutaki are the only islands with mainstream tourism so choosing where to visit for your holidays isn't difficult. Whichever island you choose you'll enjoy the lush plants, white beaches, crystalline seas and clear blue skies. The Cook Islands are a little piece of heaven on earth.
read our detailed guide to The Cook Islands
# 4 - Samoa (140,000)
Robert Louis Stevenson, the author of Treasure Island, was a man who knew a lot about beautiful Pacific Islands – and it was Samoa that Stevenson chose to retire to. Lush, green Samoa is one of the Pacific's most scenically varied destinations. These islands are a popular with discerning travellers, but also have excellent golf courses, and attract anglers and surfers. Traditional culture remains important here; visit a village to experience island hospitality and perhaps see a game of Kilikiti, the Samoan answer to cricket. Samoan food is unique and delicious – the national dish, palusami, consists of coconut cream and other ingredients wrapped in taro leaves and baked in a traditional umu.
read our detailed guide to Samoa Islands

# 5 - New Caledonia (120,000)
New Caledonia is a perfect blend of Gallic and Pacific. You can combine trips to the elegant shopping districts and fine dining restaurants with sunbathing on pristine white sands. Perfect for honeymooners – who can resist the combination of French romance on a beautiful island paradise – New Caledonia is also a prime destination to enjoy snorkelling and scuba diving. But anyone will enjoy the beaches and food, and if you're in search of solitude you can sail off to some of the remoter islands. Try learning a little bit of French before you go to enjoy this fantastic destination to its fullest potential.
read our detailed guide to New Caledonia


# 6 - Vanuatu (115,000)
Vanuatu's colonial name was the New Hebrides – although what these sunny Pacific islands have to do with the original Scottish Hebrides is anyone's guess. Vanuatu is a particularly popular short-haul destination for Kiwis, but families, couples and honeymooners of all nationalities will enjoy these wonderful islands. For those who want to get away from screaming kids, for whatever reason, then there are a number of child-free hotels. The Vanuatu people are particularly friendly and love visitors, although their own cultural values remain very important in rural areas. Vanuatu shares much of the same cuisine as other island nations in the region, but is particularly noted for its meat – the local steaks are highly recommended.
read our detailed guide to Vanuatu
# 7 - The Kingdom of Tonga (30,000)
Proud, independent and religious Tonga has never been colonised by a European power. A unique island culture and one of the last few remaining absolute monarchies anywhere in the world, Tonga's friendly people are unlike any other. There are many sights and activities related to Tongan culture, including sacred tombs, dancing displays and craft workshops. As you'd expect from an island paradise, the sea and beaches are star attractions. Humpback whales migrate here to spend six months of every year resting, mating and giving birth in the protected bays, and you can take a trip to watch and hear them sing. You can also enjoy surfing and swimming in the clear blue ocean; whatever you do, relax into the Tongan pace of life.
read our detailed guide to Tonga Islands

# 8 - Solomon Islands (15,000)
The Solomon Islands, with their ancient Melanesian culture, are a beautiful and otherworldly place to visit. Now relatively peaceful, the islands have a turbulent history of slaving, cannibalism, war and ethnic tension. But, you'd hardly guess this when canoeing on placid rivers which wind their way through verdant jungles, swimming with dolphins, enjoying the beautiful and unique atolls, or snorkelling or diving to see the enormous range of fish and other sea life that dwell beneath the blue waves. Those with an interest in botany will particularly enjoy the spectacular range of orchids, while you can also visit active volcanoes.
read our detailed guide to Solomon Islands
# 9 - Niue Island (5,000)
The South Sea Islands are all relaxing destinations, but tiny Niue must be the ultimate place to turn up and chill out. There are no touristy developments, just a few hotels and guest-houses, and the locals want to keep it that way. There are fewer than 100 hotel rooms in total, so your chance of being caught up in a crush of fellow visitors is incredibly remote – in fact, you're unlikely to even have to share a swimming cove or a whale. if you're lucky enough to swim with one - Niue is one of only three places in the world you can do this.
read our detailed guide to Niue Island
# 10 - Hawaii Islands (10,000,000)
Whilst not theoretically located in the South Pacific, the Hawaii Islands are an important ingredient of the Polynesian culture and as much a vision of the South Seas as any island in the Pacific. With its fantastic golf courses, stunning scenery, bustling beach life and exceptional surfing, Hawaii is a good choice for a lively less cultured holiday but one where the romantic South Sea ambience and secluded beaches are hard to find. Every corner of the islands has been discovered now for many years and being one of the 50 states of the USA it is overly commercial but never-the-less great fun.
read our detailed guide to Hawaii Islands