Planning your Holiday to Nuku'alofa Town

Overview
This article was researched by our local South Pacific travel experts:
Nukualofa Holidays Overview — City Centrer — Nukualofa Suburbs — Nukualofa Travel Details
The capital of Tonga, Nuku'alofa, lies on the north shore of the Tongatapu with around 25,000 inhabitants which is half the islands' population. Nuku'alofa Town sits on a meandering isthmus with the downtown area facing north and out onto the lagoon with its tiny offshore coral islands, and the suburbs sprawling along the inner turquoise lagoon to the south.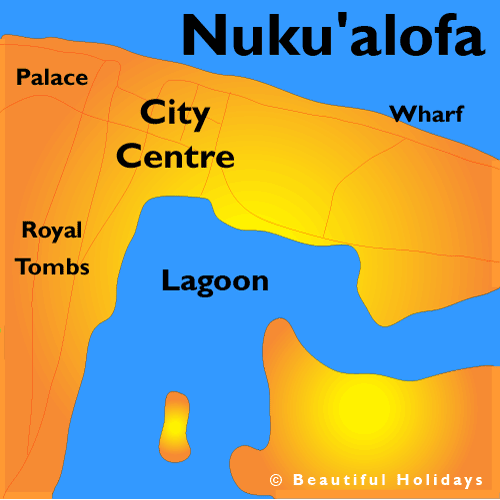 Nukualofa Map & Pictures
Reasons to Visit Nuku'alofa
Base for Sightseeing the Island
Local Handicraft Markets
Business Trips
Transit for Offshore Islands
Friday Night out with Locals
Best Nukualofa Hotels
Nuku'alofa Town Overview
Nuku'alofa is a quiet, functional town with few tourist attractions except for the Royal Palace and a bustling market, a few boutique shops and a couple of good restaurants. It's main appeal is to business travellers or as a convenient base for exploring Tongatapu and the offshore islands on day cruises which depart from Queen Salote Wharf.
City Centre & Vuna Road
One of the most unique historical attractions in the South Pacific is the Royal Palace which was built in 1867, Tonga being the only remaining Kingdom in the South Pacific. Although not open to the public, you get a good view of the colonial wooden building from the waterfront. If you want to get close to Royalty, attend the Centenary Church on Sunday - this is where the present King worships. The Central Business District has several good restaurants to visit, with most popular of these being the funky Friends Cafe. You can pick up coconuts to drink and BBQ chops along Vuna Road whilst the Talamahu market always has loads of fruit and vegetables for sale as well as a good assortment of hand crafts.

Loumaile Lodge is an upmarket business style hotel on the edge of downtown Nuku'alofa. With 24 spacious rooms and suites upstairs and a public area with restaurant, bar, tea house and massage centre, downstairs, Loumaile is a convenient base with a friendly 24-hr reception for either holiday travellers or business people.
Nuku'alofa Suburbs

There's not a lot to see outside of the town centre although the walk along the waterfront to Queen Salote Wharf and beyond is a nice way to spend an afternoon. Nuku'alofa has a dozen or so small guest house style accommodations in in its suburbs. If you want to visit the offshore islands the most convenient place to stay is close to Queen Salote Wharf which is about a twenty minute walk into the CBD.

Waterfront Lodge is a boutique style guesthouse facing the waterfront about 20-minutes walk into downtown Nuku'alofa. The lodge is an old colonial style wooden building with much character and the spacious rooms are equipped to a high standard making it the ideal base for those seeking comfort and service.

The Black Pearl Suites is set in a quiet residential suburb of Nuku'alofa about twenty minute walk to town. With just eight rooms above the family house and adjacent to the well renowned restaurant of its same name, this makes an affordable stay for business people or holiday makers visiting the capital and looking to explore.

Lagoon Lodge is a collection of 15 spacious self-catering apartments on the peaceful shores of Fangakakau Lagoon, about 5-minutes drive to downtown Nuku'alofa. The lodge offers meals on request, laundry, 24-hr security and ample parking space making it ideal for long term stays or those exploring Tongatapu on a budget.
Nuku'alofa Travel Details
Nukualofa is not a big town so exploring by foot is pretty easy - it takes about 30 minutes tom walk along the waterfront promenade running alongside Vuna Road from the Royal Palace to Queen Salote Wharf. Taxis are cheap and readily available from the market and buses head out sporadically to all the villages around the island from the bus stand close to the Tongan Visitor Bureau office on Vuna Road.