Planning your Holiday

Overview
The French Polynesia islands are one of several island nations in the South Pacific under French administration and known as an overseas collectivity. Although the national language is French, basic English is spoken by many hotel staff to help you get by. The islands are more commonly known as Tahiti named after the largest island and main population centre. The weather is warm and balmy - year round temperatures seldom falling below 22° Celsius. December to April are very humid being the wetter summer months. June to October are cooler and the most popular months to visit especially during August when French nationals have their long summer holidays.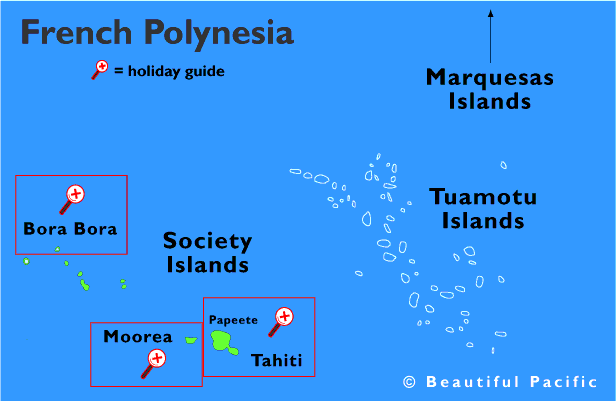 French Polynesia Travel Guide
French Polynesia is a vast collection of islands in the south-west Pacific split into five distinct arcipelago's. The Society Islands is the most populated of these archipelago's and consists of Tahiti Island, Moorea and Bora Bora. Tahiti Island is the main centre and population base with popular holiday destination Moorea lying just off its west coast. the famous and stunning lagoon island of Bora Bora lagoon is les than an hour flight to the north west. More than 80 per cent of tourism is based between these three islands. Of the other archipelagos. the Tuamotu Group is popular as a scuba diving destination and the Marquesas for adventure travel.
Tahiti Island
Tahiti Island is the main island of French Polynesia with bustling Papeete Town and Faa'a International Airport on the west coast. Tahiti features beautiful mountains and tropical rainforests, with several unusual black sand beaches and world class surfing breaks. The island makes a convenient stop before moving on to other islands.

Moorea Island
Moorea is a 10-minute hop from Tahiti and has a laid back holiday atmosphere. There are several nice beaches, great shark dives and fantastic sightseeing including the famed beauty of Cooks Bay, plus plenty of affordable accommodation making it a popular spot with families.
Bora Bora
Bora Bora lagoon is famous around the world as being one of the most beautiful islands in the South Pacific. The island is truly stunning with picturesque high mountains falling dramatically into a protected turquoise lagoon which are littered with stunning luxury overwater bungalows and is one of the most popular romantic holiday destinations in the South Pacific. The lagoon is also one of the best spots for snorkelling and scuba diving with lots of reef fish, small sharks and manta rays.
Other Society Islands
The other Society Islands of Huahine, Raiatea, Tahaa and Maupiti are less frequently visited by tourists although there are several small luxury resorts and guesthouse style pensions scattered around the islands. The lifestyle in the outer islands is more Polynesian in nature although getting around can be both timely and costly.
Other Society Islands Holiday Guide

Outer Islands - The Marquesas & Tuamotu Group
The most visited of the outer islands is the Tuamotu Group consisting of over 75 atolls to the east of Tahiti with some world class scuba diving sites, though generally for more advanced divers. Most dive sites are around the fast flowing passages of the huge atolls where colourful reef fish and pelagics, especially sharks, can be found in abundance. The remote and very traditional Marquesas lie a 2hr flight to the north of Tahiti and here is remote wilderness, a rich Polynesian culture and some breathtaking sightseeing.

Five Things to Know about French Polynesia
1) Tahitians are famous for their exotic dance performances and high tempo drum beatings.

2) French post-impressionist artist Paul Gauguin lived between Tahiti and The Marquesas for most of his later life where he painted the exotic Tahitian people in their daily surroundings.

3) Bora Bora is regularly named as the most exotic honeymoon destination in the world.

4) Full body tattoos, often including the face, are still worn by some Tahitians

5) More than 30 resorts in French Polynesia offer overwater bungalows, and with an average of 60 overwater bungalows per resort, that's a lot of options you have.

Tahiti Travel Facts
Getting around is very easy with an excellent domestic airline network operated by Air Tahiti but unfortunately it is also very expensive. There is a good passenger ferry connecting Papeete and Moorea which takes just an hour and departs several times a day. A passenger ferry also visits the outer islands including Bora Bora, but times can be prohibitive and seas sometimes rough - for example, the ferry takes 18hrs to reach Bora Bora from Papeete.
French Polynesia is free from malaria, yellow fever and most other diseases endemic in tropical countries. Mosquitoes are present and can be annoying during the wetter months (Dec to April). Water is safe to drink.
Electricity is 220 AC voltage as per France and uses to round pin plugs as found in Europe. The currency is the Central Pacific Franc (CFP) which is fixed to the Euro - most resorts set room rates in Euros and this is the currency we have used for all quotations.