Palau Holiday Planner

What's Unique About Palau?
Palau, a small collection of limestone and coral islands in the Northern Pacific, is often referred to as a tropical underwater wonder, especially by devoted scuba divers. Its waters teem with a diversity of marine life, and divers will find blue holes, WWII wrecks, colourful coral reefs, hidden caves and tunnels, and more than 60 vertical drop-offs to explore. It is also an island with an important conservation stance to protect sharks and recently created the world's first shark sanctuary, banning all commercial shark-fishing within its 600,000 km² area. Apart from sharks, saltwater crocodiles which can be seen in the waters all around Palau. Although the crocs are large (the largest measured reaches 4.5m long), there has only ever been one reported fatal incident in contemporary history, and that was back in the early '60s.
Palau Island
Where in the South Pacific?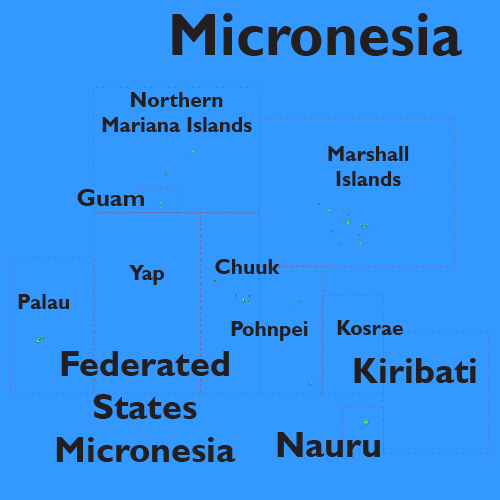 Palau Accommodation
There is a wide selection of hotel accommodations in Palau, ranging from full-service luxury resorts to modestly priced bungalows. Most of the resorts and hotels are located in Koror, where the majority of the population lives; if you prefer more privacy you'll prefer the secluded bungalows to be found on the southern and northern islands.
Palau Travel Guide

Palau is an island nation in the Pacific Ocean, about 800 km east of the Philippines. Made up of more than 200 volcanic and coral islands, many surrounded by a single barrier reef, the archipelago is sometimes called "The Black Islands". The most densely populated islands in the group are Angaur, Babeldaob, Koror, and Peleliu. The latter three lie close together; Angaur lies several km. south. Palauan villages were, and still are, organised around 10 matriarchal clans. Palauans are very sociable people; history, lore, and knowledge have been shared orally through history, as there was no written language until the late 1800's. Palauans still practice the old traditions, and you can often see small groups of people happily sharing stories. .
Palau is a scuba diver's paradise with an astonishing collection of coral, fish, and rare sea creatures. Bring your cameras: you'll want to savour the memory of seeing quarter ton giant clams, millions of stingless jellyfish in a lake, crocodiles wriggling through mangrove swamps, and dozens of species of exotic birds flying around the islands.
Palau has a lovely, tropical climate year-round, but rain is typically heavy throughout the year, with more frequent rainfall occurring between July and October.
Interesting note: The reality TV show Survivor was shot on Palau, including Japanese Survivor, the U.S. Survivor: Palau, Survivor Philippines, and Survivor: Micronesia. That should give you an indication of how interesting and unspoiled the islands are.
Palau Island Travel Information
The archipelago is serviced by the Palau International Airport, which provides scheduled direct flights to/from Guam, Taipei, Tokyo-Narita, and Manila. The island country has no rail system, and at least half the roads are unpaved. For ground transport, public buses and flexible-fare taxis are available in the island of Koror; all cab fares are negotiable so just be friendly to the drivers. Inter island transportation is primarily provided by private boats and domestic air services.