Planning your Holiday to Tongatapu

Overview
This article was researched by our local South Pacific travel experts:
Tongatapu Holidays Overview — Islands in Tongatapu Lagoon — The Main Island — Tongatapu Travel Information
Tongatapu is a low lying coral island only 347 sq-km in size with uplifted limestone cliffs along the south and east coast. The island has a population of over 70,000, half living in Nuku'alofa and the remainder around the many small villages around the coast..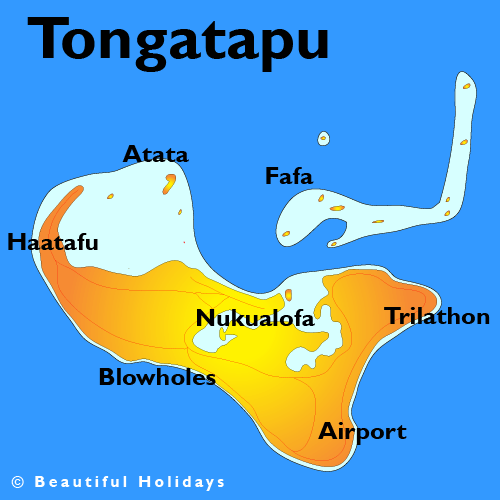 Tongatapu Map & Pictures
Reasons to Visit Tongatapu
Romantic Holiday in Lagoon Islands
Affordable Beach Holiday on Mainland
Visiting Uninhabited Islands
Sightseeing & Archaeological Sites
Explore Nuku'alofa Town
Best Tongatapu Hotels
Tongatapu Holidays Overview
The capital of Tonga, Nuku'alofa Town, is a small seaside town surrounded almost entirely by a shallow lagoon. There's not a great deal to do in town apart from explore several interesting sites relating to the Kingdom and it's a decent place to find out more about local handicrafts. Offshore from Nuku'alofa are the tiny coral islands so typical of the South Pacific. Most of these are undeveloped - only two have boutique resorts - and make a fantastic place for exploring with local boatmen available from the wharf. Archaeological buffs will marvel at several impressive ancient structures along the east side of the island, whilst the best beaches and some good snorkelling and surfing can be found on the west coast at Haatafu.


Tongatapu Lagoon Islands
Whist the main island of Tongatapu has some lovely scenic attractions and historical sites, the most appealing tourist attraction is the wonderful collection of 20 coral islands within the main lagoon directly offshore from Nuku'alofa. These islands are picture postcard images and can be reached within 30 minutes by small boat from Nuku'alofa Harbour. These islands are very similar to the popular Mamanuca Group in Fiji but are far less commercial with few tourists making it feel like a undiscovered haven.

The majority of islands remain entirely uninhabited and only a couple have accommodation including the gorgeous Fafa Island Resort being Tonga's nicest resort. Guests here have access to great snorkelling, game fishing and secluded beaches. Also worth considering is the budget Royal Sunset Resort on Atata Island. Pangaimotu Island can be visited on a day trip and has basic accommodation for backpackers. The island has good snorkelling and is entirely circled by a sandy beach taking about half an hour to walk around.

Fafa Island Resort is the perfect retreat for those seeking a romantic holiday, empty beaches, good snorkelling, island hopping cruises and a first class service. With it's thatched bungalows, modern cuisine and tropical cocktail bar, this is a true south sea hideaway on an uninhabited island.

Royal Sunset Resort is a full service mid range resort located in Tongatapu Lagoon 7km offshore from Nuku'alofa Town. The resort is located on the southern tip of the island and features 16 beachfront fales, swimming pool, an island style tennis court and a polynesian style restaurant and bar.
Overview
Boat trips to the uninhabited coral islands and to the stunning Nuku Island (location of the original UK Shipwrecked television series), can be arranged from Nuku'alofa or from Fafa Island Resort and cost about T$ 150 for the boat for four hours. Don't miss the exquisite sand bank which makes a picturesque picnic location in the middle of the lagoon. These islands are not to be missed and its fine white sand beaches and turquoise lagoons are the archetypical dream vision of the South Pacific where the only footprints will be yours, the birds and the crabs.
Around Tongatapu - the main island
Tongatapu is a flat coral island about 30km in length with raised limestone cliffs along its southern coast. A confusing network of roads meander around the entire island with small villages and plantations strung out along the roadside but in few places are there coastal views. The eastern half of Tongatapu is less developed with miles of deserted white sandy beaches, limestone coves and deep caves along its coast. The ancient settlement of Lapaha is scattered with relics - large royal tombs (langi) shaped like a elongated pyramid line the road. The largest concentration is in the Mu'a section where you will find 28 royal tombs made of massive limestone slabs brought from the outer islands. On the northern tip of the island is the impressive trilithon of Ha'amonga 'a Maui believed to have been erected in the 13th century.

At the western tip of the island at the village of Kolovai, large Casuarina trees line the road for almost a kilometre. At dusk, these trees are alive with flying foxes. Beyond Kolovai, are two lovely beaches, Masi'ata and Ha'atafa. Both are of slightly coarse white sand and stretch for more than a kilometre and there a several small budget beach resorts. Snorkelling is good off Ha'atafu and there's also good surfing offshore.

White Sands is a small beach resort located at the historical ' Utukehe Beach on the western tip of Tongatapu Island. The resort offers a truly Tongan experience with local hosts and private accommodation on the picturesque beach front. With only six rooms, the beach is often yours to enjoy in privacy.

Heilala Holiday Lodge is an excellent value budget resort in the heart of Ha'atafu Beach with sweeping sand, good snorkelling spots and some great surfing breaks at its northern end. With an atmospheric restaurant and traditionally designed bungalows, this affordable resort makes a great base for a beach holiday for singles or couples, young and old.

Otuhaka Beach Resort is a popular backpacker resort located on a picturesque white sandy beach about 20-minutes drive from Nuku'alofa Town. The resort faces west and the open ocean, with beach access to Tonga's best surfing break and good snorkelling in the lagoon. Accommodation is in simple huts and rooms.
South Coast
The southern coastline is more wild. At Hufangalupe there's a lovely coastal walk along high sea cliffs with an impressive natural coral bridge you can walk over. Another attractive coastal walk is from the Tongan Wildlife Centre (small bird park and botanical garden), half way along the south coast. The coastline here is uplifted with sharp jagged rocks and are lots of small white sand cove beaches between. Still further west, at the village of Houma, are the hugely impressive blowholes. Come at high tide on a windy day and walk along the coastal path to see a long succession of blowholes. There are almost 100 in all, the largest plumes reaching up to 30 metres high.

Keleti Beach Resort is an affordable budget resort located on a cliff edge with steps leading to a secluded cove beach on the quiet south coast of Tongatapu. The resort has twelve bungalows, some private, some split into two budget rooms with a shared bathroom and a pleasant restaurant / bar also perched on the cliff edge with lovely ocean views.
Tongatapu Travel Information
The international airport is located on the south coast, about 20-minutes by road into Nuku'alofa Town. Buses head out of Nuku'alofa in all directions and make for good and cheap exploring, or you can hire a taxi for more organised sightseeing. Nuku'alofa has several tour companies offering day tours around the island. To visit the islands, small boats can be hired from the wharf in Nuku'alofa but there are no organised day cruises around the lagoon.