Exploring The Cook Islands
If you're after a sunny holiday and enjoy a bit of soft adventure, Cook Islands travel experiences are easily accessible. The islands are very safe and it's a super-friendly travel destination to explore. Renowned for its palm fringed beaches and laid-back ambience, the islands offer a peaceful village environment to immerse in, particularly on Aitutaki and Atiu, whilst Rarotonga has lush rainforest walks to enjoy and beautiful beaches to kick-back on. Otherwise, compared to other South Pacific Islands, the land area is very small and there's limited potential for adventure travel or off-the-beaten track exploring. Unless you're prepared to travel by cargo boat to some of the remotest atolls in the South Pacific (The Northern Atolls), or rent a holiday house for a month or more and really unwind, there's not a great deal to keep you here longer than a few weeks.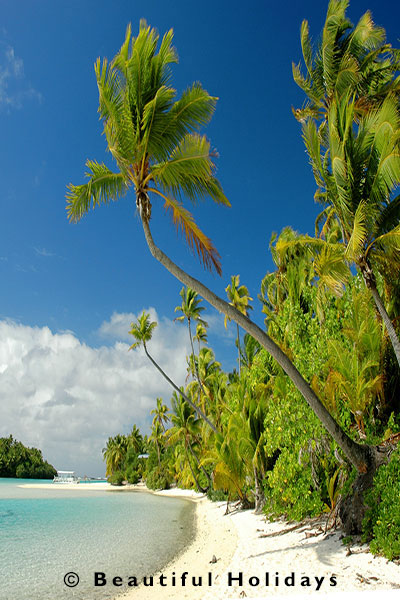 Aitutaki is a 40-minute flight from Rarotonga Island with an exquisite lagoon boasting tiny uninhabited islands and popular for day cruises. Aitutaki resorts are ideal for a romantic Cook Island holiday.
Our Aitutaki Accommodation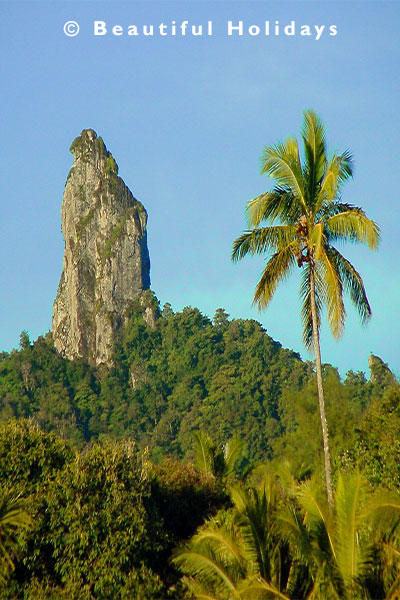 Rarotonga has 80% of cook islands accommodation with nice palm fringed beaches, lush tropical mountains, good restaurants and a fantastic holiday atmosphere. Don't miss an island dance and feast.
Our Rarotonga Accommodations
# 3 Visit
Atiu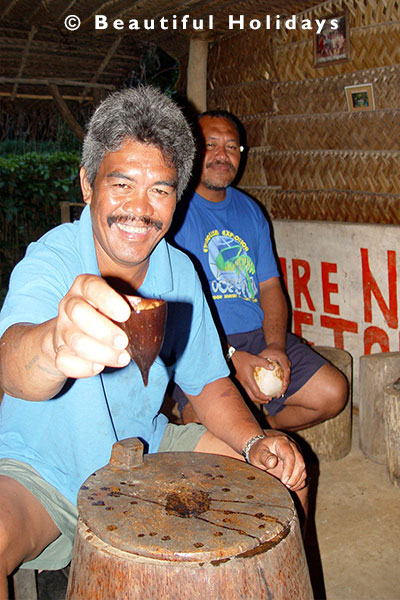 Atiu is an eco-tourism destination with caves and traditional villages to explore and a very slow pace of life. There are few beaches or snorkelling lagoons and only a handful of places to stay, mostly guesthouses.
Cook Islands Travel Guide

The Cook Islands is a Polynesian nation in the isolated eastern region of the South Pacific Islands - its closest neighbours are Tonga roughly 1,500km to the west and French Polynesia, about 800km to the east. The island nation is a self-governing state operating in free association with New Zealand. There are 15 small islands in this country with a total land area of only 240 sq km, but the Cook Islands actually covers more than 2.2 million sq km of ocean. The islands are separated into two groups: the Northern Cook Islands and the Southern Cook Islands.
The majority of travellers visiting the Cook Islands stay on delightful Rarotonga, a high island with picturesque tropical mountains surrounded by white sandy beaches and lots of locally owned beach bungalows and independent restaurants. The main island with its international airport, happy-go-lucky atmosphere and great beaches. Rarotonga is the youngest of the volcanic islands, so has experienced less erosion than the others and makes for an exciting, adventurous hike through the various elevations and landscapes. Rarotonga takes just an hour to circumnavigate; moped hire is cheap and the most popular way to travel.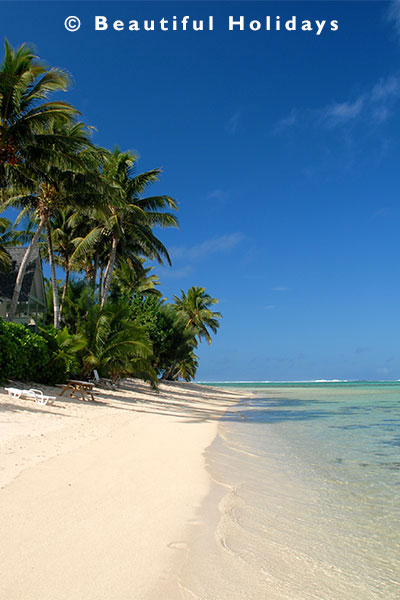 secluded beach rarotonga
waterfall on rarotonga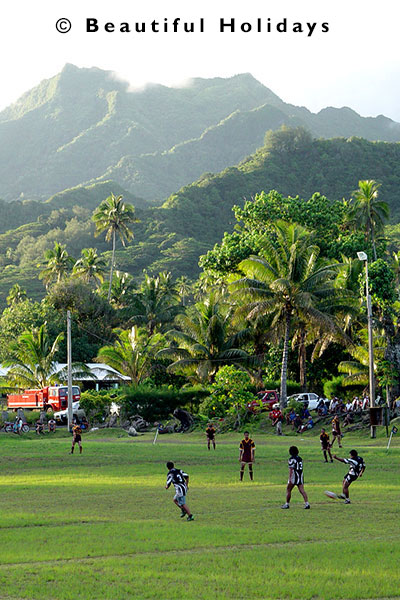 village rugby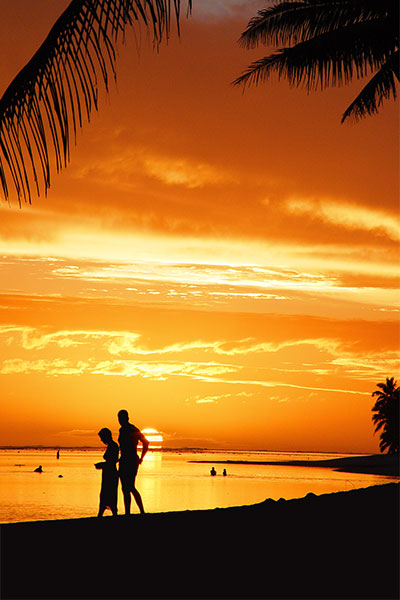 beach resort on rarotonga
The highlights of many Cook Islands travel journals is exploring the beautiful lagoon island of Aitutaki. There are two distinct attractions here: "Aitutaki Island" is the main island with the airport, villages and the majority of the accommodation offering a truly laid-back travel experience; "Aitutaki Lagoon" is the inner lagoon fringed by uninhabited coral islands and sand bars and mostly visited on day cruises. Aitutaki has fewer tourists than Rarotonga yet it's only 40-minute flight.
Some tourists visit Aitutaki on a package day tour from Rarotonga to cruise around the dazzling lagoon, sunbath, snorkel and walk along a sand spit. It's a long day trip (7am to 6pm; around $500 per person) aboard the island's largest day-cruise ship (up to 70 passengers) and whilst you will get to see the lagoon and its stand-out icon (One Foot Island) you'll miss out on what makes Aitutaki so special: a very laid-back holiday charm and the chance to really explore the islands on smaller more personalised day cruises or private water taxis.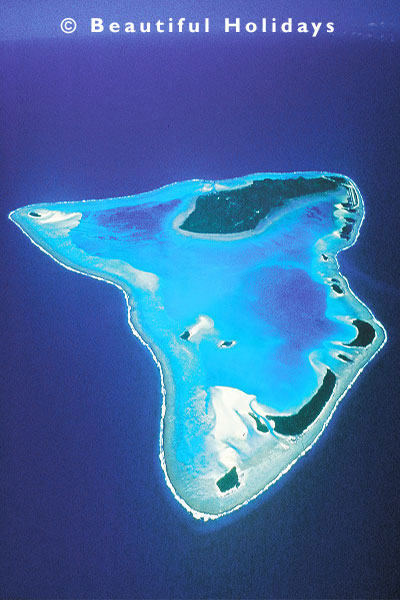 aerial view of aitutaki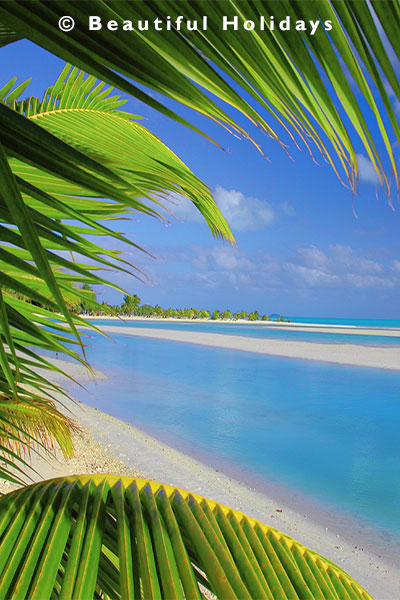 view of aitutaki lagoon
church aitutaki island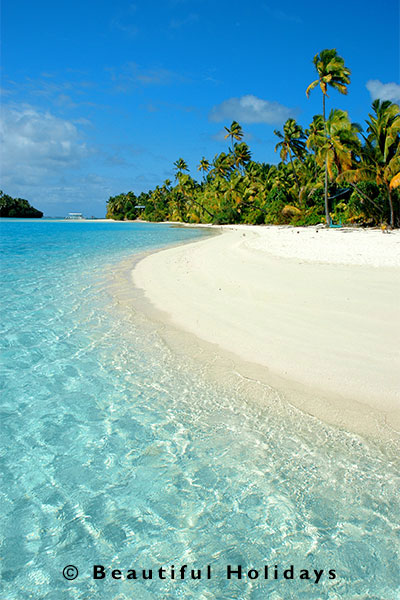 one foot island
Atiu Island, an uplifted coral atolls is the eco destination appealing to nature lovers and those looking to experience genuine Cook islands hospitality and explore unusual limestone caves. The remaining twelve islands of the Cooks offer traditional fishing villages, most of these being extremely remote atoll islands in the north where black pearls are farmed in the lagoons and visitors cause something to gossip about amongst the locals.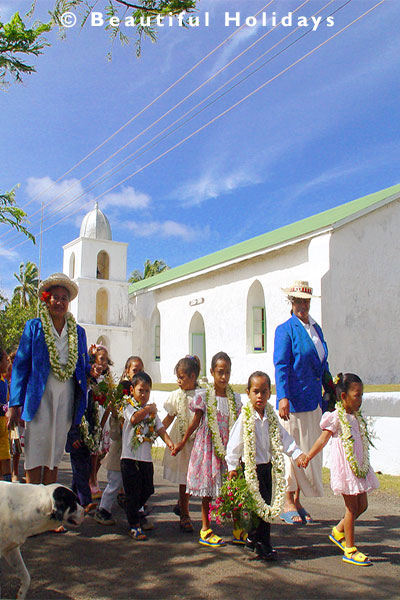 church on atiu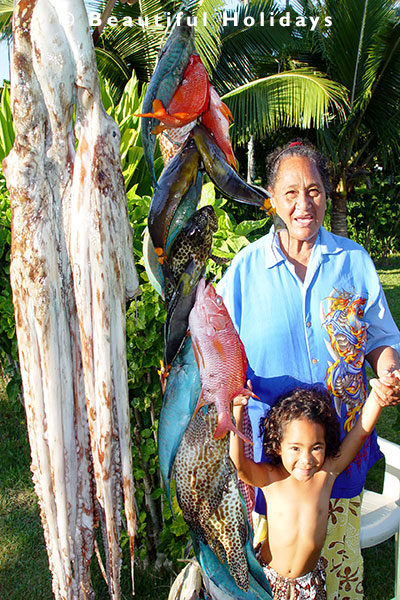 catch of the day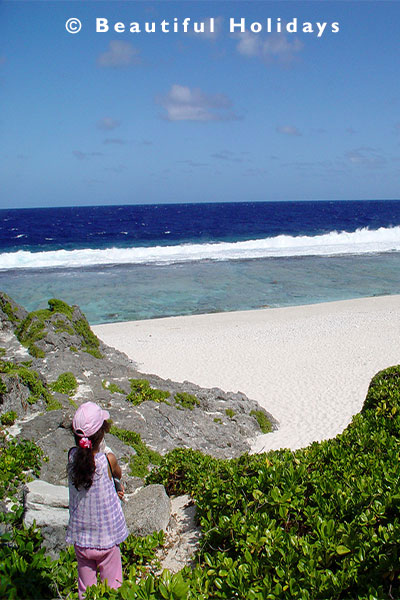 beach on east atiu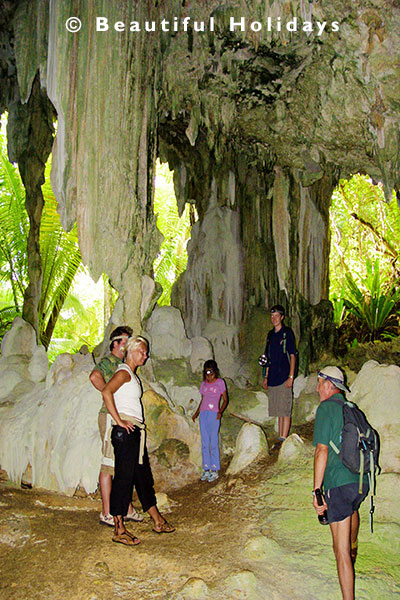 cave on atiu island
Five Things to Know about The Cook Islands
If you want to hire a car or moped, you need to get your driving license endorsed at the Police station in Avarua Town.
Cook Islanders greet each other in the street, or on the road with the upward nod of a head.
Flowers are commonly worn behind the ear by both sexes - left means you're single, right married.
Sunday is a strict day of rest and virtually everything is closed except for the churches.
Dogs on the roadside may seem as laid back as the locals but can bite, especially if when you're whizzing by on a moped.
Cook Islands Travel Details

The Cook Islands is a top travel destination amongst New Zealanders for the two countries have very close ties. They share a common Maori ancestry, use the same New Zealand dollar currency, and Cook Islanders hold New Zealand passports. Tourist arrivals reached 170,000 in 2019, over half being from New Zealand, and it is the third most popular holiday destination to visit in the South Pacific Islands.

The best way to get around on Rarotonga, Aitutaki and Atiu is by moped; you must have a local driving license which you can get at the police station in Avarua Town on Rarotonga. Driving is on the right, and road rules are strict and best adhered to, including the 40km/h speed limit. Otherwise, on Rarotonga, two local buses travel around the island in each direction all day long and you can buy day or weekly passes.

If travelling to Aitutaki or Atiu, you're only reasonable option is to fly with Air Rarotonga. The only other option is the twice-monthly cargo boat. There are regular daily flights between Rarotonga and Aitutaki, daily flights between Rarotonga and Atiu and two weekly flights connecting Atiu and Aitutaki. Flights to the Northern Group are infrequent and made typically by special request only. There's also a monthly cargo boat that connects the northern islands and takes passengers but schedules are erratic. You'd need to head to the wharf in Avarua Town to find out details, and even then things change last-minute.

The Cook Islands has a very pleasant year-round climate where temperatures seldom fall below 20 Celsius (it's slightly cooler and less humid than Fiji). All in all, the Cook Islands is undoubtedly one of the great destinations for a relaxing beach holiday.
Travel guide to other South Pacific Islands