Holiday Planner

What's Unique About Tuvalu?
Not much higher in elevation than the azure sea it sits in, and decorated with a fringe of coconut palms, the tiny islands of Tuvalu make up an ancient volcanic island chain eroded so much over time that it has almost disappeared back into the sea. The highest point on this nation is 5 metres high with much of the land swamped by the rising sea-level. Due to its utter isolation, Tuvalu receives only a few dozen tourists annually, making this idyllic, tiny island group one of the least spoiled or modernised corners of the Pacific; perhaps the world. Time has stood quite still in this remote corner of the globe, offering you a rare chance of solitude.
Tuvalu Island
Where in the South Pacific?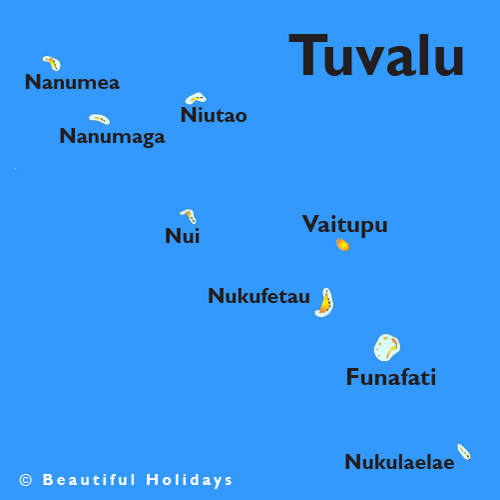 Tuvalu Resorts & Accommodation
The nine islands that make up Tuvalu are all tiny flat coral atolls barely 5 metre above the sea level. Climate change is the coutry's greatest concern and it champions its issues around the worls. Aside from its environmetal challenge the islands are beautiful and all offer excellent swimming, snorkelling and fishing, but remember that you're unlikely to find any hotels or other accommodation on the smaller islands. There are a couple of small hotels and guesthouses in Funafati but that's about it. You're far more likely to come across government personnel and NGO's in the hotel reception than other tourists. In fact, you may be the only tourist in town!
Tuvalu Travel Guide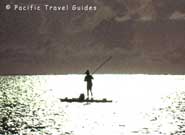 Formerly called the Ellice Islands, Tuvalu is a Polynesian island nation situated in the Pacific Ocean, halfway between Australia and Hawaii; its closest neighbours are Samoa and Fiji. The nation is made up of four reef islands and five true atolls, coral islands completely encircling a lagoon. It is just 26 sq km and is the fourth smallest country in the world, larger only than the Vatican City, Monaco, and Nauru.
Tuvalu is a peaceful island paradise, miles away from anywhere. But the reason you may have heard of it is not likely to be because of its undoubted charms, but because the island is under threat from disappearing under the ocean. If it's your lifetime wish to visit Tuvalu, you need to get here soon! Whatever the rights and wrongs of global warming, Tuvalu has beautiful tropical islands with palm trees, fabulous marine life, and everything you need to enjoy a peaceful holiday. The remoteness and limited nightlife make Tuvalu ideal for couples, and for anyone seeking a break from the rat race.
Visitors to Tuvalu spend most of their time on the island of Funafuti, as it is the only land mass in the group with accommodations. The outer atolls can be visited by using one of the passenger boats that makes round-trip sailings every three or four weeks. There is no tourist accommodation on the outer atolls, but they make for amazing day trips. Because the traditional community system exists on Tuvalu as it has for centuries, you will see first-hand how each family 'owns' a task they perform for the entire community, including building, fishing, farming, defence, or homebuilding. The family task is passed from generation to generation in the family. This way of life isn't a re-enactment for tourists, this is how they live every day, and you could take part if you're very lucky.
Diving, snorkelling, and swimming in the spectacular marine environment is the order of the day, since you have access to a vast expanse of clear, unspoiled ocean and atolls, film-worthy lagoons and coral reefs, and tiny islands all provide a unique South Seas ambience. For hikers, there are fabulous mangrove areas, and a few atoll scrublands that provide nesting spots for tropical birds. Mostly you'll find pandanus and hearty ferns that can tolerate the salt and humidity here.
You should try to find a game of te ano, which means 'the ball', and is similar to volleyball. The Philatelic Bureau is a rather surprising tourist attraction – because Tuvalu is a small nation and relatively new, it's stamps are highly collectable. Much of the Funafuti atoll is protected, because of the threat over overfishing. Come here to see sea birds, turtles and a wide variety of colourful fish. Tuvalu was an American base during WW2 and reminders of the conflict remain, particularly plane wrecks. In the evening, you may be able to find a traditional dancing display – ask at your accommodation. Or, if that sounds like too much hard work, enjoy lazing on the beach and swimming.
America stationed a large number of troops on Tuvalu during World War II, using the strategic location as a launch site to attack Japanese troops on nearby islands. Old runways exist on the north-eastern side of Nanumea and also on the islet of Motulalo in Nukufetau, along with the remains of World War II plane wrecks, for you to explore. Funafuti atoll was the main American base, and the remains of WW II artefacts are scattered over the main island of Fongafale. A very interesting, well-preserved bunker is dug into the islet of Tepuka; Tuvalu is a wonderful destination for history and war buffs.
Funafuti is the capital of Tuvalu, which is where you're likely to base yourself. The best – and really only – way to get around Funafuti is to hire a motorbike. There is one hotel in Funafuti, which is also something of a centre for social life, and there are a number of guest houses and lodges.
Tuvalu Island Travel Information
Tuvalu's one airport is the single tarred airstrip, Funafuti International Airport. Air Pacific provides an erratic service between Suva (originating from Nadi) and Funafuti. There is one taxi on Tuvalu that runs from the wharf to the shopping district. The best way to see Tuvalu is actually by motor bike, which can be rented from Asivai Motor Bike Rentals, Fakaifou side, Funafuti Island. Day cruises can be arranged from Funafuti, but to visit the remoter islands, you'll need your own boat
Country Facts
Total islands: 9
Total land mass: 26 km²
Capital: Funafuti
Main Island: Funafuti
Int'l Airport: Funafuti
Population: 12,000
Language: Tuvaluan, English
Tourists: 1,500 per year
Accommodations: 6
Money: NZ$
Tuvalu Travel Highlights
1) Fine Woven Handicrafts
2) Travel on a Cargo Boat
3) Traditional Life
4) Toddy Coconut Drink
5) Paddle an Outrigger Canoe
6) Hand line fishing
7) Go to an island dance
8) Help out in a family plantation