Planning your Holiday

Overview
This article was researched by our local South Pacific travel experts:
Efate Holidays Overview — Port Vila Outskirts & Erakor Lagoon — Efate Travel Details
Efate Island is the main island in Vanuatu with the capital town of Port Vila and Bauerfield International Airport on the south coast. The island is hilly and rugged in the interior with flatter farmland along the coast much of which is given over to cattle farming and through which the 136-km Lini Highway circles around the island.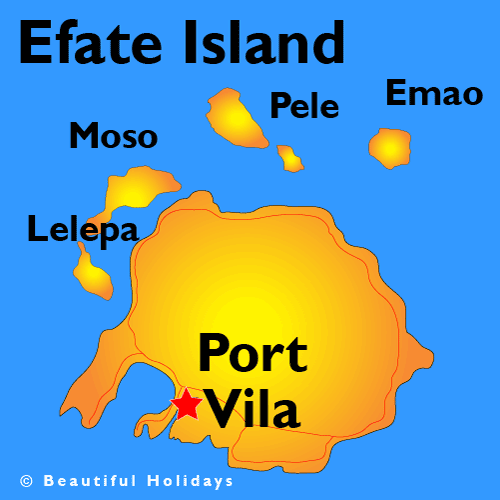 Efate Island Map
Reasons to Visit Efate Island
Romantic Beach Holidays
Sightseeing Holidays
Chief Roi Mata's Domain & Lelepa
Cascades Waterfall & Mele Bay
Port Vila & Erakor Lagoon
Best Efate Hotels
Efate Island Holidays Overview
There is little in the way of accommodation around Efate Island with most sightseers basing themselves at Port Vila where there's plenty of hotels and resorts to choose from. The exception is on the south coast of Efate, either side of Port Vila, where several secluded beaches have small boutique resorts.

Eratap Beach Resort is Efate's most upmarket boutique hotel fronting a secluded and picturesque beachfront setting 20- minutes drive from Port Vila along the southern coastline of Efate. With eleven villas, this is a great choice for couples as well as families looking for a quiet retreat.
Tamanu on the Beach is a boutique beach resort on the south east coast of Efate Island, 20-minutes drive from Port Vila. With just six white washed bungalows overlooking a long stretch of wild beachfront, this is a romantic spot for holidaymakers looking for peace and solitude.
Overview
The south west coast is dominated by Mele Bay with the islands most iconic attraction, the Cascades Waterfall inland, several small accommodation retreat's along the grey sand beach and the tiny but very popular Hideaway Island Resort within the bay, and heading back towards Port Vila, a championship 18-hole Golf Course.

Hideaway Island Resort is the liveliest budget accommodation in Vanuatu set on a private coral island three minutes by small boat off Mele Bay on Efate's southern coast. With a coarse sand beach, fantastic snorkelling and an on-site PADI dive centre, Hideaway is a popular island for a holiday or day-trip from Port Vila.
Overview
Off the north and east coast are a dozen smaller islands within the lagoon which make good side trips on day tours including Lelepa Island home to a legendary Polynesian chief.

The Havannah Resort is a boutique beach resort set on the secluded north coast of Efate Island in a beautiful lagoon surrounded by offshore islands. With just 16 bungalows with traditionally influenced exteriors but modern and contemporary interiors, this is a great retreat for couples only to enjoy a relaxing and pampered beach holiday.
Port Vila Outskirts & Erakor Lagoon
Other options for exploring Efate include several small boutique style beach and lagoon resorts on the outskirts of Port Vila.

Sunset Resort is an intimate lagoon-front resort on the outskirts of Port Vila. With comfortable and spacious accommodation boasting large wooden veranda's perched at the water's edge and tranquil views across the bay, this is a good choice for a relaxing holiday but with easy access to Port Vila and the island's sightseeing attractions.

Continue to the Port Vila Travel Guide
Efate Island Travel Information
Although buses travel around Efate Island, schedules are erratic. Car hire is the best option for exploring, and the very energetic might even make it around the island by bicycle in a full day.