Planning your Holiday

Overview
This article was researched by our local South Pacific travel experts:
Port Vila Holidays Overview — Port Vila Travel Details
Port Vila is the capital of Vanuatu, located in a protected bay on the south east coast on Efate Island, roughly the central island of the Vanuatu group. Efate Island is a small volcanic island just 900 sq-km in size with high tropical mountains inland. About 50,000 people live on the island, more than half of these in Port Vila.
Port Vila is the most popular holiday destination in Vanuatu with a good selection of boutique resorts and hotels and the town has several excellent sightseeing tours for exploring the island, including tours for cultural interaction. However, there is nothing really exceptional that jumps out making Port Vila a must-see destination, just a good relaxing holiday break, somewhere for a change of scenery from Fiji or Bali.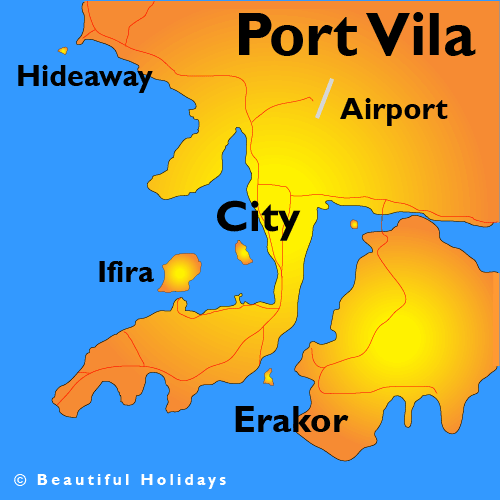 Port Vila Map
Reasons to Visit Port Vila
Family Holiday or Holiday Break
Wedding Reception
Good Sightseeing Tours
Restaurants & Kava Bars
Water Sports on Erakor Lagoon
Best Port Vila Hotels
Port Vila Holidays Overview
Although without a beach, Port Vila is an attractive seaside town built in the heart of a large bay backed by mountains which makes it ideal for visiting overseas cruise ships. The downtown area has some lively waterfront restaurants and bars, although its shops are shabby and uninspiring - the best place to browse is the flea market adjacent to the huge 24-hr fresh produce market which is one of the attractive in the South Pacific.

The Grand Hotel is the only upmarket accommodation in downtown Port Vila. This central hotel offers fantastic views of the town, harbour and Iririki Island from all rooms and suites, exceptional service and a contemporary designed half moon swimming pool and sun deck overlooking the waterfront.

Iririki Island Resort is a 69 acre private island facing downtown Port Vila with two upmarket resorts: Iririki has 70 bungalows for adults only ; Snorkellers Cove has 61 spacious contemporary apartments for couples and families. Both resorts have access to a huge swimming pool, tennis courts and a 24-hr ferry into downtown.

Moorings Hotel offers 29 modern rooms overlooking Port Vila harbour and centred round an infinity pool with decking and sun loungers. With a spacious and lively open air café and the adjoining Rumours Nightclub, Moorings is a hip choice for young couples looking for good value rooms close to downtown.

Coconut Palms Resort is a budget accommodation close to the National Museum, ten minutes walk from downtown Port Vila. Coconut Palms makes an affordable base for exploring Port Vila whilst having a resort atmosphere with a lovely swimming pool, good restaurant and central bar.
Overview
A few sites worth considering are a visit to the museum, close to parliament house on the hillside, and for those looking for a cultural kick, a visit to the Ekasup Cultural Village on the outskirts of Port Vila. But if you're into culture, and interaction, you might be better seeking out one of Port Vila's kava bars. Dingy in appearance, these bars are very safe to visit and you can sample some of the strongest kava in the South Pacific - three bowls is enough to make your head spin!
Ten minutes by road across the hill from downtown is Erakor Lagoon, location of Port Vila's large holiday resorts which appeal to families and casino lovers. Further along the peninsula about 15 minutes drive from town are several smaller boutique resorts fronting pretty beaches and with decent snorkelling reefs.

Erakor Island Resort is a boutique island resort with a distinct holiday atmosphere yet just five minutes drive from downtown Port Vila, Erakor offers 22 bungalows and is popular with both families and couples wanting to relax by the beach, do a little sightseeing and have easy access to Port Vila's nightlife and shopping.

Breakas Beach Resort is primarily a romantic retreat for couples on the breezy Pango Peninsula on Efate Island. With 36 studio style bungalows set amongst sandy gardens and facing the ocean, Breakas is a quiet beach resort with a no child policy and just ten minutes drive from downtown Port Vila.
Port Vila Hotels
Port Vila has the majority of the country's accommodation, with several large brand hotels, plenty of small boutique resorts and some decent affordable guesthouses in the downtown area. There are several good beach resorts on the outskirts of Port Vila and two island resorts, both with good snorkelling. Please view our recommended Efate and Port Vila hotels from the links below for detailed information including room interior photos and independent reviews.
Port Vila Travel Information

The international airport at Bauerfield is 15-minutes by road from downtown Port Vila. Port Vila is a great place to get around by public transport with plenty of local buses plying around town - you simply have to ask the driver to take you somewhere and off they go, just like a taxi. but at a much cheaper rate. Taxis, by contrast, are quite expensive.