Planning your Holiday

New Caledonia is a French Territory lying between Fiji and Australia with one large island (Grand Terre is the largest of the South Pacific nation islands), and four small islands. New Caledonia is not the most popular South Pacific destination to visit unless you're French speaking, but its unique appeals are slowly gathering popularity amongst Australian and New Zealand holiday-makers. With direct flights from Brisbane and Sydney on Air Calin / Qantas, the later on a daily basis, and a handful of weekly flights from Auckland on Air Calin / Air New Zealand, New Caledonia makes a great beach escape with a splash of the Mediterranean lifestyle. The weather is warm and balmy - year round temperatures seldom falling below 22 degrees Celsius. December to April are very humid being the wetter summer months. June to October are cooler and the most popular months to visit.

Noumea is where most tourists stay, or at least spend a few days wining and dining, and strolling along the beach promenade taking in the sunshine. The Isle of Pines, a 20-minute flight from Noumea, offers fabulous beaches and a holiday atmosphere, whilst the Loyalty Islands offers a splash of adventure and throwing in some of the South Pacific's most beautiful beaches along the way.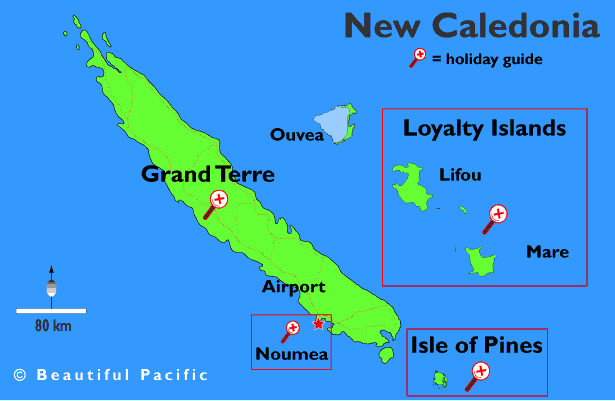 New Caledonia Travel Guide
The capital of Noumea has the majority of the country's large hotels, most notably around the beaches of Anse Vata. The main island of Grand Terre has rather limited accommodation with just a handful of small beach resorts mostly in the northern half of the island and several mountain retreats quite close to the international airport, as well as town hotels and pensions aimed at the local business market. The second most popular island to visit is isle of Pines where you'll find a handful of small beach resorts as well as more affordable guesthouses. The Loyalty Islands has more limited accommodation with locally owned tribal accommodation being popular with backpackers and adventurous travellers.

Grand Terre / Noumea Town
The main island of New Caledonia is Grand Terre, a huge island with high mountains and Nickel mines down its spine. With remote tribal villages on the east coast and dry farmland on the west coast, Grand Terre is an island of vast spaces. Apart from the beautiful capital of Noumea, it is too devoid of interesting sights to make it a worthwhile holiday destination for overseas tourists although there are great scuba diving reefs to explore for those on a diving holiday. Noumea, on the other hand, is sophisticated and exciting with great restaurants and casinos, boutique shops and plenty of hotels, most notably along the beach suburbs of Anse Vata. Offshore are a collection of beautiful coral islands that make for a fun day out snorkelling the lagoons, spotting dolphins, game-fishing for marlin and wahoo and visiting uninhabited islands for a BBQ lunch.
Noumea Accommodation Guide ; Grand Terre Accommodation Guide
Isle of Pines
The Isle of Pines is where to go to get away from the hustle and bustle of Noumea life and to soak up the sun on a beautiful sandy beach. With less than a dozen resorts, accommodation choice is limited but there's enough for most types of holiday-makers and there's a good choice of tours and decent snorkelling lagoons to keep the active busy.
Isle of Pines Accommodation Guide

The Loyalty Islands
Few overseas travellers make it out to The Loyalty Islands which is a shame because here you'll get a true sense of the South pacific with friendly locals, tribal villages and glorious white sand beaches. A lack of accommodation and tourist infrastructure and unreliable flights are its main drawback for tourists, although those with a sense of adventure will find this to be a truly romantic destinations.
Loyalty Islands Accommodation Guide
Five Things to Know about New Caledonia
1) A barrier reef surrounding the main island of Grand Terre is the second largest in the world covering almost 15,000 km2 protected as a  UNESCO World Heritage of Humanity.

2) The traditional people of New Caledonia are Melanesians and follow the kanak tribal culture.

3) The Loyalty Islands have the regions best beaches but only a handful of places to stay.

4) Locals refer to Grande Terre as "Le Caillou" or the rock

5) New Caledonia has one quarter of the world's Nickel and is the largest producer of the metal with mining towns in the north of Grand Terre.


New Caledonia Travel Facts
French in the national language in New Caledonia and English is spoken only by a few people, although most in the tourism industry have practical knowledge. The weather is warm and balmy - year round temperatures seldom falling below 22 degrees Celsius. December to April are very humid being the wetter summer months. June to October are cooler and the most popular months to visit.
The country is free from malaria, yellow fever and most other diseases endemic in tropical countries. Mosquitoes are present and can be annoying during the wetter months (Dec to April). Water is safe to drink.
Electricity is 220 AC voltage as per France and uses to round pin plugs as found in Europe. The currency is the Central Pacific Franc (CFP) which is fixed to the Euro - most resorts set room rates in Euros and this is the currency we have used for all quotations.