Planning your Holiday to Upolu Island

Overview
This article was researched by our local South Pacific travel experts:
Upolu Holidays Overview — Apia & The North Coast — Fagaloa & Uafato Bays — Lalomanu Beach — South Upolu — Manono Island — Upolu Travel Details
Upolu is the main island of Samoa with a good coastal road and lots of scenic lookouts, waterfalls and beaches along the way. It takes just over 3 hours to drive right around the island. Heading east from Apia, the coast is tropical and rugged with pleasant mountain views and small villages along the rivers and a few picturesque beaches but few swimming opportunities.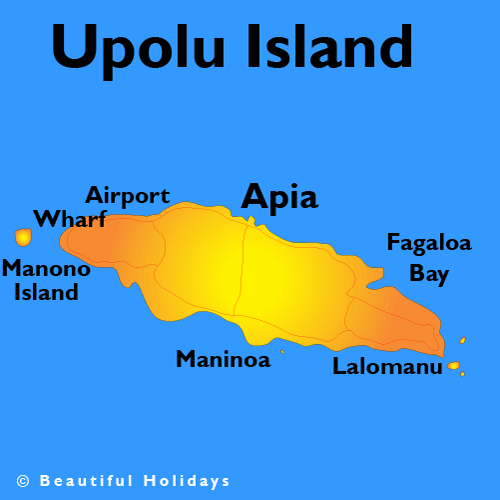 Upolu Map
Reasons to Visit Upolu Island
Beautiful Waterfalls & Sightseeing
Adventurous Honeymoon
Surfing Holidays
Backpackers & Beach Fales
Hiking in the Rainforest
Best Upolu Hotels
Upolu Island Holiday Overview
Upolu Island is volcanic in nature, with high tropical mountains rising in the interior, the highest point being Mt. Fito at 1158m. It is a long island with its capital town Apia midway along thenorth coast and the international airport about 40-minutes drive to the west. Most of the population liove along the north coast but the best beaches and most of the islanhds resorts are on the more rural south coast.
Apia and the North Coast
The capital of Samoa, Apia Town, sits on the north shore with large villages extending along the coastal road to the east and west. Apia is a charming town of about 45,000 people with a pleasant harbour setting and is the hub of tourist activity and hotels.
The north coast of Upolu is the most densely populated with a string of large traditional villages between Apia and the international airport at Faleolo, 30km west of the capital. There are few beaches along the north coast and no accommodation except in Apia and at the beautiful Aggie Grey's Beach Resort a few kilometres past the airport. From here, it's a five minute drive to the western tip of the island at Mulifanua where passenger ferries depart for Savaii island.

West of Apia and heading towards the international airport are an almost continual string of large Samoan villages, each with some quirky piece of history. Beyond the airport and before reaching Mulinafua Wharf where ferries depart for Manono and Savaii Island are two beach resorts which make a great base for sightseeing holidays.

Aggie Grey's Lagoon Resort is a modern beachfront hotel with five restaurants, a beautiful spa, 18-hole championship golf course, swimming pool, tennis courts, lots of water based activities and a kids club making this a great family escape, and three separate cove beaches with swimming lagoon.

Le Vasa Resort is an upmarket boutique resort located on the west coast of Upolu Island facing Manono Island. The resort is set in a mature palm grove with traditionally styled fales abutting the ocean and with a small cove beach and swimming lagoon. This is a quiet spot for couples and families with older children.
Fagaloa & Uafato Bay
The coastal highway heading east from Apia cuts inland at the picturesque Falefa Falls and a small dirt off-road follows the coast to Utuloa Point passing some of the best accessible coastal scenery in Samoa. The paved road ends at the attractive village of Saletele, but you can walk right around Fagalua Bay along a rough dirt track to the village of Taelefaga where a sealed roads takes you back on to the main highway. For the very adventurous, you could continue along the coast all the way to the vibrant Uafato Conservation Reserve. The reserve has some of the last remaining natural tropical forests in Samoa and bird life thrives.

Lalomanu Beach & The Aleipata Islands
Lalomanu Beach on the south east tip of Upolu is the most picturesque in Samoa and has a fantastic swimming lagoon with good snorkelling, scuba diving and surfing along the offshore islands, about five minutes by boat from the shore. This is one of the most beautiful regions in Samoa and although popular with locals on weekends and holidays, at other times is blissfully quiet.

Taufua Beach Fales lies in the heart of stunning Lalomanu Beach and is popular amongst budget travellers seeking a lively ambience and a sublime turquoise lagoon for swimming and snorkelling. Excellent service, good food and plenty of absolute beachfront fales make this the most popular backpacker in Samoa.
South Upolu
Most of Samoa's white sandy beaches, boutique resorts and access to waterfalls is from the south coast of Upolu Island. A cross island road conveniently connects Apia with the south coast at Maninoa Beach at takes just 20-minutes, and here there are several excellent surfing breaks and two boutique resorts ideally placed for sightseeing.

The southern coast is the quietest area on Upolu and is a good place for walking and visiting traditional villages. The Togitigiga National Park has a lovely natural swimming pool and waterfall and is one of several scenic waterfalls around the island. The south coast has several pretty beaches including Vavau with its sheltered beach enclosed by a small island, the black sands of Aganoa Beach and Maninoa which has great surfing breaks accessible from the beachfront, although swimming is not great at an of these beaches.
East of Maninoa is Salamumu where there's a fantastic half day coastal walk taking in several breathtaking secluded beaches including the aptly named Virgin Cove and Return to Paradise Beach.

Coconuts Beach Resort is one of Samoa's few upmarket resorts with stylish rooms and bungalows, good service, a spa, restaurant and activities centre. Set alongside a part sandy coastline and directly infront of a good swimming, snorkelling and surfing lagoon, Coconuts is a good choice for couples and surfers.

Virgin Cove Resort is one of the nicest budget retreats in the South Pacific set on an secluded fine white sand beach and carefully carved out of virgin rain forest. Hand crafted fales are well spaced apart for privacy, there's a laid back ambience, a nice restaurant and excellent service.

SaMoana Resort is set in the secluded beach location of Salumamu. Although primarily a surf resort (daily trips offered) with professional guides), SaMoana makes a great retreat for couples or families looking to explore the spectacular coastline and to enjoy some good snorkelling off the beach.
Manono Island
Just 4 km off the west coast of Upolu surrounded by a turquoise lagoon is the small island of Manono. This tranquil little haven has just four fishing villages, with most houses being traditional fales. The beauty of Manono is there are no cars and no barking dogs at night - just the stars and the lapping waves. It takes a leisurely two hours to walk around the coastal track, passing several palm fringed beaches with good snorkelling. Inland trails lead to several interesting archaeological sites including an ancient star mound on top of Mt. Tulimanuiva, the highest point at 110m.
Upolu Travel Information
Local buses travel from Apia to most villages around the island and are exceptionally cheap, rather uncomfortable but make for a lively cultural experience. Unfortunately schedules along the south coast are limited meaning its OK for getting from A to B, but no good for sightseeing. Car hire is the best way to explore the island with decent roads - driving changed to the left side in 2009 (as with Australia and New Zealand) but you have to get your license validated in Apia before renting a car.
Samoa Scenic Tours operates good sightseeing day tours from Apia and most resorts and some beach fales can organise day tours for its guests. There are no domestic flights around Samoa with travel to Savaii by passenger ferry from Mulifanua Wharf on the west coast.