Niue Holiday Planner

What's Unique About Niue?
The world's smallest independent nation, Niue, is a raised coral atoll island in the middle of the vast South Pacific Ocean. Holiday-makers arrive mostly from New Zealand, stay a week or two ... literally ... as there's only a weekly flight ... and leave with fond quirky memories and a relaxed air about them.
Niue Island
Where in the South Pacific?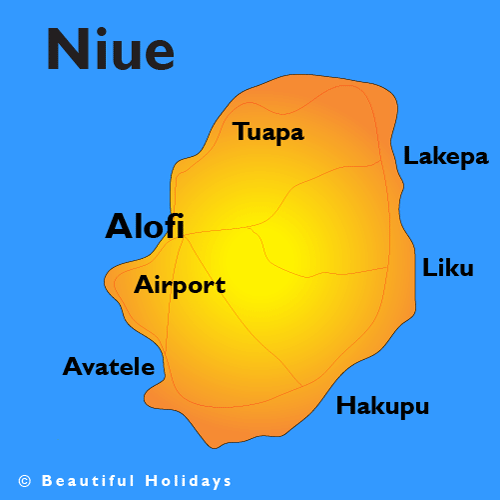 Niue Island Resorts & Accommodation

Don't be fooled by the traditions and unspoilt beauty of this island, there is a 9-hole golf course, and a wide selection of accommodations, to suit every budget and taste. From an excellent full-service resort-like hotel to quaint cottage units, guest houses to camping options for you backpackers, you will find a place to stay that will suit your needs. Some accommodations have swimming pools, many have air conditioning, and all are charming and tidy.
Niue Island Travel Guide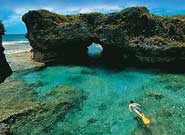 Don't search for beaches … there aren't any. The most raved about experience is its large number of limestone caves close to the coast which you can explore on foot or by snorkelling or diving. This middle-of-the-ocean getaway is a dream vacation spot for divers, cavers, explorers, and adventurers. It is also one of only three places in the world where you can get in the water and swim with humpback whales which visit from May to October each year on their annual migration.
With the limestone eliminating all sediment, visibility is as much as 80 metres, and Niue is almost universally ranked as one of the very best dive spots in the world! Snorkellers, swimmers, and divers can all explore caves, chasms, and caverns surrounded by the local marine life. There are hundreds of these, some still being formed by the sea, so the odds are it will just be you and the sea. Some of the more hidden chasms were the exclusive spots for ancient royals, others have never even been explored; there are very few spots left on earth where you can say you were the first to see it.
Every year from mid-summer to mid-fall schools of Humpback whales swim into the waters surrounding Niue to calve and nurse their young. They play so close to shore, sometimes as little as 50 metres out, you might be awakened by them slapping the seas with their massive dorsal fits. Niue is one of only three places in the world where you can get in the water and swim with these gentle giants, but remember to respect their waters and keep watch at a distance. You can also spot good-size pods of spinner dolphins, permanent residents of Niue; the dolphins roam wherever they like, but they're creatures of habit so have a little patience and you should be swimming with them in no time.
The sea gets very deep quite close to shore, so you can actually deep-sea fish from the cliffs if you want to, or try it the ancient traditional way from a canoe. Skipjack, Yellow fin Tuna, red Bass, Mahi-mahi, Wahoo, and black, striped, and blue marlin are among the catch you can expect to reel in.
Looking for adventure without getting wet? You can walk/hike all over the island and never get lost. All tracks are well marked with signposts and information, and each has a surprise for you at the end – could be a coral pinnacle, an amazing cave to explore, or a tropical rain forest. Whatever it is, you can be sure it looks so perfect you'll think you're in a movie set … but it's all natural and all Niue
Niue Travel Information
Niue International Airport is located south of the capital city of Alofi. It is serviced by Air New Zealand (only), flying to Niue once each week from Auckland. You can hire a car, bicycle, motorbike, or a minibus from one of the four island rental agents.

Country Facts
Total islands: 1
Total land mass: 260 km²
Capital: Alofi
Main Island: Niue
Int'l Airport: Alofi
Population: 1,650
Language: Niuean, English
Tourists: 3,000 per year
Accommodations: 10
Money: NZ$
Niue Island Travel Highlights
1) Whale Watching from Land
2) Snorkelling in Limu Lagoon
3) Cave Diving
4) Guided Walk to Togo Chasm
5) 14 Village Festivals
6) Swim with Dolphins
7) Alofi Town
8) Limestone Cave Tours
9) Liku Sea Track
10) Cycle around the Island