Planning your Holiday to Apia Town

Overview
This article was researched by our local South Pacific travel experts:
Apia Holidays Overview — Apia Town — Apia Hills — Apia Travel Information
Apia, the capital of Samoa, is located on the north coast of Upolu Island about 40-minutes by road east of the international airport. The picturesque seaside town has a population of around 45,000, mostly indigenous Samoans, but also some Chinese and Europeans and is notable for its lively bars and some excellent restaurants plus a wonderful fruit and fish market.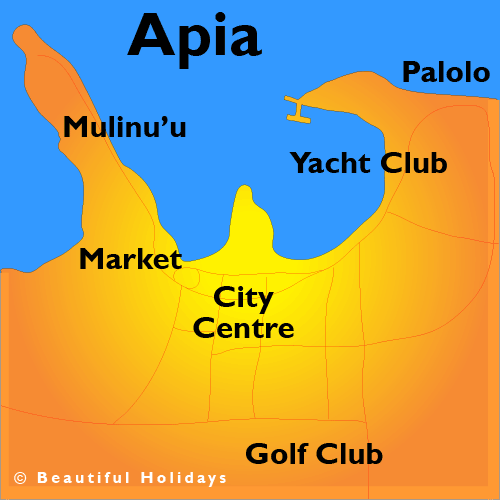 Apia Map
Reasons to Visit Apia Town
Robert Louis Stevenson Museum
Palolo Marine Reserve
Mulinuu Historical Walk
Apia Local Produce Market
Lively Restaurants & Bars
Best Apia Hotels
Apia Holidays Overview
Apia sits on a pretty harbour front setting backed by lush tropical mountains. Downtown Apia is quaint in appearance with many buildings in and around Apia retaining its colonial style architecture and with just a handful of modern buildings. Unfortunately there are few decent shops but there is an abundance of good restaurants, lively bars and raucous nightclubs as well as a good flee market for souvenir shopping. A harbour wall meanders along the waterfront and makes a good place to stroll and take in the views.
Apia Town Centre
The main promenade through Apia Town is Beach Road which runs alongside the harbour wall and is lined with local shops, some excellent restaurants and lively bars and several of the towns hotels. A promenade runs alongside the harbour wall all the way up Mulinuu Peninsula and makes an enjoyable place to stroll and take in the relaxed atmosphere of this pretty seaside town and to watch outrigger canoes paddling around the protected harbour.
If staying in town for a day be sure to visit the fish market early in the morning, the fresh produce market especially good on Saturday morning and the flea market which sells a good variety of locally produced hand crafts and sulus which make great souvenirs.

Overlooking the picturesque harbour of Apia Town, Aggie Grey's Hotel captures the essence of Samoa with its charming history and grace. The hotel is walking distance to some great restaurants and bars and the harbour front is a good place for strolling and taking in the town's ambience.

Set on Mulinuu Peninsula and across the road from the harbour wall, the Tanoa is a short walk to the flea market, produce market, fish market and to the bus stand and is a good base for exploring the town and peninsula.
Around Apia Hills & Suburbs
For longer stays you should definitely head out to Robert Louis Stevenson's old home in the hills of Vailima overlooking Apia. The house has been converted into a museum which not only showcases Stevenson's writing career but also gives a good insight into every day life in the colonial era.
Also on the outskirts are tow waterfalls to visit. Papaasea Sliding Rock is a series of three small falls tumbling into rock pools which, if feeling brave enough, you can slide down for a bit of fun. The other is Papapapaitai, one of the highest of Samoa's waterfalls and you can watch this beautiful tropical setting from the cross island road.
The only beach area in Apia is a ten minute stroll from central Apia at Vaiala, although even here there is no sand at high tide. Vaiala has several guest houses with ocean views but the main attraction is snorkelling at the Palolo Deep Marine Reserve with its deep blue hole and colourful fish. For those that like golf there are two great golf courses to enjoy, both in the hills with views over Apia Town.

Apia Travel Information
Apia is a 40-minute drive from the international airport. There are extremely cheap but pretty uncomfortable local buses travelling all around the island and originating from the Apia bus stand so you can explore the island making Apia a base. If travelling within the town area taxis are a much better option for getting around and are also pretty cheap. The domestic airport in Apia has been closed for a number of years and there are no internal flights to Savaii. The best way to get around Upolu is by car, with driving now on the left as with Australia and New Zealand, but annoyingly before you can drive you have to validate your driving license at the Apia Police Station.