Independent review for Tokoriki Island Resort in the Mamanuca Islands of Fiji

Tokoriki Island Resort Fiji is a delightful secluded Beach Front resort in the quiet outer Mamanuca Islands with stunning sunsets and romantic ambience. Just 34 comfortable beach-front bungalows alongside a sweeping beach ensures privacy. Extensive water sports, fishing and diving amongst the pristine reefs.
Recommended For:
Intimate Couples, Weddings and Honeymoons
Luxuriously Appointed Villas
Stunning surrounding islands
Quick Facts
34 Bures
Small Island - Beachfront Location
Restaurant & Bar, Swimming Pool


Fiji Islands Map

Mamanuca Islands Map
Tokoriki Island Resort Information & Facts
Hotel Location: Beach Front on a small island in the outer Mamanuca Islands
Getting There: 1 hour 50 mins by road / boat from Nadi Airport ; or 15 mins by helicopter
Unique Qualities: Delightful beach, spacious grounds, exceptional bures
Ideal for: Couples
Hotel Features: 34 bures and villas, Swimming Pool, Tennis, Spa
Dining: Restaurant at the resort - no independent restaurants nearby
Children Policy: Under 12 yrs NOT permitted
Local Attractions / Tours: Walking trails, Pottery village visit
The Beach: Sweeping white sand around resort, backed by coconut palms
The Ocean: Good for swimming, mostly sandy bottom, some waves
Snorkelling: Good, offshore from beach
Other Activities: Scuba Diving, Game Fishing, Kayaks, Island Trips
Room Information
Deluxe Beach Bures are of traditional design with high thatch roofs offering a cool living environment and are set back about 20 yards from the beach protected by a sandy coconut grove. Rooms are fully air-conditioned featuring king size bed and well appointed lounge area. The bathroom features a large indoor shower and stone-wall private outdoor shower. Other amenities include a mini-bar fridge, safe, hair dryer, tea and coffee making facilities.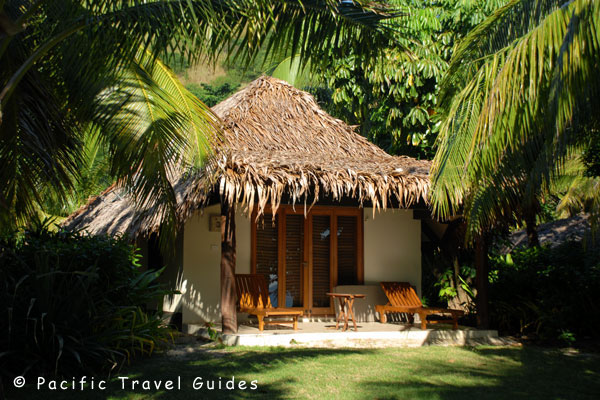 beach bure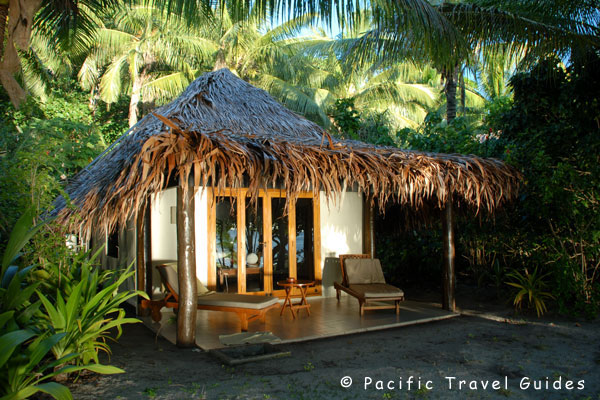 bure veranda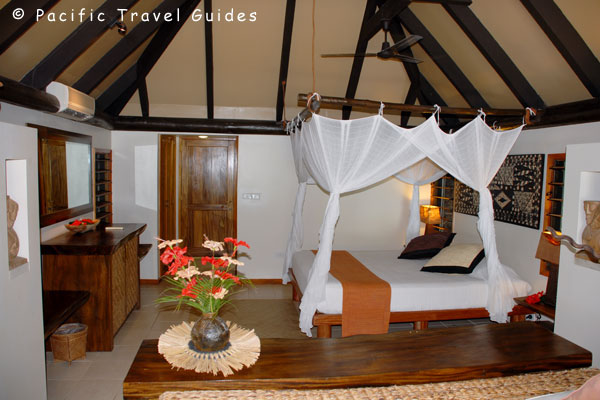 bure interior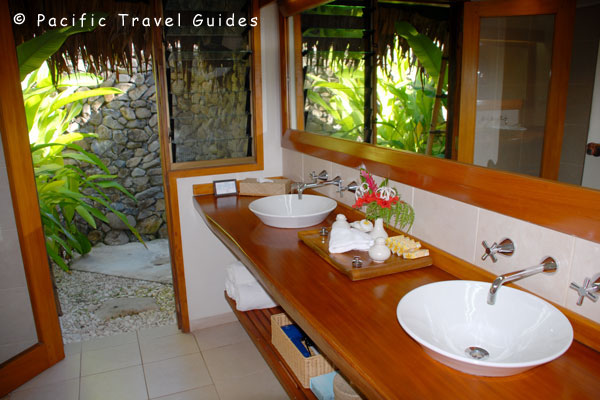 bure bathroom
The Sunset Pool Villas are amongst the most delightful traditional style villas in Fiji and are located at the northern end of Tokoriki beach for maximum privacy, being elevated to provide outstanding panoramic ocean views. There's a large private deck with double sun lounge bed and plunge pool. The rooms are spacious featuring a king size bed and lounge area. All have air conditioning and ceiling fans. The bathroom features a twin sinks, a shower and toilet and and stone-wall outdoor shower. Other amenities include a mini-bar fridge, safe, hair dryer, tea and coffee making facilities.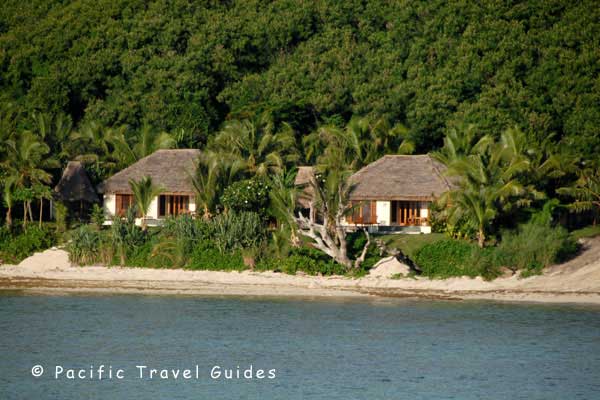 sunset pool villa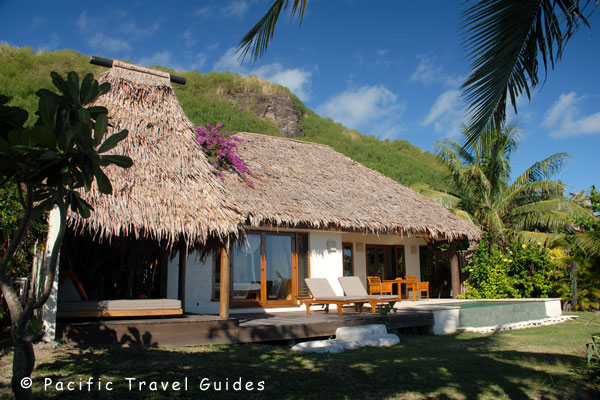 villa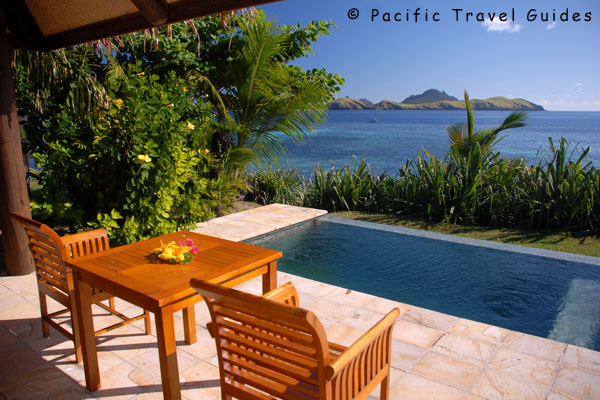 private pool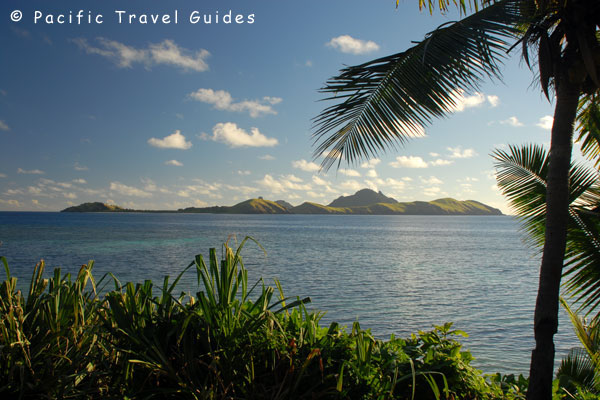 pool view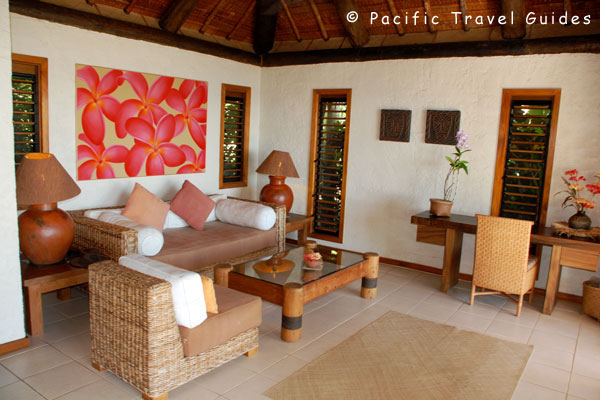 lounge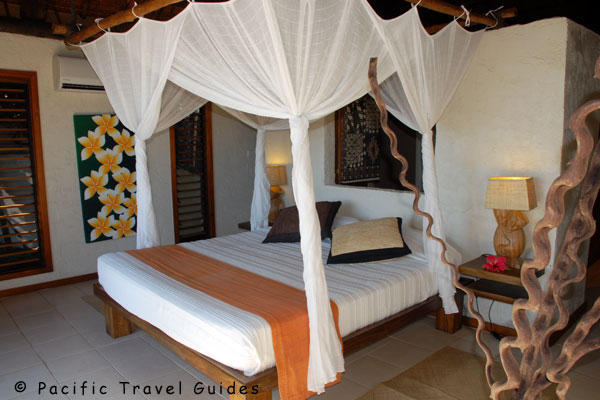 bedroom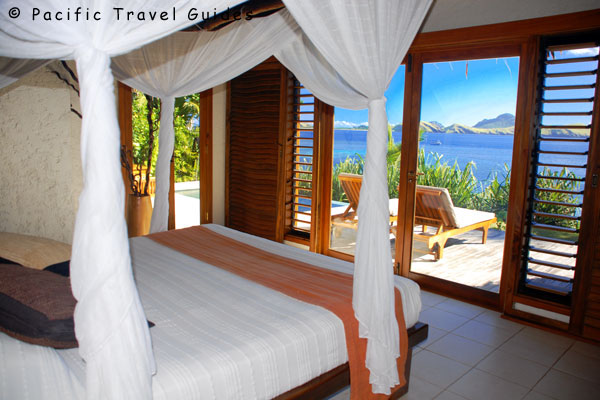 bed outlook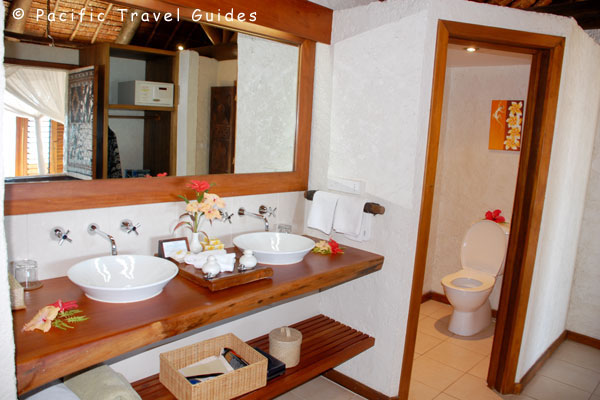 bathroom
Hotel Amenities
The ambience at Tokoriki island Resort is distinctly romantic and aimed at couples - children under 12 years are not permitted at the resort. There's a large infinity pool which is the main focus of the resort as well as a smaller pool set back which is used for scuba diving lessons. A traditional wedding chapel is set abutting the hillside or couples can get married on the beach (usually beside the slanting coconut tree). The beach at Tokoriki has fine white sand on its southern end (beside the beach bures), although seaweed is washed ashore with certain winds and can spoil the beauty. Snorkelling offshore is good but swimming in the lagoon can also be spoiled by the presence of seaweed. The northern beach has lost most of its sand in recent years and exposed bedrock is mostly evident on the shoreline..
Dining at Tokoriki is a delightful affair with a fine a-la-carte menu, good wine list and serenading. Dining is generally under the stars beside the infinity pool and there are three private decks for beachside dining. There's also a large indoor restaurant and bar.