Planning your Holiday

Overview
This article was researched by our local South Pacific travel experts:
Tonga Travel Guide — Five Things to Know about Tonga — Tonga Islands Travel Details
Tonga is renowned globally as one of the very best destinations for whale watching. The glorious South Pacific humpback whales arrive in the waters of Tonga in May to breed and calve, then stay through October to raise their young and play in the clear blue waters of the Pacific. The game fishing too is excellent here, and the blue fin tuna are exceptional. You'll enjoy some of the best diving in the world – float among a wide variety of sea life species, coral-encrusted wrecks, huge sea caves, black volcanic walls, coral gardens and dark tunnels, and massive ocean pinnacles. Or just laze back on one of the secluded beaches in one of the 100 or so uninhabited small islands that grace this peaceful holiday destination.
Tourism in Tonga is extremely low key with no flashy facilities, no large resorts and only Vava'u having a distinct tourist orientated centre with a variety of tour companies, restaurants and guesthouses.
However, there have been some issues with travel in Tonga over the years: an on-again / off-again domestic airline which has crippled tourism development in Ha'apai and Vava'u islands; a government that is in essence dictated by the King; political riots that decimated the capital Nuku'alofa with widespread burning of buildings aimed mostly against encroaching Chinese business; and most recently anger at the governments pandering to China's political investments which has now taken over the country.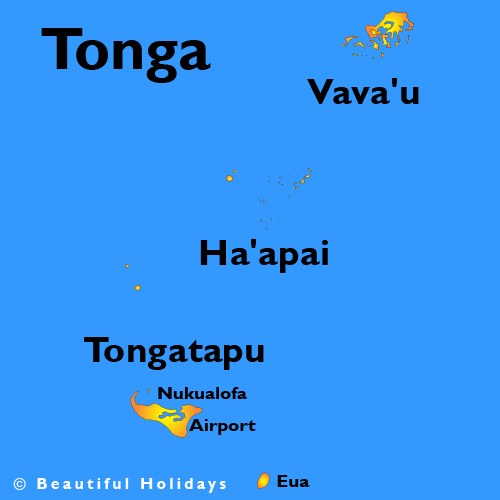 Tonga Islands Map & Pictures
Things to Do in Tonga
Snorkel the Coral Reefs
Visit an Uninhabited Island
Swim with Humpback Whales
Explore Tongan Culture
Crafts - Basket Weaving & Tapa Cloth
Most Popular Places to Stay
Tonga Travel Guide
There is an sense of freedom in Tonga you don't find in many places around the South Pacific. Unfortunately the country is a political mess having been brainwashed into China's "Belt and Road Initiative" and for this reason alone it may well be a destination to boycott alltogether. If you do decide to visit it's a great place to explore and just go with the flow - hop on a bus around Tongatapu and just get off somewhere along the way to explore or catch a small boat with the locals to visit their island for a day. Tonga is a s much about exploring as it is relaxing on a beach.
Tongatapu is the main island of Tonga with the capital Nuku'alofa and International Airport. The island is a small flat island, just 20-km in length and slightly raised on its south and eastern side giving craggy coastal cliffs around 10 metres high. The island boasts rich archaeological sites and sightseeing tours and although has the majority of the country's accommodation, this still amounts to only a handful of beach resorts. The tiny offshore coral islands within Tongatapu Lagoon have a couple of beautiful boutique resorts ideal for beach holidays and offer excellent snorkelling and day cruises to visit other uninhabited island with exquisite beaches.
A 30-minute flight to the north of Tongatapu is the even more laid back Ha'apai Group. This scattering of 50 small islands, some with traditional fishing villages, most completely uninhabited and with just three beautifully secluded beach resorts but little in the way of tourist infrastructure.
The Vava'u Islands, 20-minutes flight further north is the main centre for adventure tourism - this myriad of islands and secluded bays and beaches has world class sailing and game fishing, excellent snorkelling, good sightseeing on the water and is the best place in the South Pacific to view humpback whales Neiafu Town, its centre, has good restaurants, bars and lots of day cruises to enjoy.
In the far north, closer to Samoa than Tongatapu, is the utterly remote Niuas Group boasting several cone-shaped volcanic islands supporting traditional fishing villages.

Five Things to Know about the Tongan Islands
1) Sunday is a strict day of rest and virtually everything is closed, taxis are hard to find, and tours stop.

2) The pig is an important family possession for partaking in village feats and can be seen running around villages and in and out of houses - be careful not to hit one on a road where they also loiter.

3) Tonga is the only remaining kingdom in the South Pacific. King Tupou IV is the third king of Tonga this century which is the same number of monarchs to have ruled last century.

4) Humpback Whales visit the islands only between May and October.

5) The speed limit on most roads is 40km - don't expect to go anywhere fast.



Tonga Islands Travel Information
This strong Polynesian nation lies in the central region of the South Pacific Islands. Its closest neighbours are Fiji which is 700km to the north-west (although the closest islands of Fiji's Lau Group are just 300km away; Samoa which lies 800km to the north; and the tiny rock island of Niue about 450km east of the Ha'apai Group.
Tonga is easily accessible from New Zealand, Australia, Fiji, Hawai'i, or Los Angeles, other departure cities will require a little extra work and travel time to connect through Samoa or Nadi.
From North America and Europe, the easiest way to visit Tonga is on the twice weekly Air New Zealand service from Los Angeles, stopping over in Samoa en route. Otherwise, there are daily flights from Auckland with either Air New Zealand or Virgin Australia, the latter also having direct flights from Sydney. Air Pacific fly twice weekly from Nadi in Fiji. Tonga is a reasonably cheap destination to visit on holiday with good value for money accommodation, although getting around can prove a little costly.
Click a region to visit in the Map of Tonga Islands below to view our interactive pictures of the islands along with hotel locations and reviews - it's a fun way to plan your holiday ...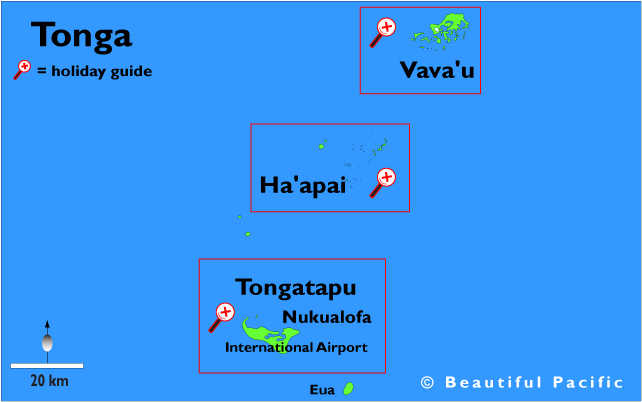 Travel within Tonga will require you to be relaxed, patient, and very flexible. Plan well, because anything from the tide to a hangover will affect your inter island transport. There are plenty of taxis available for day trips or excursions; if you take one from the airport and they tell you your hotel is closed or full, don't worry – you've likely selected one that does not pay commissions to taxi drivers. At least one public bus experience is a must – you'll join a party of singing, swaying and loud music as you jaunt across town and make many new friends.

The only place you can catch a bus is on the main island of Tongatapu but even here services between the airport and town and from town to the popular beach areas is infrequent. Taxis are a better option and are pretty cheap, or otherwise hire a car but remember to get your driving license endorsed at the Police Station in Nuku'alofa first. There are a couple of organised sightseeing tours originating from Nuku'alofa which offer round island sightseeing day and half day tours taking in the blow-holes, sea arch, several beaches and the archaeological sites of Mua.
Travel between the main island of Tongatapu and the outer islands of Ha'apai and Vava'u can be by local ferry although the ferry schedule is very unreliable - the ferry departs Nuku'alofa wharf roughly once a week and it usually takes ten hours to reach Ha'apai and 16 hrs to Vava'u sometimes in rough seas. A far better option is to fly with Real Tonga (Chathams Airlines and Royal Tongan Airlines have both gone out of business in the past ten years) and which offers two daily flights to Ha'apai (30 minutes) and Vava'u (45 minutes) from the international airport on Tongatapu - you can also fly between Ha'apai and Vava'u allowing for a highly recommended three island combination holiday.