Hawaii Holiday Planner

What's Unique About Hawaii
Hawaii offes a huge variety of travel experiences from peaceful rainforest trails to buzzing beaches and world class golf courses. The Hawaiian Islands is a happy melting pot of cultures and peoples, of flora and fauna, and of traditional and contemporary. But through all the changes and advancements any U.S. state experiences, Hawai'i remains a Pacific paradise, and still one of the best places on Earth to visit. Come here for exceptional hiking trails in lush tropical forests, for world championship golf courses beside the ocean, phenomenal surfing beaches and a pina colada down at Waikiki Beach.
What are the main islands?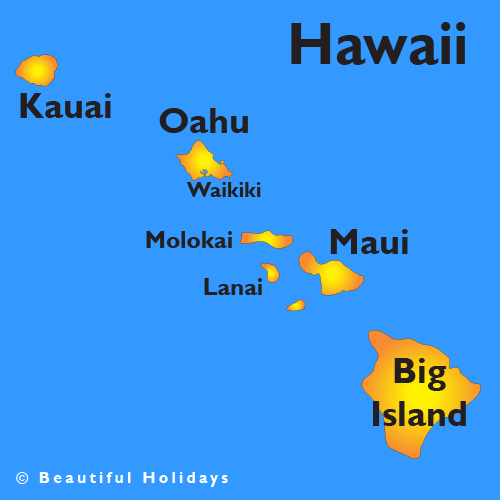 Hawaii Accommodation Guide
Hawaii resorts are plentiful, from the long line of high-rise hotels stretching along Waikiki Beach to the mega-resort complexes of Kohala on the Big Island where hotels with 1000 + rooms and a dozen restaurants can be found. Beautiful Pacific will will help you fond the best Hawaii accommodation for your holidays. Whether you're looking for that ideal hawaii beach resort on waikiki beach or maui, or trying to find that elusive guesthouse, vacation rental or bed and breakfast in the big island or kauai, you're at the right place. Our aim is to help you select the most appropriate accommodation for your holidays We offer detailed presentations on over 50 beach resorts, guesthouses and backpacker hostels on Oahu, Kauai, Maui and the Big Island.
High season for hotels in Hawaii run from December 15 to April 15, and rates are at a premium during December and January. During high season, accommodations are booked three to four months in advance (even longer for popular B&Bs). The northern hemisphere Summer months of July and August are also peak season. Autumn (Oct-Nov) and late Spring (May) are the least popular times to visit, and the best chance to find a discounted room.
Hawaii Travel Guide
The Hawaiian Islands is a collection of volcanic islands located in the middle of the Pacific Ocean, and consists of Hawaii (the Big Island), Oahu (the Gathering Place), Maui (the Valley Isle), Kauai (the Garden Isle), Molokai (the Friendly Isle), Lanai (uninhabited), Niihau (privately owned), and Kahoolawe (uninhabited). No matter which island you visit, you'll be greeted at the airport with a flower lei and welcomed with open arms to the beautiful Aloha state.

Hawai'i offers an incredible selection of things to do, places to see/stay/go, and people to meet. Busy Waikiki Beach on Oahu is the centre of tourism, shopping, inexpensive hotels/motels, clubbing, and partying – on and off the sand. If you want a party, plan to spend most of your time here. You can spend a few days travelling around Oahu Island to see the sites which include the infamous surf off the North Coast, the pretty snorkelling bay of Hanauma or the cultural centre at Laie.

It's just as easy to hop on a plane and see one or two of the other islands with multi-island visits very common amongst first time visitors. Kauai Island has lush tropical forest laced with waterfalls, stunning coastal and inland hiking trails and a very laid back and more traditional Polynesian ambience. Maui Island, a more sophisticated holiday destination, has golf courses,the arts town of Lahaina, stunning scenic sites and is a great spot for watching humpback whales or getting married on a beach. The Big Island is popular with adventurers with magnificent caves and volcanoes, excellent scuba diving and deep sea game fishing. And if you want to get more off the beaten track and away from the typical beach holiday, then consider Lanai Island or Molokai Island with its more traditional Polynesian lifestyle and rich history.
Whilst most first-time visitors think of Hawaii as a beach destination, it is a great outdoors playground with excellent tours. The surfing, diving, and other ocean adventures are heart-stopping, and the various islands offer every type of adventure you can think of. Even thought of walking through a volcano or wandering through a pineapple or sugar plantation? How about riding on a deserted tropical beach or making a shark dive (in a shark cage)? Watch the annual humpback whale migration, take a flight over a smoking volcano, para-sail off the high cliffs, or enjoy a traditional luau and learn the hula. Or just relax with a Mai Tai and enjoy paradise. Hawaii holidays are great for singles, couples, families, honeymooners, retirees, beach lovers and adventurous travellers.

Each of the Hawaiian Islands was once an independent kingdom, and each island has its own personality, history, culture, and landscape. You can stay at a 5-star resort hotel or a quaint cottage by the sea, at prices ranging from the ridiculously low to the incredibly high. In the cities there is public transportation and taxis to help you get around. But hiring a car, scooter, or bike and exploring each island is really the way to go. It's not the least expensive holiday you'll ever enjoy – the cost of living on the islands is high – but it is one of the best holidays you'll ever experience. Walking along the soft sand beaches in perfect weather one minute, then being cooled off by a quick rainfall the next; don't worry, the sun and breeze will dry you off in just a few minutes. Watching the enthusiastic surfers catch the waves and shoot the curls like they're in a movie. Then working your way up to the top of Mauna Kea to snow ski/board the 'pineapple powder' on the world's highest mountain.

Travel Information
Almost all air traffic into and out of Hawai'i goes through Honolulu International Airport on Oahu, although there are small international airports on Maui and the Big Island - flights between the four main islands operate throughout the day and are very reasonably priced, and there are several daily flights from Oahu to Lanai and Molokai. There are no inter-island ferry services apart from the daily run between Maui and Molokai / Lanai. Niihau, a private island off the coast of Kauai, was once only open to family and invited guests; now there is limited access from Kauai for helicopter or hunting trips. Whether you stay on one island or visit many, you'll never forget the sights, sounds, tastes, and beauty of Hawai'i..