Exploring the Fiji Islands
Of all the South Pacific destinations, Fiji travel experiences are the most varied. The stunning picture postcard beaches promoted in the holiday brochures are plentiful, many on small otherwise uninhabited islands or often overlooked by a hilltop lookout with spectacular views of the surrounding lagoons. The mountainous tropical rainforests are lush and filled with fast flowing rivers, gushing waterfalls and exotic birds. The towns are vibrant too, from gritty capital of Suva to the colonially inspired Levuka Town and trendy Savusavu with its café's and waterfront restaurants. Travelling around the islands is fun, safe and mostly cheap. All in all Fiji is a top travel destination to explore away the tourist resorts.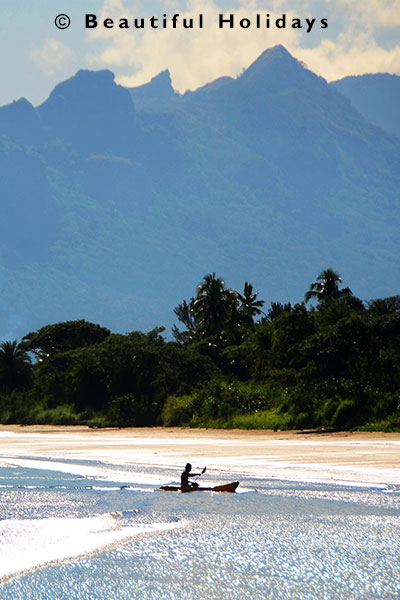 Nadi has plenty of hotels and makes a very affordable base for sightseeing. There are lots of day tours and island cruises to enjoy plus some lovely beaches to the south and villages to explore in the highlands.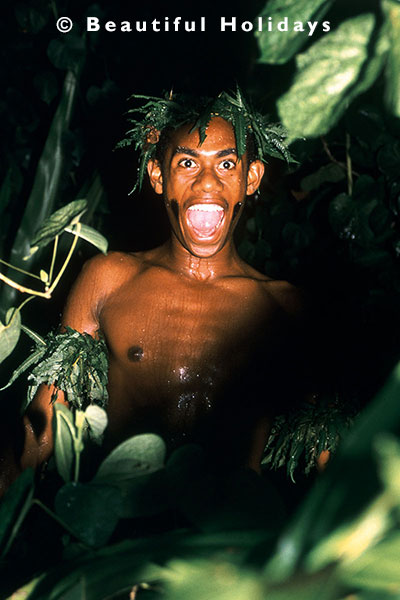 Just an hour south of Nadi Airport, Coral Coast resorts are popular with families looking to explore with plenty of great sightseeing excursions from sand dunes to river trips to culture centres.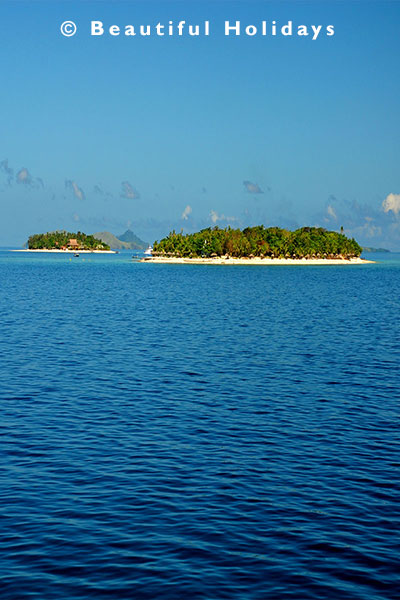 This is Fiji's tourism hot spot with beautiful beach resorts and fantastic snorkelling. Some resorts are aimed at families, others at couples and there's a few budget resorts for backpackers.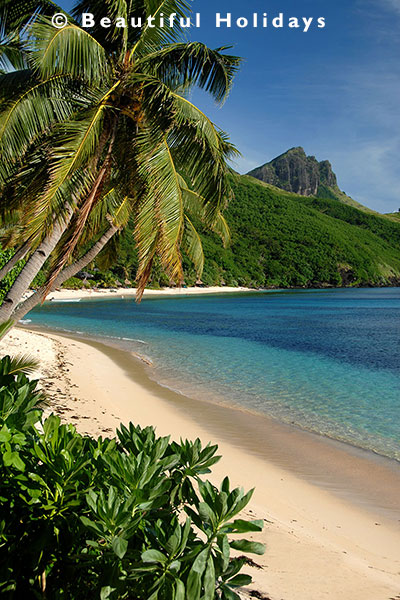 These beautiful islands boast the best beaches in Fiji with great snorkelling lagoons and fishing villages. There's a decent mix of upmarket beach resorts for couples and budget beach huts for backpackers.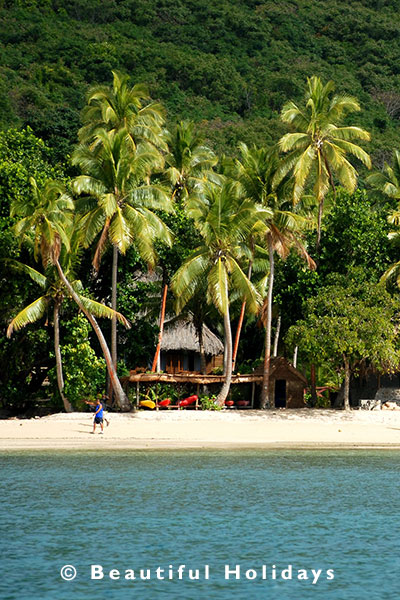 This traditional island in the south has fantastic scuba diving and snorkelling reefs and are a good option for visiting authentic Fijian villages or to go on kayak expeditions along the remote coast.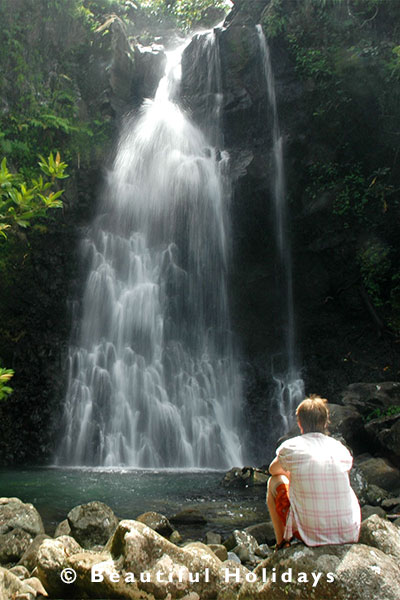 The Garden Island of Fiji boasts stunning tropical rainforest and some of the worlds best scuba diving reefs. Explore rainforest & waterfalls to spot rare birds or relax in the laid back town of Savusavu.
Fiji Travel Guide
Fiji is a compact collection of 330 small islands roughly a three hour flight north of New Zealand and east of Australia.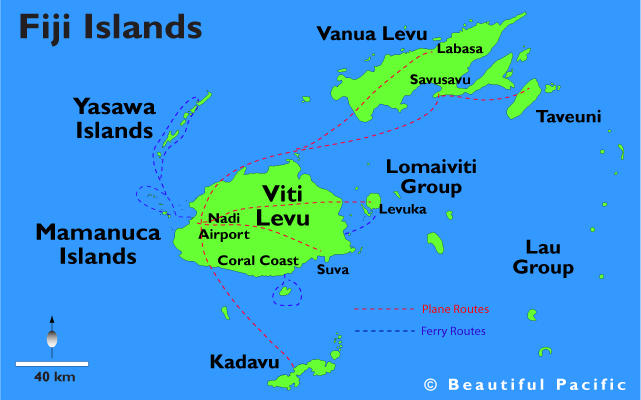 The international airport is located at Nadi on the sunny west coast of the main island (Viti Levu). Nadi is a small market town thriving on tourism and a great base for exploring the offshore islands – Fiji's most popular tourist destination. The Mamanuca Islands is popular with both families, couples and single travellers looking for some fun, whilst backpackers head a little further north to the beaches of the Yasawa Islands, also destination of overnight luxury cruises and several small luxury resorts. Both have a great selection of beach resorts for all budgets and accessible by fast passenger ferry, seaplane or helicopter.
On the mainland, for those into sightseeing or simply not wishing to travel by plane of boat, the Coral Coast is just a 1- 2-hr journey by road from Nadi. This coast has great sightseeing, several beautiful golf courses and some excellent adventure tours. Extending from the Coral Coast is Pacific Harbour, the a great base for exploring rainforest and traditional inland villages as well as the famous shark dive in Beqa Lagoon. Suva, the capital, sits on the wet and humid east coast and is visited mostly by business travellers.
South of Viti Levu is Kadavu Island, a high rugged island with few roads. Its extensive walking tracks connecting the many traditional villages along its coastlines make both an excellent choice for those looking to explore by foot. Kadavu is home to the famous Astrolabe Reef with its stunning soft corals and drift dives as well as large population of rays which always delight snorkellers.
The main island of the Lomaiviti Group is Ovalau, home to the charming seaside town of Levuka which provides a unique historical twist to the South Seas visit. Offshore are a handful of small islands, some tiny coral islands like those of the popular Mamanuca Group and provide a similar stunning holiday environment around the sea but without the commercialism.
Savusavu on Vanua Levu offers great sailing adventures, game fishing and exploring tranquil bays by sea kayak. Vanua Levu is Fiji's second largest island so its also a great place to hire a car and explore.
Adjacent to Vanua Levu is Taveuni, the garden island of Fiji. This is one of the most popular outer islands to visit on holiday and apart from its famous scuba diving around the Rainbow Reef, it hosts a dozen or so upmarket boutique beach resorts popular for honeymoons or to elope and be married on a deserted beach. Taveuni also has a massive National Park with walking trails along the coast and into its mountains.