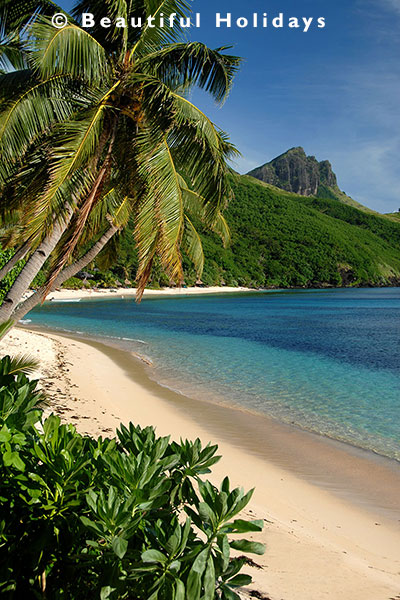 These beautiful islands boast the best beaches in Fiji with great snorkelling lagoons and fishing villages. There's a decent mix of upmarket beach resorts for couples and budget beach huts for backpackers.
Yasawa Resorts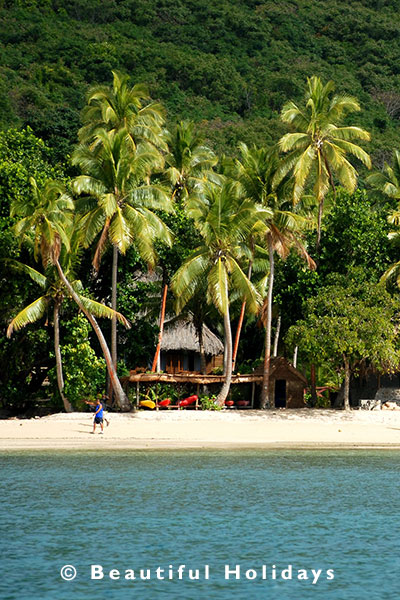 This traditional island in the south has fantastic scuba diving and snorkelling reefs and are a good option for visiting authentic Fijian villages or to go on kayak expeditions along the remote coast.
Kadavu Accommodation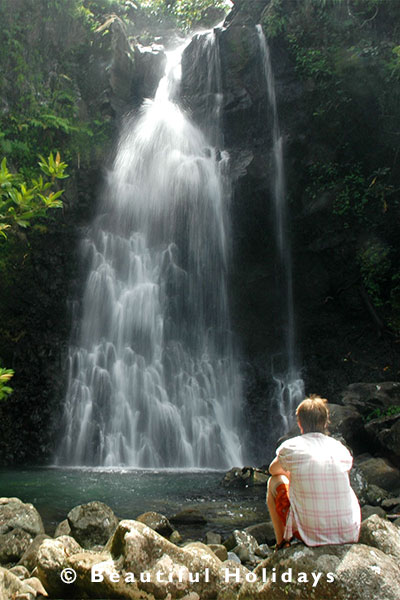 The Garden Island of Fiji boasts stunning tropical rainforest and some of the worlds best scuba diving reefs. Explore rainforest & waterfalls to spot rare birds or relax in the laid back town of Savusavu.
Taveuni Accommodation

Fiji in the South Pacific
Fiji is a compact collection of small islands roughly a three hour flight north of New Zealand and east of Australia. Fiji has a population of almost one million people making it the most populated of the small South Pacific islands (aside from New Zealand and Papua New Guinea). The country receives over 800,000 tourists annually, by far the most visitor arrivals of all South Pacific destinations and almost as many as all its neighbours tourist arrivals collectively. Despite these high tourist numbers and because there are so many beautiful small islands to visit with plenty of secluded accommodation to choose from, the stunning picture postcard beaches promoted in the holiday brochures are never crowded.
Visit a region in our Fiji map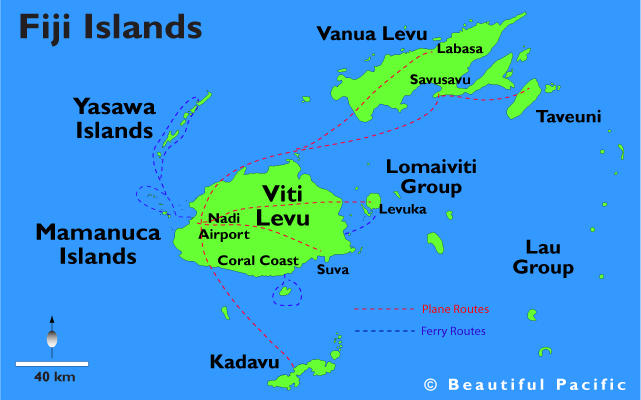 Fiji Islands Travel Guide - Where to Go
The international airport is located at Nadi on the sunny west coast of the main island (Viti Levu). Nadi is a small market town thriving on tourism and a great base for exploring the offshore islands – Fiji's most popular tourist destination. The Mamanuca Islands is popular with both families, couples and single travellers looking for some fun, whilst backpackers head a little further north to the beaches of the Yasawa Islands, also destination of overnight luxury cruises and several small luxury resorts. Both have a great selection of beach resorts for all budgets and accessible by fast passenger ferry, seaplane or helicopter.
On the mainland, for those into sightseeing or simply not wishing to travel by plane of boat, the Coral Coast is just a 1- 2-hr journey by road from Nadi. This coast has great sightseeing, several beautiful golf courses and some excellent adventure tours. Extending from the Coral Coast is Pacific Harbour, the a great base for exploring rainforest and traditional inland villages as well as the famous shark dive in Beqa Lagoon. Suva, the capital, sits on the wet and humid east coast and is visited mostly by business travellers.
South of Viti Levu is Kadavu Island, a high rugged island with few roads. Its extensive walking tracks connecting the many traditional villages along its coastlines make both an excellent choice for those looking to explore by foot. Kadavu is home to the famous Astrolabe Reef with its stunning soft corals and drift dives as well as large population of rays which always delight snorkellers.
The main island of the Lomaiviti Group is Ovalau, home to the charming seaside town of Levuka which provides a unique historical twist to the South Seas visit. Offshore are a handful of small islands, some tiny coral islands like those of the popular Mamanuca Group and provide a similar stunning holiday environment around the sea but without the commercialism.
Savusavu on Vanua Levu offers great sailing adventures, game fishing and exploring tranquil bays by sea kayak. Vanua Levu is Fiji's second largest island so its also a great place to hire a car and explore.
Adjacent to Vanua Levu is Taveuni, the garden island of Fiji. This is one of the most popular outer islands to visit on holiday and apart from its famous scuba diving around the Rainbow Reef, it hosts a dozen or so upmarket boutique beach resorts popular for honeymoons or to elope and be married on a deserted beach. Taveuni also has a massive National Park with walking trails along the coast and into its mountains.
Beautiful Pacific has personally reviewed and hand selected what it believes are the best places to stay in our Fiji hotel guide with independent reviews on all beach resorts as well as some self-catering apartments and backpacker hideaways for more budget minded holiday-makers.
Five Things for Travellers to Know about the Fiji Islands
1) Fiji is the coup capital of the South Pacific with four coups in the last 25 years - the country has a history of nepotism, corruption and red tape, with a bound judiciary and gagged media. But you're on holiday so don't worry, be happy, as the locals say. And happy they are, regarded by many as the friendliest resort staff in the world.

2) Fiji is a traditional society with many taboo subjects and ceremonies to observe - do not turn up at a village dressed for the beach as this is a great insult to the people. And no top-less sunbathing please.

3) If in Fiji on a Sunday try and visit a local church to hear the incredible singing and maybe attend the village feast afterwards.

4) You'll be greeted with the word "Bula" throughout your stay and along with "Fiji Baby" (slang for the local beer) these are the three most common words you'll encounter.

5) Make sure you have a bowl of grog, officially known as yaqona or kava - it may just be with the resort boys as they wind down their evening, or in a traditional ceremony when visiting a village - it is Fiji's national drink, mildly narcotic and tastes awful!


If you are looking for great places to stay, check out our favourite Fiji Beach Resorts

Fiji Travel Details
Fiji is an easy destination to travel around. The main island of Viti Levu has a decent network of local buses around the towns and there are almost hourly buses running between Nadi and Suva, a journey of around 5hrs. Taxis are extremely cheap and readily available for hire from Nadi Airport - the majority of hotels have taxi stands.
Both the Mamanuca and Yasawa islands are best reached by fast passenger ferry operated by South Sea Cruises - there are four daily departures to the Mamanuca Islands (travel time from 1hr to 2hrs) and a daily departure to the Yasawa Islands (travel time from 2hrs to 4hrs), all from Port Denarau in Nadi. If you are travelling outside these schedules, or looking for more flexibility, water taxis to the Mamanucas are available 24-hrs from either Port Denarau or Vuda Marina. The alternative is to take a charter helicopter from Nadi Airport or several other resort locations around Viti Levu, or by sea-plane from Nadi Bay.
If you're exploring the outer islands, you'll need to catch a domestic flight with Pacific Sun or Fiji Link. There are several daily flights from Nadi Airport to Savusavu and Labasa on Vanua Levu, to Taveuni, to Levuka or to Kadavu. If visiting Beqa, you'll need to catch a resort boat from Pacific Harbour. If you have time, there are local passenger ferries / cargo boats departing Suva and visiting Kadavu, Savusavu and Taveuni but these are all 12+ hour trips and without a regular or reliable schedule. You can catch a daily passenger ferry from Natovi Landing (1hr north of Suva) over to Ovalau with a connecting bus into Levuka Town. Once on any of the outer islands, local travel is a bit more tricky. There are buses on Taveuni and Vanua Levu, but not on Kadavu where travel is mostly by boat.
Visit our interactive Map of Fiji Islands to view pictures of the islands along with hotel locations and reviews - it's a fun way to plan your holiday ...
English is spoken fluently at all resorts although in the villages is mostly broken. The weather is warm and balmy with year round temperatures seldom falling below 24 degrees Celsius. December to April are very humid being the wetter summer months. June to October are cooler and the most popular months to visit.

The country is free from malaria, yellow fever and most other diseases endemic in tropical countries. Mosquitoes are present and can be annoying during the wetter months (Dec to April). Water is considered safe to drink.
Electricity is 240 AC voltage (same plugs as Australia / NZ). Banks and ATMs can be found in all towns. The currency is the Fijian Dollar (F$) and credit cards are accepted at most tourist establishments though a 4% surcharge is not uncommon.
Travel guide for other South Pacific Islands