Micronesia Holiday Planner

What's Unique About Micronesia?
Spread across 2,500 kilometers of the north-western Pacific Ocean, just north of the equator, the Federated States of Micronesia (FSM) consist of the four states of Chuuk, Kosrae, Pohnpei and Yap and their more than 600 widespread islands (only 65 of which are currently inhabited). The islands states of FSM without a doubt deserve the label "The lands that time forgot." Each state has its own traditions and culture, but all the isles, islets, and atolls in this multi-island nation have one thing in common – unspoiled, untouched, jaw-dropping, Eden-like beauty.

Micronesia Islands
Where in the South Pacific?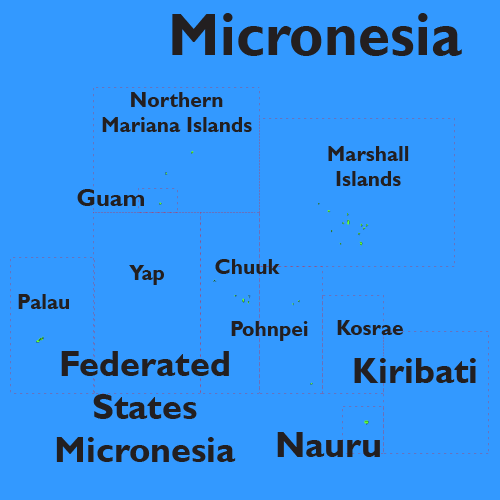 Micronesia Accommodation

The half-dozen or so small resorts and hotels in the federated states of micronesia will only serve to enhance your stay on this slice of paradise - in the outer islands and more remote regions guesthouse accomodation can usually be found but facilities are generally very basic and often without hot water showers.

Micronesia Travel Guide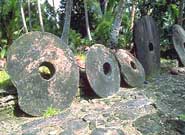 None of the Micronesia islands get a lot of tourist traffic, so the residents, like their land, remain unchanged; they're quite shy of visitors but if you respect their land and their space, they'll welcome you with open arms.
Federated States of Micronesia
The state of Yap has incredible diving around the island's coral reefs and the crystalline lagoon, home to giant manta rays, and is known for its large (~4m), traditional stone money discs; although not still really used as currency, the islanders do know the ownership history of each and every one. Yap has rolling hills with lowlands covered with thick mangroves; the city of Colonia is a bit urbanised, offering hotels and resorts along with smaller apartments for your stay, but Yap inhabitants stick to the old ways, wearing loin cloths and grass skirts, living off the land and sea, and keeping to themselves.
Chuuk is known and treasured for its idyllic settings and lush vegetation. The shallow Truk Lagoon is filled with WWII wrecks, and is arguably the best wreak diving venue in the hemisphere. About a dozen small hotels and bungalows offer rooms, all in the city of Weno.
Pohnpei, the capital of FSM, is comprised of the main, volcanic island, 25 small islands, and 137 scattered coral islets; Pohnpei is the largest of the Micronesian islands, and contains more than 40 rivers feeding the lush rainforests. Breathtaking waterfalls abound, ranging from lovely and relaxing to majestically spectacular, providing a cooling off point after an afternoon hike around the breathtaking tropical jungles, mangrove swamps, or misty-topped mountains. Accommodations here are thatched room bungalows or small hotels in the main city of Kolonia.
Just a few hours southeast of Guam and few hours south-west of Hawaii, Kosrae somehow looks as though it's been uninhabited and unvisited for thousands of years. The ancient mangrove forest canals wind through enchanting rainforests populated with almost a dozen migratory and 15 resident bird species, including Kosrae Dusky White Eyes, Micronesian pigeons, colourful purple capped fruit dove, Micronesian Starling, which foretell the ripening of all island fruits.
Micronesia Islands Travel Information
Given how isolated the Federated States of Micronesia are, it should come as no surprise that it's not the easiest place to get to … they like it that way. But it is definitely worth the trouble. The only airline that flies to FSM is Continental Air Micronesia's Island Hopper route between Honolulu and Guam, which stops on Kosrae, Pohnpei, and Chuuk, and between Guam and Manila on Yap. All the islands have taxis and you can hire a car or a tour guide to show you all that these heavenly island states offer.
Micronesia Facts
Total islands: 2,000+
Total land mass: 695 km²
Capital: N/A
Main Island: Guam
Int'l Airport: various
Population: 500,000
Language: English, various
Tourists: 1,500,000 per year
Accommodations: 300+
Money: US$
Micronesia Travel Highlights
1) Rock Islands, Palau
2) Manta Rays of Yap
3) Nan Madol Ruins, Pohnpei
4) Peleliu WWII Battlefield
5) Traditional Culture on Yap
6) Beach Resorts of Guam
7) Hiking on Kosrae
8) Scuba Diving WWII Relics
9) Bonefishing on Kiribati
10) Diving Bikini, Marshall
11) Stone Money Discs on Yap
12) WWII Wreck Diving in Chuuk
13) Rainforests of Pohnpei
14) Bird watching on Kosrae
Islands to Visit in the Federated States if Micronesia