Beautiful New Caledonia Holidays

What's Unique about New Caledonia?
New Caledonia holidays combine French style with warm South Pacific hospitality. New Caledonia resorts offer a sophisticated Mediterranean ambience in its fashionable capital town of Noumea with fine restaurants, boutique shops, casinos and a somewhat bourgeois atmosphere; whilst the sublime white sandy beaches of the Isle of Pines and Loyalty islands with its handful of boutique holiday resorts remind visitors that they are indeed in the beautiful South Pacific islands.
If this is your first time visiting New Caledonia for a holiday, we recommend you use our New Caledonia holiday planner. Here you'll find detailed travel information about all the different regions to visit, what to do on your holidays and where best to stay depending on your interests and budget.
New Caledonia, a special collectivity of France, is located in the south-west Pacific Ocean in an area called Melanesia. It consists of Grande Terre, the, the largest island, and the Loyalty Islands along with several smaller islands. It's situated about 1200 km east of Australia. It's dry and cooler from April to November; the short wet season is from December to March, long enough to keep the rainforests lush and gorgeous. Wealthy from both its colonial administrators and from the fabulously rich Nickel mines around Grand Terre, the islands lack the fascinating culture and adventure tourism of its Melanesian neighbours but instead offer a tranquil beach holiday destination with excellent restaurants.
The Mediterranean styled capital of Noumea is without doubt the liveliest of the South Pacific towns and is one of the few with an attractive sandy beach-front with a good swimming lagoon and watersports. Most international holiday-makers spend at least a few days staying here, some their entire holiday. Outside of Noumea. the huge island of Grand Terre offers decent self drive sightseeing and adventure holidays but with few beaches - the country's best beaches are in the Isle of Pines which is well set up for tourism with a handful of boutique resorts and more affordable guest-houses. car hire, lagoon cruises, dive operators and walking trails. The more traditional Loyalty Islands has equally stunning beaches and although it is easy to get to, has very limited tourist infrastructure.
The New Caledonia Barrier Reef, the second-largest coral reef in the world after Australia's Great Barrier Reef, surrounds Grande Terre and the Isle of Pines, and is approximately 1,500 kilometres long.
New Caledonia is the perfect holiday destination for anyone who loves their water sports, especially scuba diving, but also for leisurely sailing around the islands, windsurfing, kite-surfing and sport fishing.
If you are looking for detailed information on where to stay please see our New Caledonia Accommodation Deals where you can read independent reviews and see our unique photographs of all our featured accommodations.


The majority of international visitors arriving in New Caledonia stay at least a few days in the charming seaside capital of Noumea, one of the few South pacific towns with a decent beach at the centrally developed tourist strip along Anse Vata Beach and with its great restaurants and a casino. Grand Terre, the largest island in the South Pacific outside of New Zealand, has limited tourist appeal for overseas holiday-makers although being surrounded by the second largest coral reef in the world the island has access to some superb coral reefs for both scuba diving and snorkelling.
For those looking for a beach holiday, there are several beautiful offshore islands for day-trippers or it's a 25-minute flight from Noumea to the Isle of Pines with its fabulous beaches and distinctive holiday atmosphere. More traditional are the Loyalty islands which boast the most beautiful beaches in the country but just a couple of resorts plus a plethora of tribal huts for budget travellers.
New Caledonia Tourist Information
New Caledonia is one of the least visited destinations of the major South Pacific islands with the majority of visitors arriving from France. All international flights land at Tontouta International Airport with regular flights from Sydney and Brisbane with local airline Air Calin. Air Calin also fly direct to Auckland as well as to Fiji and Tahiti or to Japan and Korea which connect through to France. The international airport lies 1-hr drive north of Noumea, the capital, on the south west coast of Grand Terre.
The domestic airport is located in Noumea, with regular daily flights to the Isle of Pines and Loyalty Islands. Ferries also run between Noumea harbour and both Isle of Pines and the Loyalty Islands on a regular basis. To see everything there is to see, on and off the beaten (or paved) path, hire a car or camper-van and take to the road, there are a number of camping areas on all the islands. For day trips, consider hiring a scooter and seeing everything this slice of paradise has to offer
New Caledonia comprises of five islands with dominant Grand Terre being one of the largest in the South Pacific. New Caledonia is one of the most southerly of the main South Pacific islands making it slightly cooler than its neighbours. The country is a dependency of France, with French its main language and with the local kanak population (Melanesians) speaking many individual dialects in tribal villages. Basic English is spoken at most resorts. The majority of holiday-makers visit Noumea, the sophisticated capital town with a lively beach scene.

Fun Things to Do on Holiday in New Caledonia
Please support our website by searching for your holiday accommodation in New Caledonia at our affiliate partner: Hotels Combined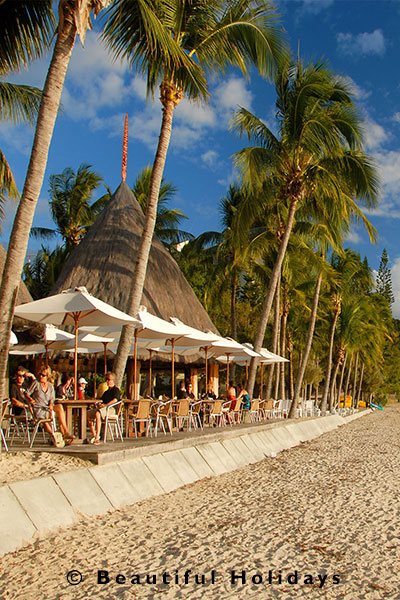 With a bustling marina, casinos, plus the fashionable beach region of Anse Vata, Noumea hotels are popular with families and couples looking to absorb a fusion of French and Kanak culture.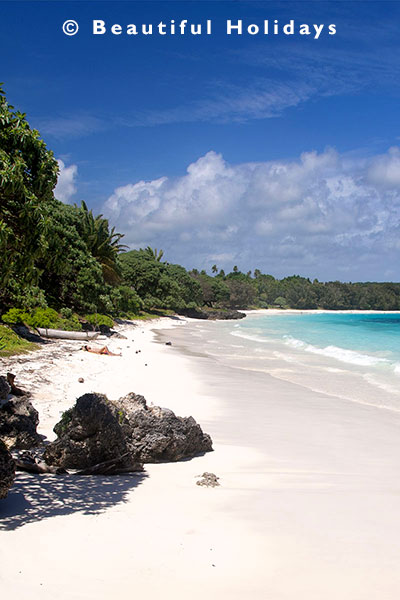 The sophisticated seaside town of Noumea coupled with breathtaking beaches and snorkelling lagoons of the Loyalty Islands makes for a great honeymoon in New Caledonia .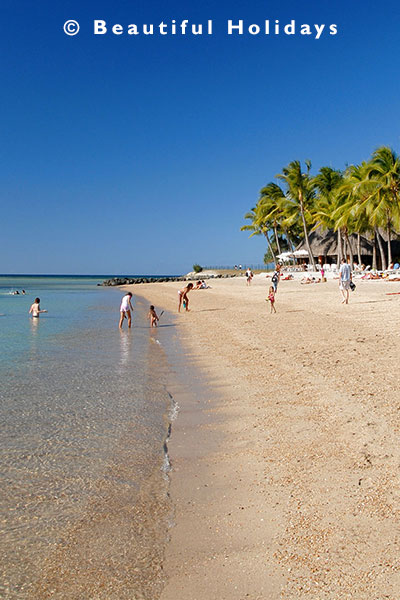 A family holiday in New Caledonia offers both adventure and great beaches and plenty of restaurants ... plus its the ideal place for yur kids to brush up on their French!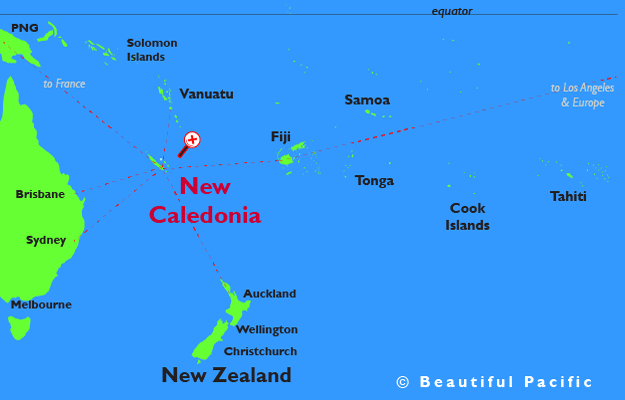 Our New Caledonia travel guide provides more detailed information on all the different regions to visit to help you decide where to go and what to do. Alternatively, try out our interactive New Caledonia picture map above to help you visualise the islands and find out where all the different hotels are located.
Holiday Accommodation in New Caledonia

New Caledonia offers a wide selection of accommodations, from luxury five-star resorts, to a cosy Melanesian cottages, or a unique farm-stay. Noumea has the highest concentration of hotels located mostly at Anse Vata Beach but there are good choices all around Grand Terre and to a lesser extent on Isle of Pines and in the Loyalty Islands.
Noumea residents regularly travel on holiday within New Caledonia particularly at weekends and school holidays when air travel and accommodation can be more difficult to find vacancies. Being a French territory, hotel prices are more expensive than other parts of the South Pacific and accommodation specials or package holiday incentives are seldom offered.
Find out more from our comprehensive New Caledonia Hotel Guide