PNG Holiday Planner

What's Unique About Papua New Guinea?
Papua New Guinea is one of the last bastions of true wilderness and one of the least explored countries in the world - it is widely believed that there are still many undiscovered species of plants and animals lurking in the interior. If you are a nature-lover who craves high adventure and has a 'go with the flow' attitude, Papua New Guinea is for you! This land of tribes has a rich and flamboyant culture to explore, fantastic scuba diving and a remote extraordinarily wild aspect to it which makes a holiday here more than just a holiday - simply travelling to your hotel will be an adventure!
Papua New Guinea
Where in the South Pacific?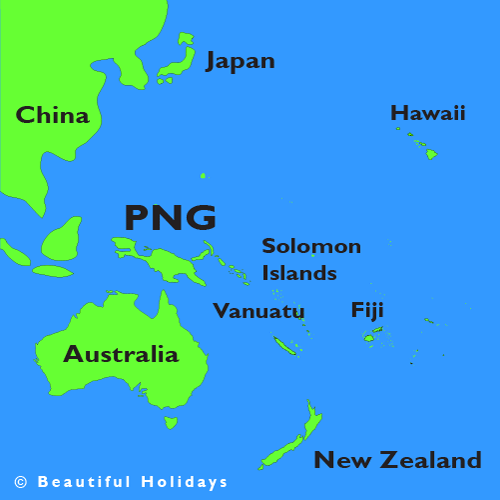 Papua New Guinea Accommodation

Accommodations in Papua New Guinea are plentiful and will fit every budget. There are many, many tours available; in a place as rugged as PNG it's often advisable to work with a tour company that can organise all the various elements of the perfect holiday dive/sun/surf day.
Papua New Guinea Travel Guide

The Independent State of Papua New Guinea is a country located in the south-west part of the Pacific Ocean, comprising the eastern half of the island of New Guinea plus a number of offshore islands. Papua New Guinea (PNG) is a land of variety and wonder. With more than 800 indigenous languages and perhaps as many as 1,000 traditional cultures, it is one of the most culturally diverse countries on Earth, with a total population of about seven million people. It is also one of the most rural islands in the entire Pacific, with just eighteen percent of the inhabitants living in urban centres.
There are no roads between Port Moresby, the capital city, and any of the other major towns; many remote villages can only be reached on foot or by light aircraft. Biologically it mirrors Australia, just on a smaller scale and more mountainous and wet; there are hundreds of mammals, fish and birds to observe as you wander through the virgin territories. The Rainforest Habitat is a must-see! Here you will step into a microcosm of PNG's most exotic flora and fauna. You'll wander through 3,000 sq. metres of reconstructed rainforest (flora was transported here from around the island) set inside a covered shade house with raised walkways, a lake, and an abundance of plants and birds, including a fabulous tropical orchid collection. Be on the lookout for Argo, the huge and largely inactive saltwater crocodile who lives in the habitat. Outside is a mini zoo with cuscus (a rare species of possum), tree kangaroos and cassowaries.
For water-sports enthusiasts, Vanimo has the best surfing in PNG from October through April, when monsoon swells bring waves between 3ft and 6ft. Diving is extraordinary year-round, with many types of soft coral, marine life, and shipwrecks to explore in crystal clear waters. Fishing, sailing and other above-sea-level activities are also available.
Papua New Guinea Travel Information
In addition to an international airfield, Papua New Guinea has 578 airstrips, most of which are unpaved and many relics from WWII occupation. Flying into PNG is fairly pricey, as there is little competition between airlines. Getting to Jackson's Airport in Port Moresby, the only international airport in operation at the moment, means flying into either Australia or Singapore, and then changing to one of the two local airlines. Getting around and between the islands is a bit of a challenge, but if you hang on to the 'I'm on holiday and not in any rush' attitude you'll be fine. You can hire a car, catch a taxi (although most are a bit rough), and in some locations rent a bicycle; many hotels have a minibus that will take you around to local areas. There are boats and canoes that go between the islands all the time, and will usually be happy to take along a passenger or two more. Many travellers just hitchhike to get around the islands.