Travel Guide to Nadi, Fiji Islands

Overview
This article was researched by our local South Pacific travel experts:
Nadi Holidays — Nadi Town — Sightseeing around Nadi
Nadi is the tourist hub of Fiji located on the sunny west coast of Viti Levu, the big island of Fiji. Known as the Jet Set Town, Nadi is dominated by the International Airport and the tourists it brings in and there are plenty of hotels in Nadi to stay at, either in transit or for a full blown holiday.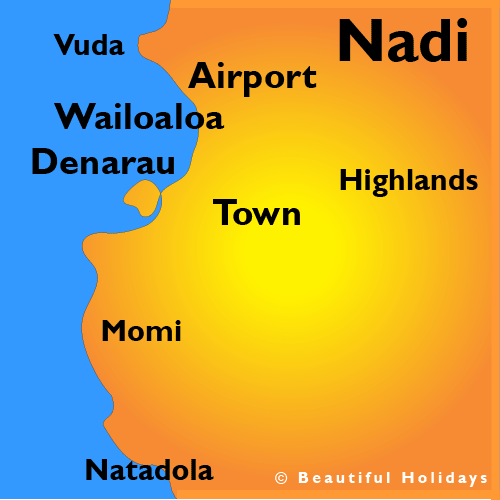 Nadi Map
Reasons to Visit Nadi
Transit for Nadi Airport
Day Cruises to Islands
Shopping in Nadi Town
Good Restaurants & Bars
Day Tours to Highland Villages
Best Nadi Hotels
Nadi Holiday Planner
There is no real centre to Nadi, instead it sprawls along a 10-km inland road between the airport and town with two popular beach suburbs: Wailoaloa, a quiet residential area where you'll find a handful of affordable beach accommodation; and Denarau Island, an upmarket lifestyle complex with large internationally branded hotels. Nadi has a population of around 30,000 and is surrounded by sugar cane fields with beautiful mountain scenery and villages in its highlands and the stunning offshore islands of the Mamanucas which can be visited on day cruises.
Nadi serves two purposes. For most tourists it is a place of transit before heading off to other islands in Fiji or for spending the last few hours of their holidays browsing the shops of Nadi Town before flying home. For others, it offers a convenient and very affordable holiday base for sightseeing both in the interior and on day cruises to visit the beautiful small coral islands which lie right off its coast.

Where to Stay in Nadi
If you're here for a beach holiday, there are three options upmarket Denarau Island is a lifestyle resort within a gated community offering shopping, restaurants, bars, marina and luxury residential homes. It's good if you have no intention of discovering Fiji, but rather here to relax and unwind. If you want something more Fijian, there are a couple of nice beach resorts at Vuda Point worth considering and from where you can explore the rural countryside and local villages, or head further south to beautiful Natadola Beach where there are two beach resorts.
Nadi Airport is where the holiday begins or ends. For those in transit not able to get to their island, there are a couple of hotels directly opposite the airport entrance with courtesy shuttle buses provided for pick-up and drop-off. The hotels around Martintar take 10 minutes to reach by taxi, or otherwise heads to Wailoaloa Beach just 15-minutes by road and offering a holiday ambience with beautiful ocean and sunset views.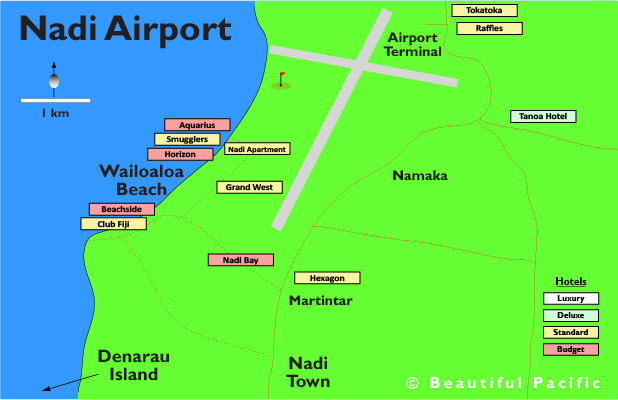 Sightseeing around Nadi

If you want to get out and see the countryside, head north of Nadi to Koroyanitu National Park with its hiking trails and waterfalls. The main loop trail starts from the local village of Abaca and heads either into the tropical rainforest to waterfalls, or along the grassy mountain ridges following the ancient paths that connect the villages of the interior. You can hire a guide from Abaca Village and walk cross-country for days. For those with less time, the three hour loop trail offers a great variety of scenery and four waterfalls.

The Nausori Highlands inland from Nadi makes an excellent day trip by hire car, climbing high into the interior. There are some stunning vistas along the dirt road, several walks and the ancient village of Bukuya which has some unique legends, sacred waterfalls and a village walking tour.

If you have just a few hours to spend, the Garden of the Sleeping Giant is a good place to take in landscaped and wild gardens with plenty of local orchids to spot along the way. Also in the region are the Sabeto Mud Pools where you can bath in bubbling mud pools warmed by volcanic streams and absorb its supposed health benefits.
Shopping
If you enjoy shopping consider heading to Lautoka just 20-minutes drive north of Nadi Airport along a quite scenic drive past the foot of the Sabeto Mountains. Lautoka has a good variety of clothes shops, a great market and it's not a tourist town like Nadi so you wont get hassled.

Accommodation around Lautoka
Tanoa Waterfront Hotel, Lautoka