In this Article by South Pacific travel expert Ian Osborn
Five Great Ideas — What to Do on Holiday in Fiji — Land & Water Activities — Where to Go — Fiji Tourist Information
Compellingly beautiful and gracious in character, Fiji holidays offer the best of the South Pacific islands. Most evocative in appearance are its tiny uninhabited coral cayes squatting under a sky too blue to be true, surrounded by gently swaying coconut palms and with pellucid snorkelling lagoons off its white sandy beaches. But equally seductive is exploring the large volcanic islands with its lush tropical rainforests, remote traditional villages and vivid coral reefs strewn off its coastlines.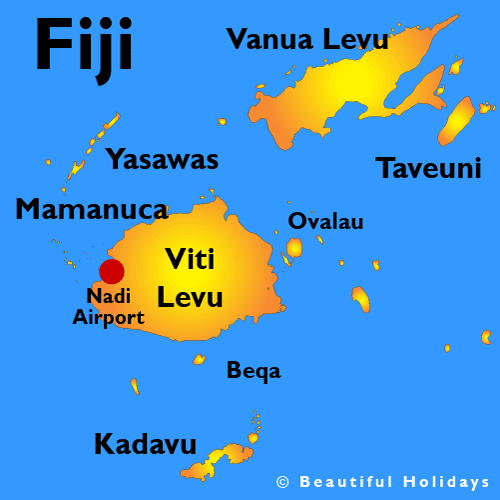 Fiji Islands Map
Reasons to Holiday in Fiji
Five Ideas for a Fijian Holiday
1) Join the famous Beqa Shark Dive or snorkel with manta rays in breathtaking coral reefs
2) Explore waterfalls of Bouma National Park in the Garden Island of Taveuni
3) Kick back at one of the Mamanuca Island resorts and enjoy a spa or beach massage
4) Hike the rugged mountains and coastal trails of Waya Island for stunning island views
5) Take a self-drive tour of Viti Levu for sand dunes, rainforest and remote villages
What to Do on Holiday in the Fiji Islands
With its year round warm climate and extremely hospitable Fijian hosts, holidays in Fiji are the most popular in the South Pacific amongst families as well as being one of the world's top romantic getaways. Still, tourist arrivals number barely reach 600,000 annually so you're not going to run into crowds like you will in other popular tropical destinations like Hawaii, Bali or The Caribbean.
The high season for tourism in Fiji is between May and October when Fiji's winter temperatures dip to a pleasant 25 degrees Celsius and when New Zealand and Australia are in the grip of a much colder winter. During this peak season rooms at the more popular resorts and regions can often be booked out well in advance, especially during the main school holiday periods of June and July.
Fiji is most visited by Australian and New Zealander families on a family holiday and the country has plenty of great family orientated resorts to keep you all busy with cultural events, kids clubs and sightseeing tours. For visitors from Europe, the country has a more exotic appeal and with its stunning private islands and gorgeous beaches it is no surprise that Fiji is often voted the most romantic holiday destination in the world for a honeymoon or for a wedding either on the beach or in a small oceanfront chapel.
For beach holidays and watersports, the Mamanuca Islands are the most obvious choice and are easy to get to, but there are stunning boutique resorts all over Fiji, several of which are renowned as holiday destination for the mega-rich and famous. These more remote locations offer a secluded and truly romantic ambience with more genuine Fijian hospitality and access to traditional villages and virgin rainforests with excellent walking and birding opportunities.
Popular for families, adventurers, romantic breaks, honeymoons and weddings, Fiji is the most varied in the South Pacific giving you an excellent choice in both atmosphere and budget. Whilst some regions are quite commercialised with large beach resorts and lots of water activities going on, others are completely undeveloped with just a handful of beach bures and beaches with no footprints other than your own.
Fiji is a relatively cheap destination to visit although not as cheap as South-east Asia
Find out more about where to stay in our comprehensive Fiji Holiday Accommodation Guide

Land & Water Activities
Apart from its beautiful small islands and relaxing on the beach, Fiji is great for adventure holidays with scuba diving, surfing, hiking and exploring the local village culture.
Fiji is one of the best places in the South Pacific to enjoy land based activities. For casual holiday-makers, there are several excellent golf courses on Viti Levu and both Nadi and Suva have decent shopping. There are National Parks to explore on Viti Levu and Taveuni and plenty of organised tours based out of Nadi and the Coral Coast. The most popular land based day tours are to visit one of the many friendly Fijian villages, often to experience Yaqona ceremonies, traditional dance performances or to purchase locally made craft, and this can be done at virtually any resort in the country for a village is never far away and always open to visiting guests. Trekking in the rainforest to spot endemic birds, to relax in a cool waterfall or simply marvel the view from a lookout point is another activity with day tour companies, especially around Viti Levu which is perhaps the best and most accessible island for land based activities.
Find out more about Land Activities in Fiji

With world class scuba diving and surfing as well as exceptional snorkelling form most beach resorts, Fiji is a fantastic place to visit for watersports. The islands are also great to explore on a yacht with plenty of private yachts arriving in the sailing months of May to October with marinas at Vuda and Denarau in Nadi, at Suva and also at Musket Cove in the Mamanuca Islands. Although bareback sailing charters are hard to find, you should consider taking one of the overnight cruises that island hop up the Yasawa chain of islands stopping at snorkelling reefs along the way and anchoring at night in secluded bays.
Find out more about Water Sports in Fiji

Where to Go on Holiday in the Fiji Islands

Viti Levu is the main island in Fiji and all tourists arrive by plane at Nadi Airport before heading off to other regions for their holidays. Nadi is an excellent base for activities with a couple of excellent golf courses, good shopping and plenty of sightseeing tours from exploring villages to island day cruises. Also on the main island is the Coral Coast which has the majority of Fiji's large family hotels and is great for a mix of beaches and sightseeing. The most popular beach holiday destination is the Mamanuca Islands whilst more discerning travellers and backpackers head further north to the beaches of the Yasawa Islands, also home to several stunning luxury resorts. The Outer Islands are more geared towards adventure tourism with world class scuba diving and surfing, pristine tropical rain forests and traditional villages and are a favourite for honeymoon couples looking for an uncommercial and very secluded beach ambience. Access to these islands is by small plane from Nadi Airport with flight times between 30-minutes and and hour.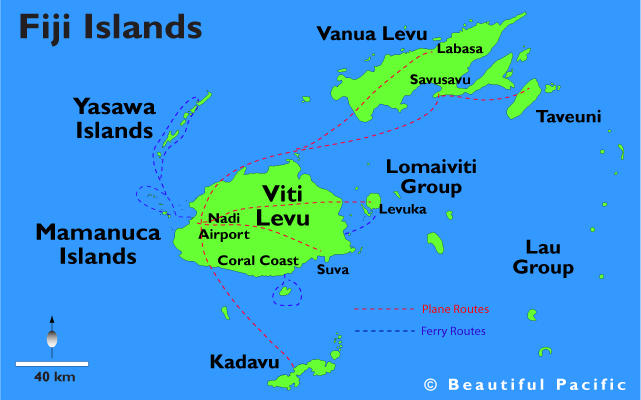 Fiji Tourist Information
Getting to Fiji is very straightforward being the hub of South Pacific trade and the major stopover for flights between New Zealand and USA as well as between its South Pacific neighbours. The international airport is located at Nadi on the sunny west coast of the main island (Viti Levu) and this is conveniently located adjacent to Fiji's most popular tourist destinations of the Mamanuca Islands and the developing Yasawa Islands.
Large international cruise liners visit Fiji from Australia and usually call in at Port Denarau, Beqa Lagoon or Suva Port for a day of rather commercialised sightseeing. These cruises offer limited time and little scope for experiencing the real Fiji.
Fiji holidays are the most popular in the South Pacific
Best time to visit is May to Sep
International Airport is at Nadi
There are 330 islands to explore
The Fijian people are exceptional hosts
Holidays in other South Pacific Islands