Planning your Holiday on Savaii Island
Overview
This article was researched by our local South Pacific travel experts:
Savaii Holidays Overview — Salelologa Town & Tafua Crater — Manase Beach — The Wild West Coast — Samoa Travel Details
Savaii is located off the western tip of Upolu, the two islands separated by the 12-km wide Apolima Straight. It is the largest island in Samoa measuring 1,700 sq-km, and the largest in Polynesia outside of Hawaii and New Zealand, although it's still only one-eighth the size of Fiji's main island, Viti Levu. With less than 50,000 inhabitants, the island is lightly populated which is little wonder as much of the land is covered in barren lava fields from recent volcanic eruptions.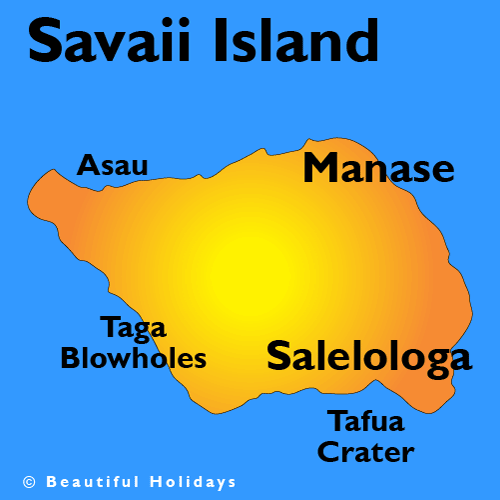 Savaii Map
Reasons to Visit Savaii Island
Quiet Beach Holiday
Visiting the Extinct Lava Fields
Great Sightseeing Tours
Virgin Forest of Taufua Crater
Backpacker Centres at Manase Beach
Best Savaii Hotels
Savaii Holidays Overview
Savaii is a complex geographical island dominated by its active but presently dormant volcanic activity. Every 150 years or so, eruptions take place, creating a new crater and spilling lava down its mountainous landscape and into the lagoon.
Sightseeing around Savaii is a very worthwhile experience with several outstanding sites including a tropical rainforest canopy walk in the west, the blowholes along the wild south west coast, waterfalls and archaeological sites along the south coast, Tafua Crater and virgin rainforest close to Salelologa Town, and the lava fields close to beautiful Manase Beach on the north east coast.
There's some decent surfing breaks along the south coast, particularly off Ananoa Beach and Satuiatua. However, the island is pretty undeveloped except for the road between Salelologa and Manase Beach where the best accommodation is located. Salelologa is the main town with basic shops, one or two restaurants, a bank and market plus a wharf where the passenger boats arrive from Upolu.
Salelologa Town & Tafua Crater
Salelologa Town is the main urban centre on Savaii with both the wharf (ferries from Upolu) and airport (Moata) are located here. The town holds little appeal tourists except a market, convenience shops and a bank which can't be found elsewhere around the island. If you find time on your hands, head out to Taufua Crater where there's an-hour loop walking trail along the crater rim giving easy access and great views of the tropical rainforest and endemic birds.

Lusia's Lagoon Chalets is located on the outskirts of Salelologa Town in a quiet setting facing a protected lagoon. With basic fales and modern rooms to choose from, this makes a good base for exploring Savaii or for spending a night before heading up to Manase Beach.
North-East Savaii & Manase Beach
Travelling up the east coast of Savaii gives a typical picture of Savaii's volcanic environment - long stretches of black rocky coastline and lava pools followed by fine stretches of golden sand and snorkelling lagoons, and suddenly at Sale-aula, the arid landscape of volcanic lava flow from the last eruption between 1911-1916. Sightseeing on Savaii is fantastic with lava fields, lava tubes, a forest canopy walk, sea arches, blowholes and black sand beaches.
The majority of the islands accommodation is on the north east coast at Manase which also has the islands only holiday beach resorts. Manase is about a forty minute drive from Salelologa. For those simply looking for a holiday break, the most popular beach location on Savaii is at Manase Village on the north coast, a few miles beyond Satoalepai Lava Fields and the Turtle Sanctuary.

The beach at Manase stretches for several miles with good swimming and snorkelling and makes a great spot for strolling along the shoreline and between the string of villages that run along the coast here. There are a couple of small restaurants around Manase and kayaks and snorkelling equipment can be hired from a beach shack. There's also a fully qualified PADI dive outfit south of Manase Beach opposite Savaii Lagoon Resort. All sights around the island can be arranged from Manase on half-day and full-day sightseeing tours - the island takes about 6 hours by car to travel around.

Le Lagoto Beach Resort is a neat boutique resort with a lovely raised swimming pool overlooking the ocean as its focal point. Fales are staggered along a rocky bluff, there's a thoughtfully designed restaurant, lots of organised tours, attentive staff and a scuba diving and snorkel operator across the road.

Savaii Lagoon Resort offers the best value accommodation Savaii with just ten spacious self-catering bungalows. The resort fronts a lovely beach south of Manase, and has a very casual atmosphere with an open air beachfront restaurant. Good snorkelling lagoon and a scuba diving operator across the road.

Stevenson's is a long established resort at the northern end of Manase Beach. Accommodation is in traditionally designed beach villas or modern suites facing the beach. There's a good restaurant and some entertainment at night.

Vacations is one of several beach fale accommodations stretching along Manase Beach and offers absolute beachfront fales sharing communal bathrooms. There's a good restaurant, friendly staff and sightseeing tours can be arranged. There's a small shop across the road for buying snacks.
The Wild West Coast

The western side of Savaii is seldom visited and sparsely populated but there are several sites worth seeing here. The Falealupo Canopy Walkway is a chance to view the tropical forest from above the canopy with string bridges connecting two giant rain trees so you can peer down into the forest. If you're looking for a quiet beach to enjoy then head to Tanumatiu on the very western point of the island.
The south-west coast of Savaii has a great coastal walk at Taga which includes the Alofaaga Blowholes and the nearby black sand beach at Nuu. There's a picturesque beach at Satuiatua with good offshore surfing and a beach fale where you can take a lunch break.

Savaii Travel Information
Tourists can reach Savaii from Upolu by either plane (10-mins flight from the international airport on Upolu) or by fast passenger ferry from the western tip of Upolu Island. The fast 200-seater ferry departs 2 or 3 times a day from Mulifanua Wharf on the west tip of Upolu, close to the international airport, and travels across to Salelologa on the south east coast of Savaii taking around one and a half hours.
Once on island, there are intermittent buses running around the island with hourly buses between Salelologa and Manase Beach. Taxis to Manase take about 40-minutes.