Planning your Holiday

Overview
This article was researched by our local South Pacific travel experts:
Espiritu Santo Holidays Overview — Espiritu Santo Travel Details
Espiritu Santo, one of the northern islands of Vanuatu, is the largest in the country measuring almost 4,000 sq-km but with a population of only 30,000. Much of the island is completely inaccessible with high mountains ranges over 1,700 metres high and covered in dense rainforest. Santo has a significant expatriate population drawn by its rich coconut plantations which have been converted to some of the regions best cattle ranches.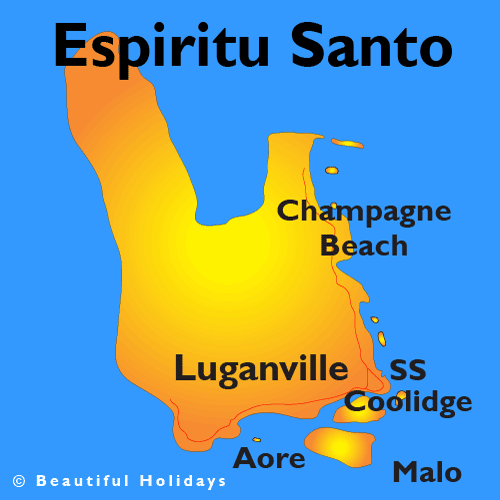 Espiritu Santo Map
Reasons to Visit Espiritu Santo
Scuba Diving Holidays - Coolidge Wreck
Romantic Beach Holiday
Rainforest, Hiking & Bird-watching
Sightseeing Blue Holes & Blue Lakes
Champagne Beach
Best Espiritu Santo Hotels
Espiritu Santo Holidays Overview
The majority of tourists visiting Espiritu Santo do so to dive the famous SS President Coolidge, a huge US luxury passenger liner sunk by friendly mines during WWII. The wreck lies in a shallow protected bay and is easily accessible, even by novice divers, lying just off the coast of Luganville Town, the main centre for the island and location of the international and domestic airport. Luganville is a rather grubby one-street town with a few restaurants, banks and supermarkets and several good, cheap accommodations set up for scuba divers.

Coral Quays Resort is a small retreat in a peaceful tropical environment with ocean views, ten minutes drive to Luganville Town. Coral Quays is a popular base for divers as well as attracting couples looking to explore Santo's scenic attractions.

Beachfront Resort is located on a coarse sand beach just 3-km to the west of Luganville Town and offers a variety of budget style accommodations with spacious lawn areas, a restaurant and an outlook overlooking the yacht-filled bay and Aore Island. Good base for discerning travellers on a budget looking to dive and explore.
Overview
If you're not a diver, or have more interest than just diving, Santo has some good sightseeing. including several outstanding rainforest hikes. Casual walkers will enjoy the Millennium Cave trail but those wanting to really explore the rainforest can partake in several challenging hikes with local guides easily arranged via the tourism office in Luganville Town. There are few decent beaches around Luganville, although two small islands offshore from Luganville, Aore and Bokissa, both have lovely beach resorts.

Bokissa is a secluded private island resort off the southern tip of Santo with a delightful white sandy beachfront, fabulous snorkelling lagoon and laid back atmosphere. With just sixteen bungalows Bokissa makes an ideal honeymoon beach retreat offers a private PADI scuba diving set up for the Coolidge and reef dives.

Aore Island Resort is beach front property on a peaceful offshore island, ten minutes by boat from Luganville Town. With a pretty beachside setting and good snorkelling, Aore is a great value holiday resort for couples and families or a comfortable island base for scuba diving the Coolidge Wreck and other nearby dive sites.
Overview
The best beach on Santo is Champagne Beach, a 3-hr journey by road from Luganville up the east coast. This coast also features the blue holes, mysterious lakes surrounded by dense rainforest.

Moyyan Villas is an intimate property with just four contemporary styled villas hidden under giant 300-year old tropical trees beside a fine white-sand cove beach. With good swimming and snorkelling, and offshore islands to explore by kayak, Moyyan is ideal for couples and honeymooners.

Espiritu Santo Travel Information
Espiritu Santo has several daily flights from Port Vila as well as direct international flights with Air Calin, two weekly from Brisbane and once a week from Sydney. Pekoa Airport is a 10-minute drive from Luganville. There's a limited bus service along the south coast and by far the easiest way to get around is by hiring a taxi. There are several good organised tour companies operating out of Luganville.