Independent review for Tadrai Island Resort in the Mamanuca Islands of Fiji

Tadrai Island Resort combines modern luxury villas, a couples-only intimate resort ambience, a beautiful beach with snorkelling lagoon, access to explore Mana Island with its varied resorts and secluded beaches and easy access from Nadi Airport. With fine dining, a therapeutic spa ambience and serene views from the private plunge pool of each villa, Tadrai is a stylish getaway where you can just as easily retreat or explore in style.
Recommended For:
Intimate Couples Weddings and Honeymoons
Luxuriously Appointed Villas
Easily accessible from Nadi yet remote feel
Quick Facts
6 Villas
Small Island - Beachfront Location
Restaurant & Bar, Swimming Pool


Fiji Islands Map

Mamanuca Islands Map
Tadrai Island Resort Room Details & Rates
Room Category
(click for details & pix)
Sleeps
(c = child)
Hotel Public Rate
(for 2 inc. meals)
Luxury Villa
2a
F$ 3,000
Tadrai Island Resort Information & Facts
Hotel Location: Beach Front on a Mana Island in the outer Mamanuca Islands
Getting There: 1 hour 50 mins by road / boat from Nadi Airport ; or 15 mins by helicopter
Unique Qualities: Delightful beach, spacious grounds, exceptional bures
Ideal for: Couples
Hotel Features: 6 villas with private plunge pool, Spa
Dining: Restaurant at resort - no independent restaurants nearby
Children Policy: Under 12 yrs NOT permitted
Local Attractions / Tours: Walking trails, village visit
The Beach: Nice white sand around resort, with sweeping views of the islands
The Ocean: Good for swimming, mostly sandy bottom
Snorkelling: Excellent, offshore from beach
Other Activities: Scuba Diving, Game Fishing, Kayaks, Surfing, Island Trips
Room Information
There are five beachfront villas and a single honeymoon villa set on the hillside and offering lovely views and more privacy. Interiors are identical each with 100 sq metres of private living space and blend contemporary and traditional styles. With high ceilings and cool white-washed walls the villas have both air-conditioning and ceiling fans. The open plan living area has a King size bed, 42 inch flat screen TV, iPad and Wi-Fi acces. There's a huge spacious en-suite bathroom with adjoining open air outdoor shower and rock garden along with a private plunge pool opening onto a wooden veranda which is raised from the ground level to give both privacy and relaxing ocean views.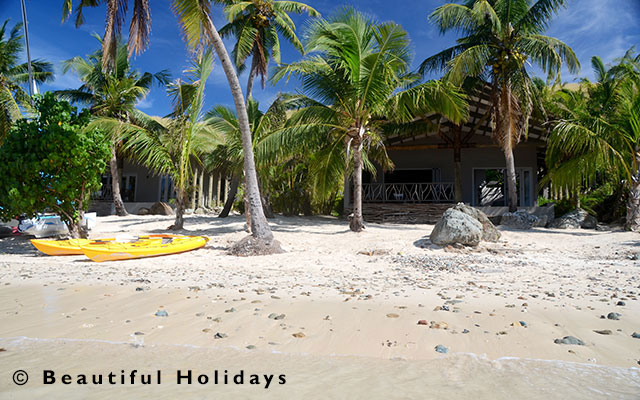 villa setting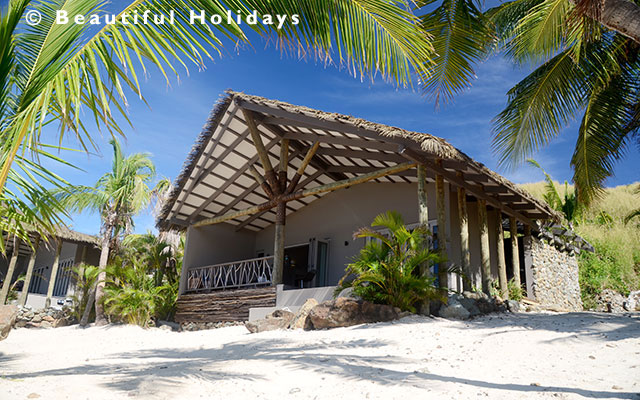 the villas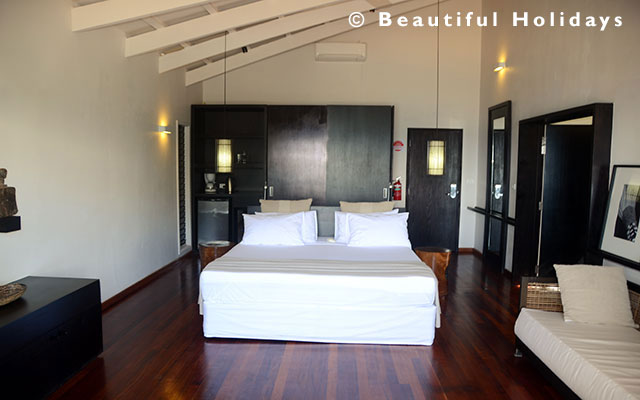 interior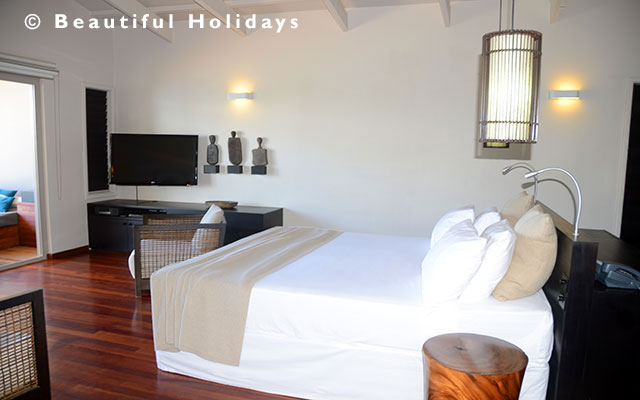 bed outlook
jacuzzi area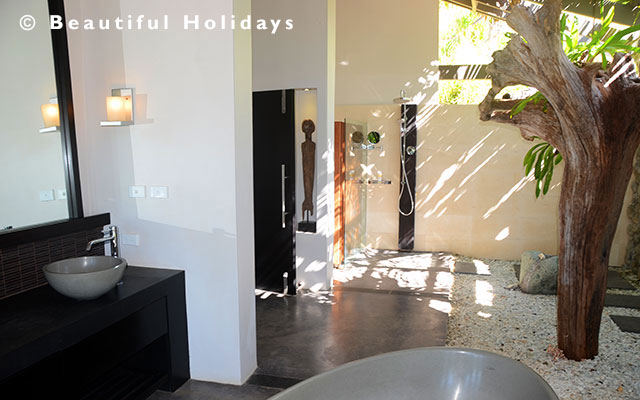 bathroom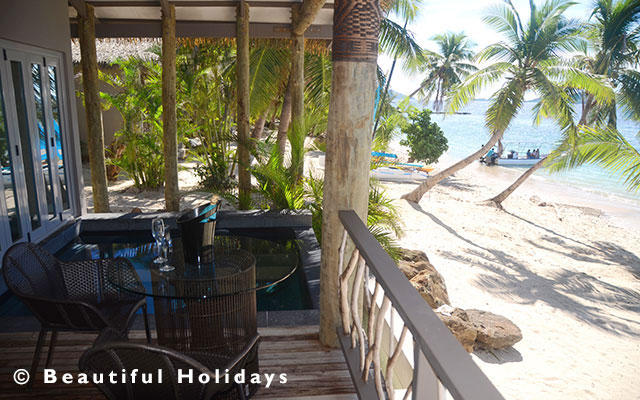 villa deck and outlook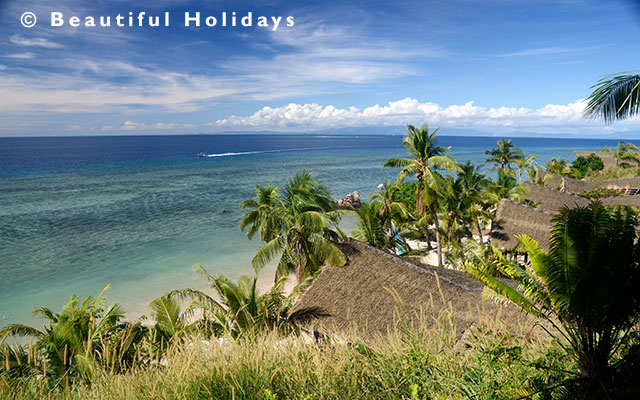 view from the honeymoon villa
Hotel Amenities
With an intimate ambience, guests are catered for individually with private island hopping excursions, game fishing, surfing the famous Malolo reef breaks or visits to local fishing villages. Complimentary use of kayaks, snorkel gear and catamarans are available from the beach to explore the lagoon with some excellent coral reefs directly off the beach.

The fine dining restaurant offers stunning views over the lagoon and out to a dozen small offshore islands making for an extremely therapeutic setting. For those seeking more intimacy, private dining can be arranged in your villa.

One of the highlights of the resort is the Spa Service offering a range of massage and beauty services in a variety of natural and stunning locations around the 60-acres of private grounds, from beachside to up in the hills.