Planning your Holiday

Overview
This article was researched by our local South Pacific travel experts:
What to Do on Holiday in Samoa — Five Great Ideas — Get Active, Land & Water Activities — Samoa Tourist Information
One of the cheapest destinations in the South Pacific to visit, Samoa holidays are most popular amongst backpackers and surfers and those looking to immerse themselves into a rich Polynesian society with strong traditional values.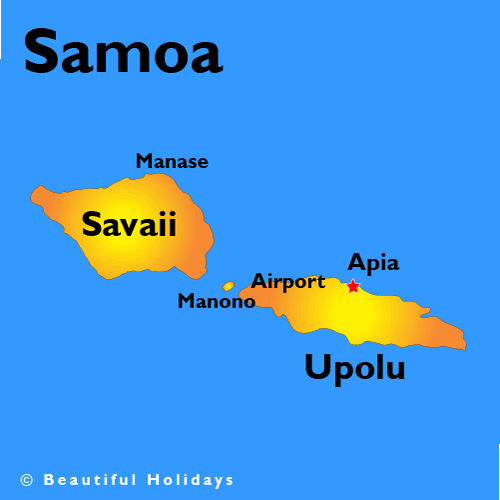 Samoa Map & Pictures
Reasons to Visit Samoa
Honeymoon / Romantic Escape
Exploring & Sightseeing
Surfing Holidays
Village Tours & Polynesian Culture
Backpacking & Beach Fales
Top Samoa Beach Resorts
Five Great Ideas for Samoan Holidays
1) Stay in a traditional beach fale and watch the stars from your bed

2) Explore the backstreets of Apia and climb Vailima Hill to visit the grave of Robert Louis Stevenson

3) Try your hand at Kiriti on the Samoan village green

4) Walk the stunning beaches around Salamumu on the south west coast of Upolu

5) Kick back on charming Manase Beach and explore the lava fields on the north coast Savaii
What to Do on Holidays in the Samoa Islands
The most popular Samoa holiday experiences involve exploring the tropical rainforest and traditional villages more than the lagoons and its coral reefs. Apia is a great town to visit and take in some of the sights from its colonial past as well as enjoying some of the regions best restaurants and nightclubs as well as having two excellent golf courses. The south coast of Upolu Island is the most tranquil destination for a secluded beach holiday with excellent sightseeing tours, forest walks and visiting a traditional Samoan village being the most popular activities. Savaii is more an adventure destination, with unusual volcanic landscapes to explore and vast spaces of rural countryside.

Overview
Annual tourists number less than 100,000 a year and many of these are Samoans living overseas and visiting their relatives back "home". So, despite the large size of its two main islands (Savaii is the largest Polynesian island outside of New Zealand and Hawaii), and its status as one of the better known islands of the South Pacific, Samoa remains an adventure destination seldom promoted in the mainstream tourist holiday brochures.

The high season for tourism is between May and October when New Zealand and Australia are in the cool winters as well as over the Christmas holidays which is the popular time for Samoans living abroad to visit the relatives back home and during this period flights can be full well in advance. Generally though, finding room availability is not a problem even during the school holiday periods.


Get Active - Land & Water Activities
Upolu Island is the perfect size for a day-long sightseeing tour, with the circular coastal road passing through numerous traditional villages, up and down tropical mountains and past waterfalls and coastal lookouts. Savaii is just that little bit larger making a day tour a really long day but it is possible to travel around the island taking in the best sites - there are waterfalls, ancient star mounds, blow-holes and of course the lava fields to explore.
Samoa Land Activities & Sightseeing Guide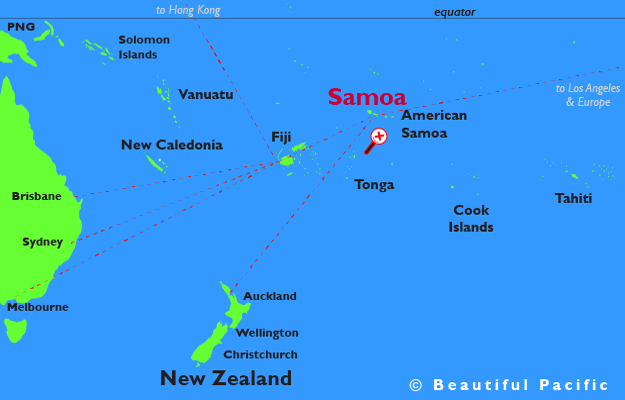 Samoa Tourist Information
Samoa's closest neighbours are Tonga roughly 500km to the south (although Tonga's remote Niuas group is much nearer); Fiji which is 800km to the south-west; and Wallis & Futuna, about 350km off the west coast of Savaii which together form a cluster of islands in the sparsely inhabited Pacific Ocean.

Direct flights are available from Auckland, Sydney, Fiji and Los Angeles and serviced by Virgin, Air New Zealand and Fiji Airways. The International Airport is on the north coast of Upolu Island, about 40-minutes drive from Apia Town, the capital of Samoa.
Find out more about where to stay in our comprehensive Samoa Accommodation Guide