In this Article by South Pacific travel expert Ian Osborn
What to Do on Holiday in the Cook Islands — Five Great Ideas — Get Active, Land & Water Activities — Cook Islands Tourist Information
With a diverse selection of Cook Islands holiday accommodation aimed at both couples and families, this charming South Pacific destination is ideal for anyone seeking a laid-back, stress-free holiday on the beach.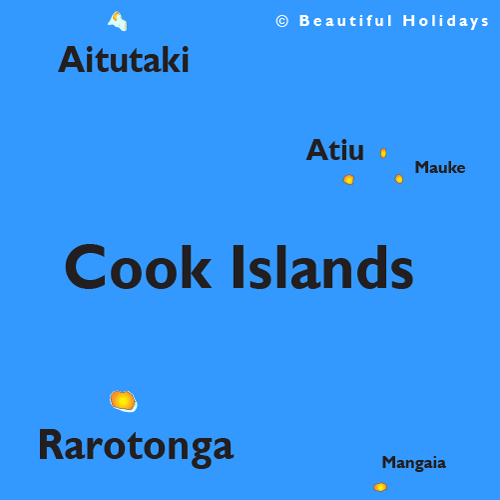 Cook Islands Map
Reasons to Visit The Cooks
What to Do on Holidays in the Cook Islands?
Cook Islands holidays are great for both families and couples. The coast of Rarotonga, the main island to visit, is an almost continuous string of white sandy beaches with small beach bungalow properties and boutique resorts whilst the lagoon island of Aitutaki has breathtaking uninhabited islets to visit with picture postcard beach scenes (yes, there plenty of opportunities for pictures with leaning coconut trees as a backdrop), as well as idyllic sand banks and spits to explore.

The high season for tourism is between May and October when New Zealand and Australia are in the cool winters as well as over the Christmas holidays which is the popular time for Cook Islanders living abroad to visit the relatives back home and during this period flights can be full well in advance. Generally though, finding room availability is not a problem even during the school holiday periods.

Unfortunately the Cook Islands is one of the more expensive destinations in the South Pacific to visit with prices comparable to New Zealand and for some things, a little higher. However, you should be able to find some tempting stay / pay hotel deals and decent holiday packages that make your holiday dollar stretch that little bit further.
Five Great Ideas for a Holiday
1) Find a cute beach bungalow on Rarotonga and hire a moped to explore the island

2) Head to Aitutaki for a few days and take a day cruise on the lagoon

3) Learn to scuba dive on Rarotonga where conditions are ideal for beginners

4) Stay on Muri Beach for kayaking, sailing and snorkelling plus some great restaurants

5) Head to Atiu Island to explore caves, mingle with the locals and sample the bush beer


The main appeal of a holiday in the Cook Islands is simply for a relaxing beach holiday and to walk along the soft white sand, swim in picturesque swimming lagoons and enjoy the warm year-round weather with gentle tropical breezes. The two main tourist islands, Rarotonga & Aitutaki, both have great beaches, with the most idyllic being on the uninhabited islets surrounding Aitutaki Lagoon and the liveliest at Muri Beach on the main island of Rarotonga.

Both Rarotonga and Aitutaki are wonderful islands to explore casually and see how the islanders live. Scooters are the best way to get around and there's little traffic on the road, an enforced speed limit of 40km/h and lots of pretty villages, family farms and mountain scenery to enjoy along the road. There's more to see and do on Rarotonga with a couple of good 4WD tours and walking tracks into the tropical rainforest, plus browsing in art galleries along the roadside and generally it is the better option for families as well as couples looking to explore. Aitutaki is a lot more laid back than Rarotonga and where you should definitely head for a honeymoon or to snorkel in the crystalline waters and swim with the thousands of fish and turtles that live within this spectacular lagoon.

Otherwise, there's nothing particulalrly unique to do in the Cook Islands and the majority of holiday-makers are content to just lie on the beach with a book, sip a cocktail at sunset, enjoy a good meal at one of the islands great independent restaurants and watch a Cook islands dance performance at one of the resorts.

Get Active - Land & Water Activities
One of the best ways to spend a holiday in the Cook Islands is to simply discover and enjoy the culture, traditions, and lives of the residents. Music is a huge part of the culture, and if you hear a strange drumming sound it's likely an elder teaching a child the ancient rhythms on a hollow tree trunk. If you enjoy shopping and art collecting you'll find that the handcrafted art on the Cook Islands is abundant, varied, and exceptional, including woodcarving, weaving, and tivaevae – handmade patchwork quilts of island scenery. Also, the Cooks are famous for their gorgeous black pearls, cultivated and harvested by highly skilled specialists; it is also the home of the rare, natural golden pearl that grows in the lagoon of Penrhyn, one of the only natural pearls left in the world today.Getting around is easy with the island of Rarotonga taking just an hour to circumnavigate and moped hire is cheap and the most popular way to travel.
Another unique attraction of a holiday in Cook Island compared to the other South Pacific destinations is dining out and enjoying local nightlife. On Rarotonga, there are around twenty excellent independent restaurants around the island with many being on the coast with either beach or ocean views. Unlike Fiji and Tahiti where you have no choice other than to dine and be entertained at the resort you're staying at, here in the Cook Islands you have the freedom to explore and enjoy some great night entertainment with Cook Island dancing being one of the most spectacular in the Pacific.
Cook Islands Land Activities Guide
If visiting the Cook Islands for a beach holiday and you enjoy watersports, then head to Muri Beach on Rarotonga which has a protected lagoon ideal for kayaking, snorkelling and windsurfing. Rarotonga is also a great place to learn to scuba dive with protected waters and good coral reefs. There are excellent snorkelling and scuba diving reefs in Aitutaki as well plus decent game fishing, as well as bone fishing in the shallow lagoon off Ootu Point.

Rarotonga is an excellent spot to witness the annual humpback whale migration between May and October when the whales come right up to the reef edge to rest - you can often watch the whales from your bungalow veranda or the resort sunset bar.
Cook Islands Water Sports Guide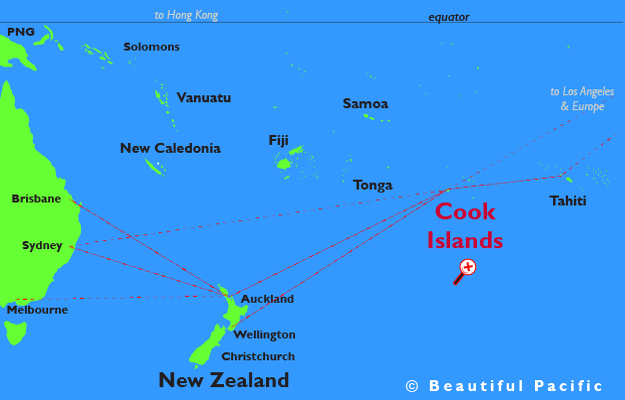 Cook Islands Tourist Information
The international airport is on Rarotonga and is served by two global airlines – Air New Zealand and Virgin Australia and for some reason the majority of flights arrive and depart in the dead of night. The local airline, Air Rarotonga, offers domestic flights with a handful of daily flights between Rarotonga and Aitutaki.
Cook Islands is a New Zealand dependency
Rarotonga is the main island with Intl Airport
Only 15,000 People Live in the Cook Islands
The Cook Islands uses the New Zealand Dollar as its currency
Coolest time to visit is May to September
Holidays in other South Pacific Islands