Planning your Holiday

Overview
This article was researched by our local South Pacific travel experts:
What to Do on Holiday in Tonga — Five Great Ideas — Get Active, Land & Water Activities — Tonga Tourist Information
Vanuatu holidays offer a different sort of romance from the archetypal beach resorts found in Fiji, Cook Islands and Tahiti. In Vanuatu, holidays are focused around adventures, with incredibly friendly and untainted villages to explore, a very traditional custom culture, world class scuba diving and several fascinating active volcanoes to experience.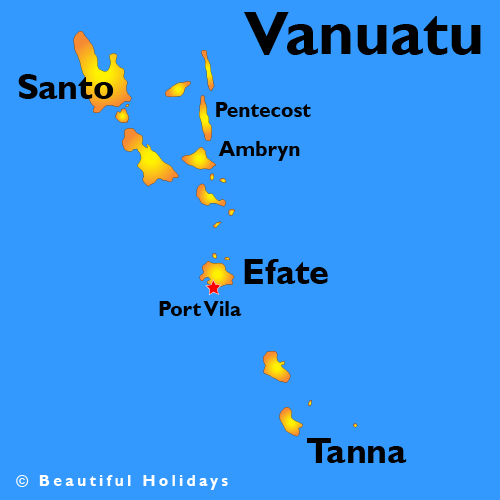 Vanuatu Map
Reasons to Visit Vanuatu
Exploring Kastom Villages & Culture
Beach Holiday in Port Vila
Romantic Holiday in Outer Islands
Scuba Diving Wrecks & Soft Corals
Visiting Active Volcanoes
Our Top Vanuatu Resorts
Five Great Ideas for your Vanuatu Holiday
1) Head to Tanna Island to explore villages and marvel at fiery Yasur Volcano

2) Watch the land divers of Pentecost during their annual yam harvest festival

3) Sample a bowl off kava in Port Vila before heading to a waterfront restaurant

4) Take a circle island tour of Efate Island finishing at the beautiful Cascades Waterfall

5) Explore the virgin tropical rain-forest of Espiritu Santo on the Millennium Cave Tour

What to Do on Holidays in Vanuatu
The main holiday region for both couples and families is on Efate Island, and in particular around Port Vila. The town offers casinos, waterfront restaurants and bars as well as a huge colourful market that never closes although the major concentration of resorts are along the beach-less lagoon around Port Vila and along the southern coast of the island. There are plenty of tour companies in Port Vila for exploring the island and it is even possible to take day tours to the outer islands of Tanna (volcano tours) and Pentecost (land-diving tours) to see those islands' unique attractions.
The only other commonly visited island in Vanuatu is Espiritu Santo, also with an international airport on its south coast on the outskirts of Luganville Town. Close to Luganville is the huge wreck the President SS Coolidge lying in shallow water in a bay and believed to be the best accessible wreck dive in the world. This draws in a small number of single minded tourists, but mass tourism has yet to take hold with only a handful of boutique resorts in the offshore islands and a couple of affordable hotels in Luganville.
Vanuatu receives around 200,000 tourists annually, mostly from Australia who visit for the large beach resorts, but also popular amongst North Americans for scuba diving, from Japan for its casino's and also from New Caledonia for its duty-free shopping and adventure tourism.

Get Active on Holiday
Vanuatu is a true adventure destination both on the land and in the sea. There's decent surfing breaks off Port Vila and along the southern coast of Efate Island, and world class scuba diving and snorkelling almost everywhere. You can go kayaking in a sheltered lagoons off north Efate Island and around the south and east coast of Espiritu Santo and many overseas yachts visit the islands from May to October with both Port Vila and Luganville having popular harbours.
Land adventures are equally as exciting and one of the greatest charms of visiting Vanuatu is to explore one of its traditional villages. The Ekasup Cultural Centre outside Port Vila is a good introduction on the main island, but for an authentic village experience head to Pentecost or Tanna Island and witness one of the village dances or intriguing festivals.
Vanuatu Land Activities & Sightseeing Guide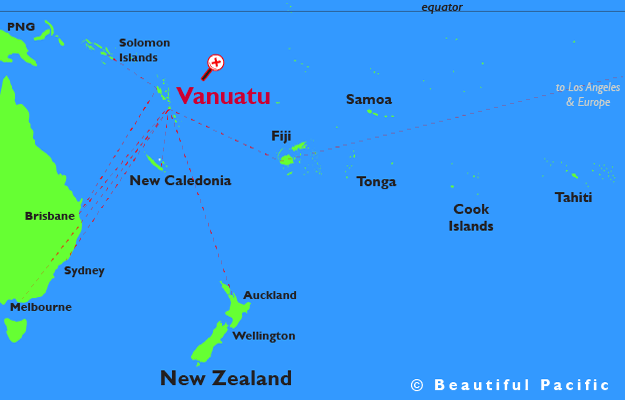 Vanuatu Tourist Information
Vanuatu is a Melanesian country lying mid-way between New Caledonia and the Solomon Islands, the later an extension of its Torres & Banks islands; Fiji lies is 1,100km to the south-east; and to the west is the Queensland coast of Australia, roughly 2000-km away.
Direct flights are available from Brisbane (2hrs 30mins), Sydney (3hrs 30mins), Melbourne (4hrs), Auckland (3hrs 30mins) serviced by Virgin Australia and Air Vanuatu. The main International Airport is on the outskirts of Port Vila, the capital town.
Find out more about where to stay in our comprehensive Vanuatu Accommodation Guide