Finding your perfect beach resort in the Yasawa Islands

Overview
The 16 islands that make up the Yasawas extend in a line north of the Mamanucas. They are accessible from Nadi by either fast catamaran in 2 to 4 hours, or by seaplane in around 20- 40-minutes.
The Yasawa Islands are home to several of the best luxury beach resorts in Fiji aimed at the romance market and offer spectacular beaches in idyllic bays. But the islands are better known as Fiji's premier backpacker destination. There are over 20 locally operated backpacker resorts in the Yasawa Islands, most on beautiful beach locations. Whilst the majority are well run, a few have a history of poor management with low standards of hygiene or non-existent service. These are remote islands so don't expect 24-hr electricity or hot water showers at all of the backpacker resorts and be prepared for basic food.
A few of the more successful budget resorts have moved beyond this backpacker market and appeal more to budget minded holiday-makers from Australia and New Zealand, with excellent service, decent amenities, good food and some being great too for families with placid swimming lagoons.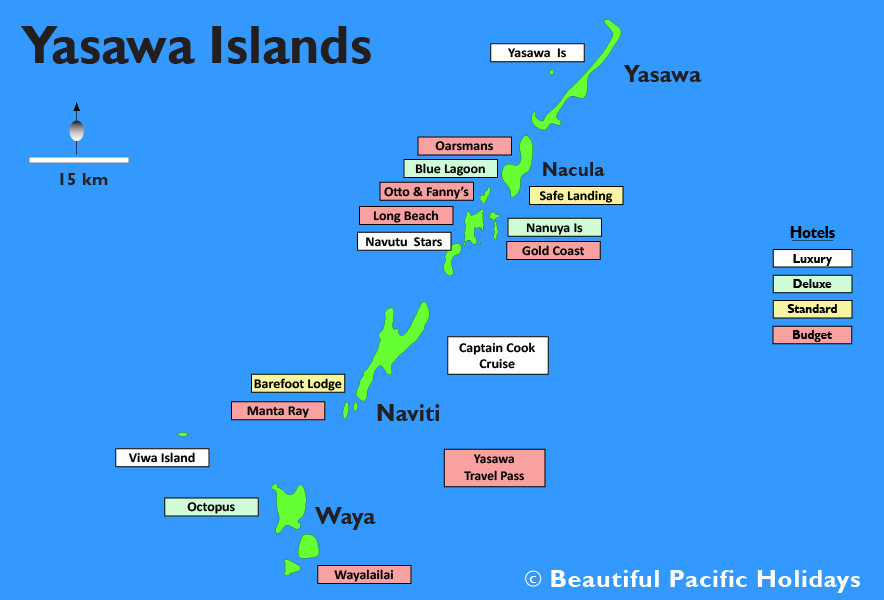 Yasawa Islands Travel Information
The stunning secluded beach resorts of the Yasawa Islands and most of the backpacker beach huts along this chain of islands are served by a daily fast passenger ferry from Nadi (between 2-hrs and 4-hrs travel time from Nadi). Guests staying at the more upmarket resorts can get there much quicker by either seaplane or charter plane. Relaxing 3- 4- and 7-night small ship cruises also visit the islands from Nadi making this an exceptional sightseeing trip.
Find out more about Travel to the Yasawa Islands
Can't find what you're looking for?
View our comprehensive
Fiji Islands Accommodation Directory