Independent review for Wayalailai Beach Resort in the Yasawa Islands of Fiji

Waya Lailai Eco Resort Fiji is one of the largest backpacker resorts in the Yasawas and is located on the tip of Wayasewa Island, the closest of the Yasawa Islands to Nadi making it a convenient place to visit. Waya Lailai enjoys a mix of backpackers and couples offering a lively atmosphere, lots of accommodation styles, a good selection of activities including scuba diving and some excellent mountain trails. The resort sits alongside a white sandy beach adjacent to the local village with reasonable snorkelling offshore
Quick Facts
24 Rooms + Dorm
Small Island - Beachfront Location
Set Meal Plan


Fiji Islands Map

Yasawa Islands Map
Wayalailai Eco Resort Room Details & Rates
Room Category
(click for details & pix)
Sleeps
(c = child)
Hotel Public Rate
(for 2 people)
Dorm Room
4 - 18
F$
Budget Room
2
F$
Bure
2
F$
Wayalailai Eco Resort Information & Facts
Hotel Location: Beach Front, Wayasewa Island in the Southern Yasawa Islands
Getting There: 2 hrs by fast catamaran from Denarau Marina, Nadi
Unique Qualities: Great hiking, down to earth backpackers atmosphere, village nearby
Ideal for: Singles, Backpackers, Couples and independent Families
Hotel Features: 24 Rooms
Dining: Compulsory Meal Plan - set menu
Children Policy: All ages welcome
Local Attractions / Tours: Peak Hike, Wobbling Rock, Namara Village, Shark Reef
The Beach: Good - medium fine sand, extends to Namara Village, nice views
The Ocean: Good for swimming - part sand / part coral bottom
Snorkelling: Average offshore from beach, excellent off Kuata and Shark Point
Other Activities: Scuba Diving, kayaking
Room Information
The Dorm Rooms are located further up the hillside on a second flat grassy plateau. The lodge dorm room have four beds per room with a shared bathroom and there are two larger Dorm Bures with six bunk beds sleeping twelve people each, and his and hers bathrooms.
The family bures are located with the beach bures on the hilltop grassy flat overlooking the ocean. These bures offer an additional bunk bed to the Double bed in larger bures with an en-suite bathroom with separate shower room and toilet.
The private thatch bures are set out in two lines in a grassy area, mimicking a Fijian village, with the front line of bures overlooking the ocean. These bures offer a double bed and small bathroom with cold water shower, flush toilet and hand basin.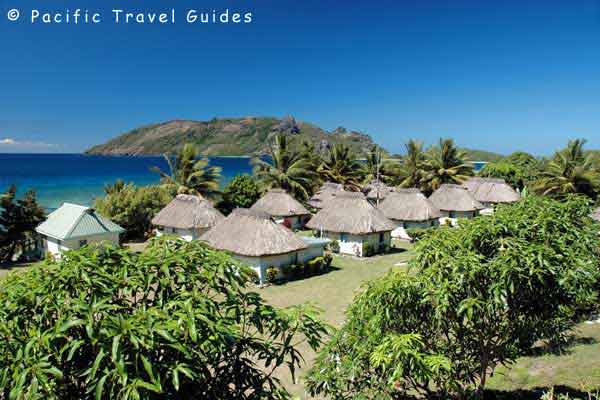 beach front bures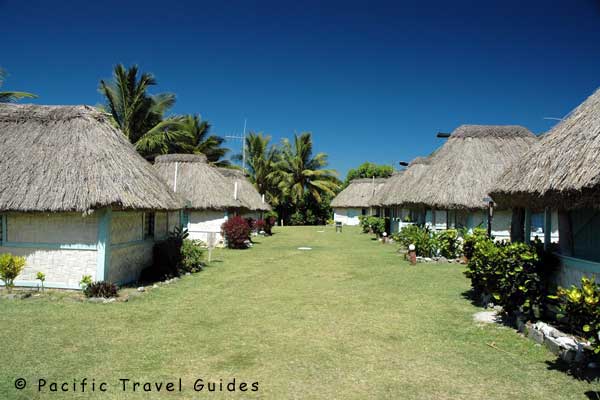 bure setting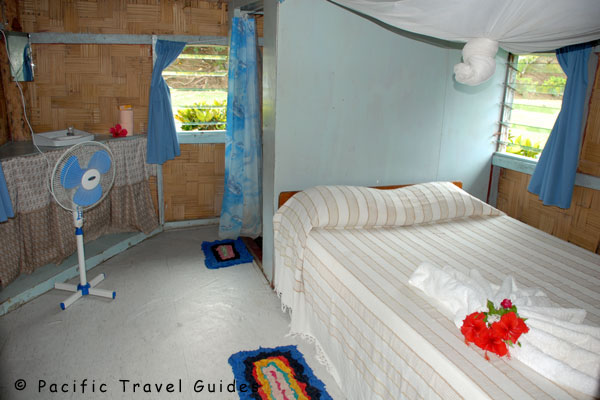 inside bure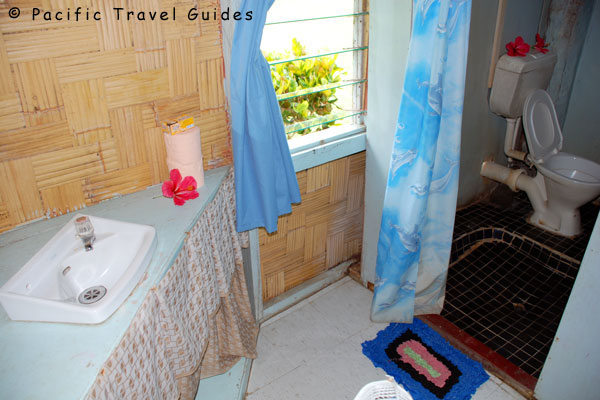 bathroom
Hotel Amenities
The large wooden deck restaurant offers magnificent views of the beach, lagoon and over to Kuata Island. Meals are served as a set menu and there's a bar and night entertainment to ensure lively evenings including traditional Fijian dance twice a week. Organised trips to Kuata Island, Reef snorkelling, Village Tours and Hiking can be arranged, and snorkel gear and kayaks can be rented for the day. There's even a small boutique, handicraft stall and boat transfers back to Lautoka and Nadi.