Independent review for Octopus Resort in the Yasawa Islands of Fiji

Octopus Resort Fiji is a set on a beautiful long stretch of white sand beach on Waya Island in the southern Yasawa Islands. With a stunning snorkelling lagoon right off the beach, excellent walking trails around the coast and mountains, a great restaurant and onsite scuba diving, Octopus is one of the most popular affordable beach resorts in Fiji.
Recommended For:
Couples & Families
Beautiful Beach with Snorkelling
Great Hiking Trails
Quick Facts
20 Bures + Dorm
Small Island - Beachfront Location
Restaurant & Swimming Pool


Fiji Islands Map

Yasawa Islands Map
Octopus Resort Information & Facts
Hotel Location: Beach Front on Waya Island in southern Yasawas
Getting There: 2 hrs 30 mins by fast catamaran from Denarau Marina, Nadi
Unique Qualities: Stunning secluded beach facing pristine turquoise lagoon
Ideal for: Couples, Singles & Backpackers
Hotel Features: 20 traditional style bungalows, swimming pool, dive centre
Dining: Compulsory Meal Plan - meals selected from blackboard menu
Children Policy: All ages welcome
Local Attractions / Tours: Village Visits, Hiking
The Beach: One of the best in Fiji - beautiful sand and tropical backdrop
The Ocean: Excellent for swimming - sandy bottom protected lagoon
Snorkelling: Exceptional - right off the beach
Other Activities: Scuba Diving, kayaking, hand line fishing
Room Information
Four modern wooden bungalows in a courtyard setting are located adjacent to the large dormitory and offer simple living space with polished wooden floors, private veranda and share bathrooms with the dormitory guests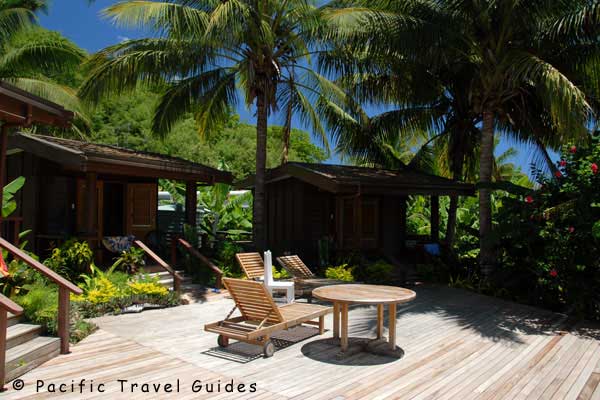 hut setting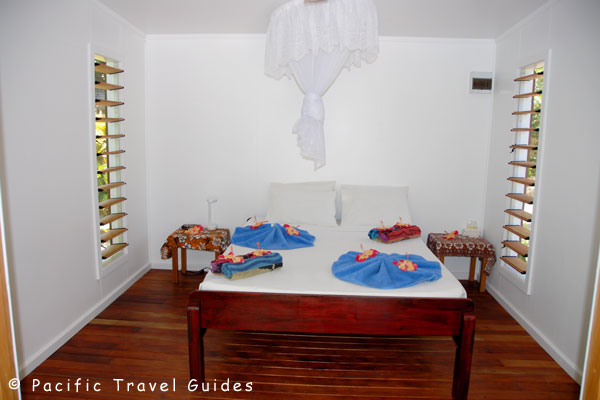 hut - in
These traditional style bures have thatch roofs, ceramic tile floors and a double bed with mosquito net and has a small modern en-suite bathroom. The Premium bures are identical in layout but have the prime location with partial ocean views and are slightly more private.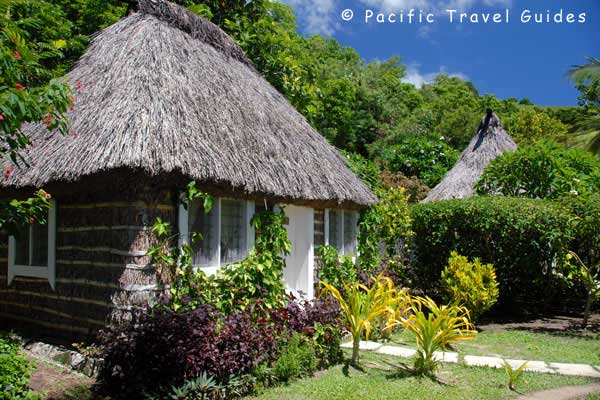 garden bure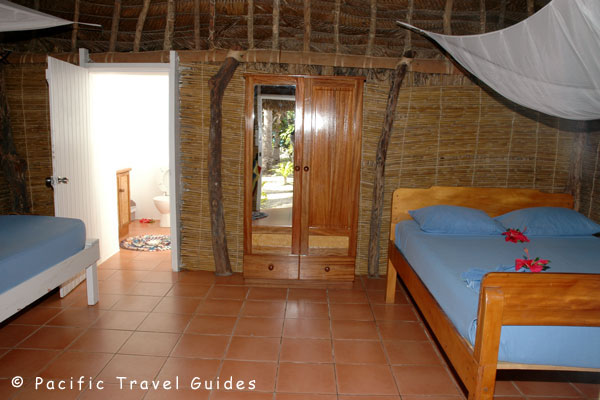 interior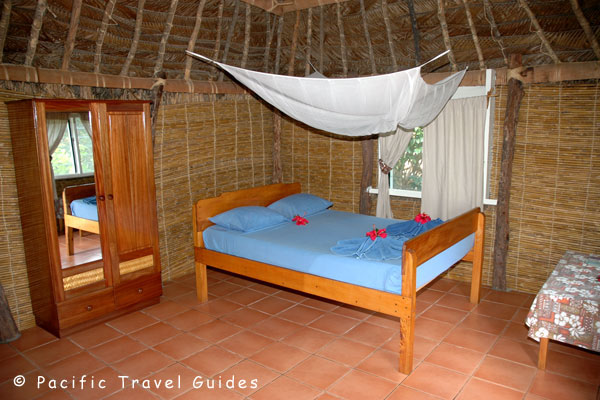 interior
bathroom
The beachfront bures are identical in design to the Garden bures but are located directly on the beachfront and with stunning ocean views. Bures have thatch roofs, ceramic tile floors and a double bed with mosquito net - with a small modern en-suite bathroom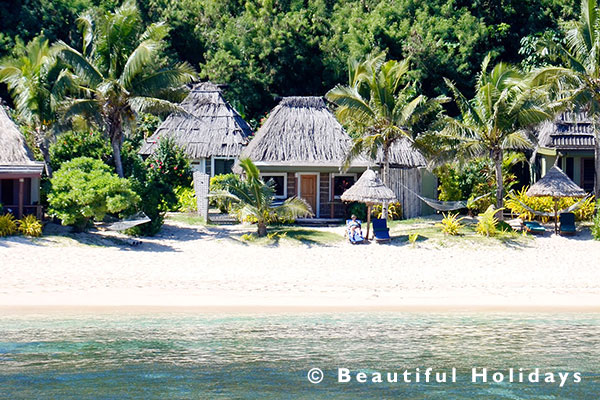 beach bure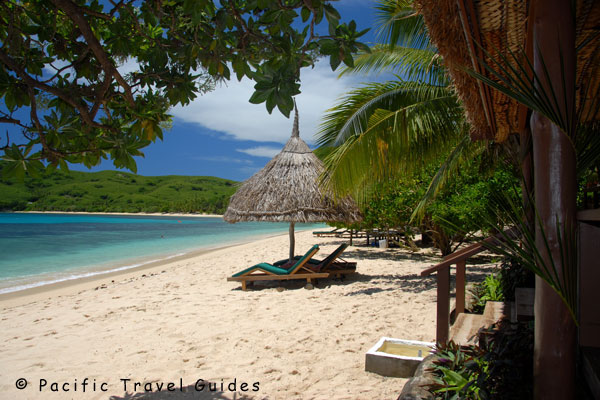 bure outlook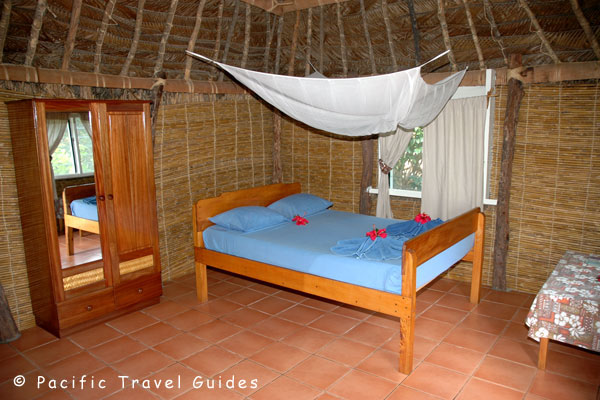 interior
bathroom
Poppys Lodge is located infront of the swimming pool facing the beachfront and screened by light shrubs for privacy. These modern rooms (there are five rooms in a long single storey lodge building) have spacious interiors with ceramic tile floors, a large bathroom with an open air shower and shared wooden veranda at the front looking out to the beach with each room having a bamboo partition for privacy.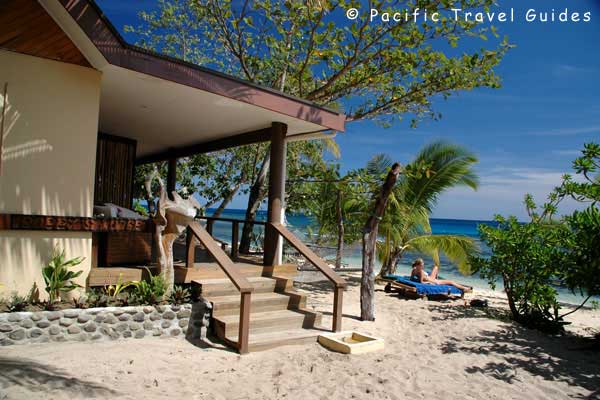 poppy's lodge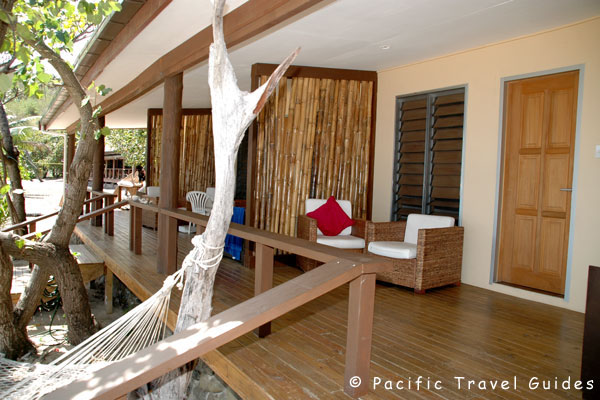 veranda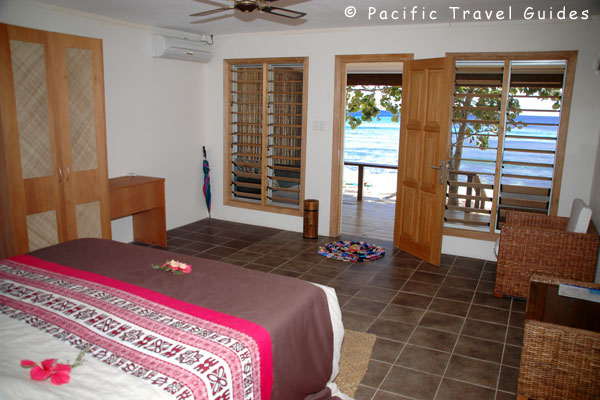 interior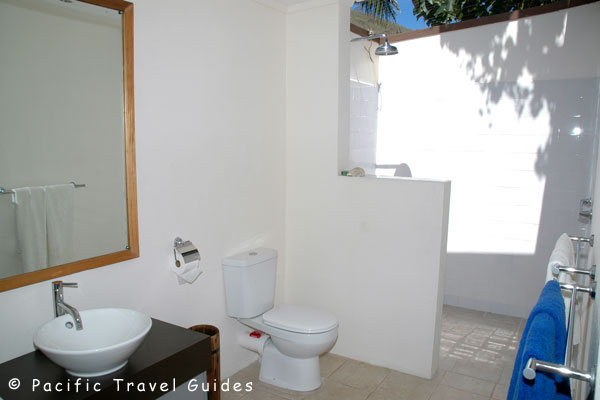 bathroom
The Deluxe Villa has two separate rooms with a lounge and kitchen and a large bedroom. There's a private wooden veranda with beach chairs, hammocks and sun umbrellas. The villa is fully air-conditioned and has complimentary Wi-Fi and a mini bar which includes beer, wine, soft drinks and water. The villa has daily butler service with breakfast prepared in your kitchen and lunch and dinner served on your private beach side veranda.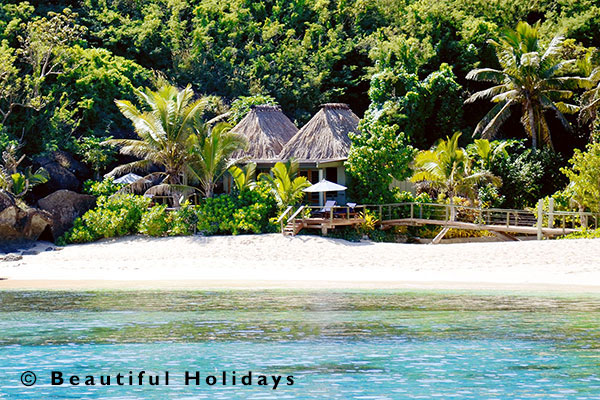 deluxe villa
text
The two bedroom beachfront villas are located either end of the beach and have two separate bedrooms each with a Queen bed and pull-out single bed plus a lounge and could sleep up to eight people. The veranda has beach chairs, hammocks and sun umbrellas and ocean views. These villas are fully air-conditioned and come with complimentary Mini Bars and tea and coffee making facilities.
Thie three bedroom beachfront villa located close to the pool and restaurant is ideal for larger families or groups and has three bedrooms and a spacious lounge with TV and DVD for rainy days. The villa comes with a full daily butler service, with breakfast prepared in your kitchen by the staff, lunch served on your private dining table beach side. There's a private garden area outside screened by vegetation with beach chairs and a hammock for exclusive use.