Finding your perfect resort in the Outer Islands of Fiji

Exploring the outer islands of Fiji is a completely different holiday experience than visiting the commercial resort areas on the main island or offshore from Nadi. The outer Fiji resorts offer a truly serene ambience and take you back in time to a era of simplicity. Most are tucked into lush rainforest and secluded bays, fronting a sandy beach lined with towering coconut trees and boasting dreamy views of the ocean where only the occasional small fishing boat breaks the silence. The majority are boutique style luxury resorts and offer the complete holiday experience with scuba diving facilities, spa centres, organised sightseeing tours and village visits for its guests.
Please view our recommended Outer Fiji resorts from the links below for detailed information including room interior photos and independent reviews.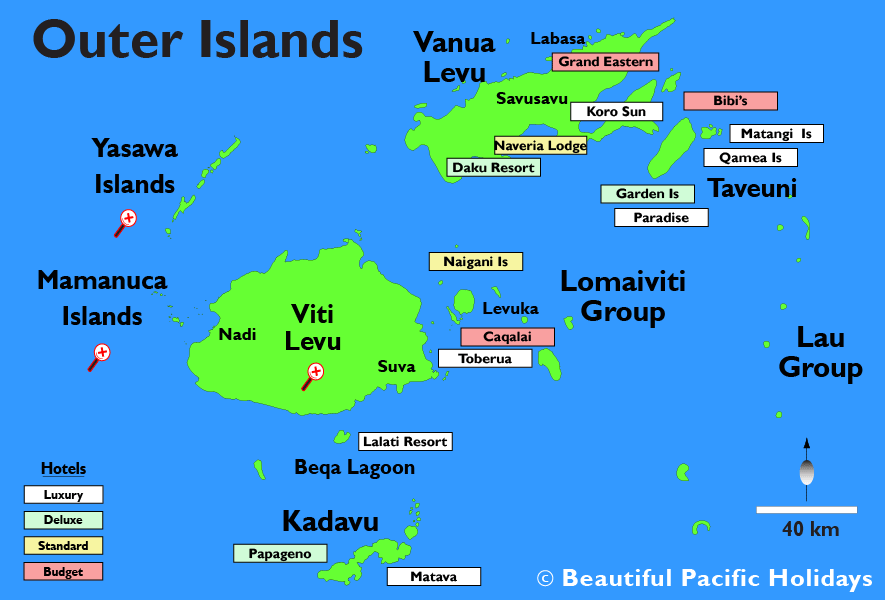 Outer Fiji Islands Resorts Overview
The outer Fiji islands have many things in common so making the decision of where to visit is strongly influenced by the resort you want to stay at. All outer fiji resorts have access to excellent scuba diving reefs, lush tropical rainforest with endemic birds and traditional Fijian villages to explore. These islands receive far fewer tourists than other regions in Fiji so you'll get a powerful feeling of being off the beaten track which tend to appeal more strongly to North American and European tourists visiting for a once in a lifetime expereince. However, holidays here are becoming more popular for Australian and New Zealand tourists looking for something more than the average package holiday in the sun.
All holidays to the outer Fiji Islands start at Nadi Airport where you embark on a small light aircraft for the 40-minute flight to either Savusavu, Taveuni, Ovalau or Kadavu. If the weather is good and the skies clear, you'll get a birds's eye view of the islands and its lush rainforest, the coconut fringed coastline and the coral reefs contrasting against the deep blue sea - if it's cloudy then brace yourself for a bumpy ride. As soon as you land again you know you're in a different place. Locals greet their own visitors off the plane all laden with boxes of food and other gifts from the mainland and the rush of excitement overwhelms. Next comes the journey to the resort, most likely tucked in a secluded bay deep in the rainforest or if inaccessible by road, then it's a small boat ride along the coastline. By now you know you are remote from the world and you already start to unwind.
Once at the resort, the Fijian hosts come by and welcome you, already addressing you by first name and inviting you to a fresh tropical cocktail or a massage to relieve your tired limbs. And so goes the holiday, pampered by your hosts and charmed by the real Fiji wishing you had discovered this paradise long ago or at least stayed for longer.
Daily flights from Nadi to Kadavu and Ovalau (in Lomaiviti Group), twice daily to Vanua Levu and Taveuni. Resorts are generally located in secluded locations with the resorts arranging for airport transfers. Some public transport and sightseeing tours on Vanua Levu and Taveuni abut limited elsewhere. Travel around Kadavu is mostly by small boat.
Can't find what you're looking for?