Holiday Planner

What's Unique?
Tokelau Islandis tiny coral island about 500km north of Samoa which remains a dependent territory of New Zealand. There is no airport so the only way to get there is on the monthly cargo boat from Samoa, a journey that takes over 2 days and nights.
Tokelau Accommodation
There are only two guesthouses in Tokelau and these can be contacted with the assistance of the district officer in Samoa. Accommodation and a return ticket to Samoa must be pre-booked and it is customary to contact the village spokesman before you arrive asking permission and advising your intentions for travel. Camping is prohibited.
Tokelau Travel Guide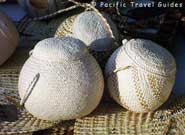 Tourists seldom visit the islands as the only way of getting there is by cargo boat from Samoa. Those that make the arduous journey will find nothing much to do except chill out with the locals.
Country Facts
Total islands: 3
Total land mass: 11 km²
Capital: None
Main Island: all
Int'l Airport: None
Population: 1,500
Language: Tokelauan, English
Tourists: < 100
Accommodations: 2
Money: NZ$
Tokelau Travel Highlights
1) Utter Remoteness
2) Basket Weaving
3) Kilikiti (Cricket)
4) Atoll Lifestyle