Polynesia in the South Pacific Islands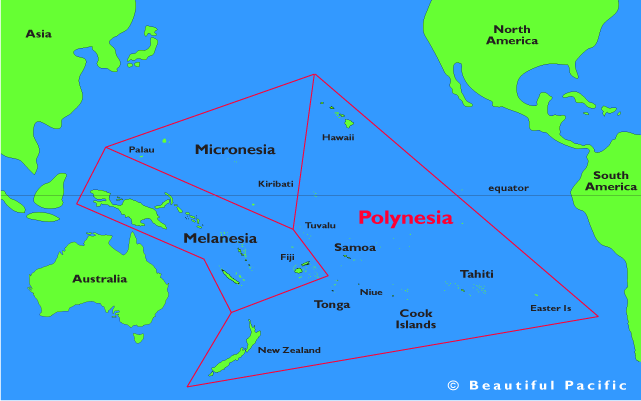 The Polynesian Islands cover the largest expanse of ocean in the South Pacific. These remote islands were colonised by a great sea-faring race that migrated from south-east Asia around around the time of Christ, before which they remained untainted by human civilisation.
Polynesian Islands Travel Guide
Polynesia is a very romantic destination to visit with scattered islands, plenty of coral islands and atolls as well as large volcanic islands that have either been eroded over time giving them a rugged appearance or are still in the making - literally. Apart from New Zealand and Hawaii, which are both mega tourist destinations and generally regarded as not being within the South Pacific holiday market, French Polynesia (better known simply as Tahiti after its largest island) is the most famous destination being the star performer in the film classic Mutiny on the Bounty (although the actual mutiny took place in Tonga). Being a French colony, it is graced with wealth and boasts some the worlds most glamorous resorts with much of the accommodation being in overwater bungalows. It is also home to Bora Bora made famous in James Michener's Tales of the South Pacific. Other famous authors to have written about Polynesia include Somerset Maugham (Rainmaker - American Samoa) and Robert Louis Stevenson who lived and died in Samoa. Paul Gauguin, famous French artist, lived and died in The Marquesas.
Of the holiday destinations, the Cook Islands is the most popular Polynesian island to visit amongst New Zealanders and Australians and has several beautiful beach resort areas on Rarotonga plus the beautiful atoll of Aitutaki which rivals Bora Bora in its beauty. Samoa offers a rich Polynesian culture and is probably the most intact of the larger destinations making this a good spot for adventure; whilst Tonga is renowned for its archaeological sites and for the humpback whales which visit in great numbers from May to October each year - Tonga and Niue are two of only three countries in the world where you can swim with these massive mammals.

Polynesia is also home to some tiny island nations: The northern Cook atolls are seldom visited other than by the occasional government official from Rarotonga. Tahiti has three island groups that tourists seldom venture to with the Gambier and Astral islands occasionally visited by passing yachties. Niue is the smallest nation in the world whilst Tuvalu, virtually flat and with its highest point being just 5 metres high, is rapidly succumbing to sea level rise. Tokelau, a tiny atoll and dependency of Samoa, is virtually unknown; whilst Rotuma, north of Fiji, even though larger, is even less well known. Add to these the two mountainous islands of Wallis & Futuna and if you regard yourself as an explorer, then these are some exceptional islands to add to your bucket list.

History of the Polynesian Islands
These Polynesian people sailed from island to island in a easterly direction from the Philippines, through the Melanesian islands of Solomons, Vanuatu and Fiji and colonising Tonga, Samoa and Niue. Over time and on reaching the Cook Islands they migrated south to New Zealand and from The Marquesas, north to Hawaii - the last island eventually settled by the human race was Easter Island a mere 800 years ago.

Polynesians have retained this great affiliation with the sea - the majority of the population live in coastal areas and use wooden outrigger canoes for fishing the abundant lagoons they are surrounded by. A strong relationship remained between the islands and its people, with both war and trade being common. Tonga established itself as the champion rulers of Polynesia and the only island nation never to have been colonised by either another Polynesian island or the European settlers that arrived with the turn of the 17th Century.

Polynesian language is closely related with many common words. The people are generally large in size with the Tongans being amongst the heaviest of all humans - their skin is light brown in colour being much fairer than Melanesians and their hair worn long. Polynesians also wear body tattoos, sometimes covering the entire body, and it is from this region that the tattoo originated.
Detailed reviews and accommodation for French Polynesia - Tahiti Travel Guide
Detailed reviews and accommodation for Cook Islands Travel Guide
Detailed reviews and accommodation for Samoa Travel Guide
Detailed reviews and accommodation for Tonga Travel Guide