In this Article by South Pacific travel expert Ian Osborn
Viti Levu Holidays — Where to Stay — Getting Around & Travel Info
Viti Levu is the main island in Fiji with the popular Coral Coast along the tropical southern side of the island; and the sun burnt landscape of the Sun Coast along in the north . The Coral Coast is by far the most popular of the two for tourism, particular for family holidays - it's easy to access being just an hour to two hours drive south of Nadi International Airport along a fairly decent road. By contrast, the rural east coast of Viti Levu is devoid of tourism whilst the sunny north coast is dominated by sugar cane fields and has only a couple of small town hotels and beach retreats.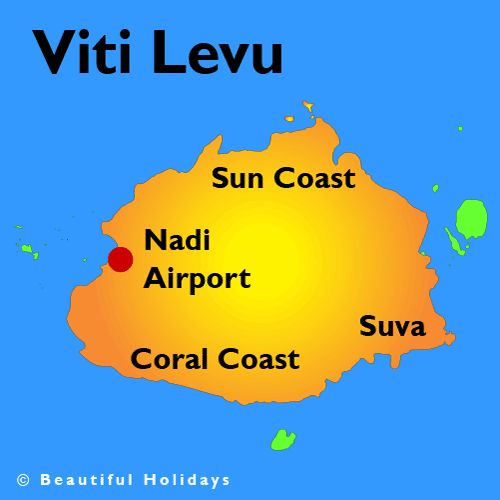 Viti Levu Map
Reasons to Visit Viti Levu
Convenient to Nadi Airport
Shopping & Excursions
Sightseeing Holidays
Large Family Resorts
Adventure & Golf Holidays

Main Regions to Visit
Viti Levu Holiday Overview
Viti Levu has two towns worth visiting and two very different coastlines. The main appeal of the island is its accessibility and infrastructure with great sightseeing and adventure tours.
The Coral Coast has nice beaches and plenty of water activities, tours, sightseeing attractions and a great golf course. Close by is Pacific Harbour, an exciting adventure hub with river tours, rainforest experiences and shark dives, and all accessible on day tours from the Coral Coast or Suva.
Few tourists make it to the north coast of Viti Levu so this may be a better option if you really like getting out there and feel as though you're experiencing the real Fiji where adventures are accidental rather than planned. The main highlights along this Sun Coast are exploring the rural countryside and enjoying the laid back holiday atmosphere on Nananu-i-Ra island.
If you prefer a more familiar and comfortable holiday environment, the large hotels in Nad, and in particular on Denarau, offer boutique shops and plenty of great restaurants. In contrast, the gritty capital of Suva offers lively nightclubs and a sense of colonial history in the South Seas.
Find out more about where to stay :
Hotels around Nadi
Hotels along the Coral Coast
Hotels in Suva City

Viti Levu Hotels
There's plenty of beach accommodation on Viti Levu, mostly along the Coral Coast highway but some tucked down dirt tracks in secluded bays. Pacific Harbour is a better choice for adventure activities and there's a golf course, whilst Suva has mostly business style hotels. The north coast of Viti Levu is more remote but with several secluded dive resorts and the budget beach resorts of Nananu-i-Ra Island. Please view our favourite Viti Levu hotels below for detailed information including room interior photos and independent reviews.
Intercontinental Resort, Natadola Beach
F$ 575 - 1,337 per couple - inc. breakfast


The majestic Intercontinental Fiji Golf Resort is a large resort with direct access to the fantastic white sands of Natadola Beach, plus a private golf course, three swimming pools and a spa centre.
Fiji Hideaway Resort, Coral Coast
F$ 355 - 595


Fiji Hideaway Resort is located alongside a small sandy beach with shallow lagoon and surfing passage and plenty of organised events throughout the day and night.
Crusoe's Retreat, Coral Coast
F$ 275 - 350


Crusoe's Retreat is tucked into a pristine bay surrounded by tropical rainforest and adjacent to a Fijian village. The small resort is close to the fabulous sightseeing around Pacific Harbour.
Uprising Resort, Pacific Harbour
F$ 255 - 395 per couple / $ 45 dorm


Uprising is a budget resort on the ocean and makes a great a base for an active holiday including jet ski, kayaking, scuba diving expeditions to Beqa Lagoon and adventure tours up the Navua River and into the tropical rainforests of the Nausori Highlands
Bedarra Inn, Coral Coast
F$ 180 - 195


Bedarra Inn is a budget motel on the Sunset Strip beach in Korotogoand is a great base for a budget holiday with easy access to the fantastic sights and shopping around Sigatoka Town.
Bethams Cottages, Nananu-i-Ra
F$ 100 - 160 per couple / $30 dorm

Bethams Cottages is a budget beach front accommodation on secluded Nananu-i-Ra Island, a quiet holiday retreat off the north coast with excellent scuba diving reefs, windsurfing and kite-surfing.
Viti Levu Travel Information
Viti Levu has a highway all around the island - the Queens Highway runs south between Nadi and Suva whilst the Kings Highway connects the north coast. The south coast (Queens Highway) is more populated with plenty of public buses, taxis and tour companies shuttling tourists back and forth. The journey from Nadi to Sigatoka takes just over an hour by car, and it's an hour further to Pacific Harbour with another half hour into Downtown Suva.

Another great way of visiting the best sights on the main island is by hiring a car from Nadi - there are a dozen car rental agencies at the Airport with rates starting from F$ 60 per day including insurance. If you don't fancy driving yourself, consider taking a local bus which circumnavigates Viti Levu with the southern Queens Highway between Nadi and Suva being the best route.

Day 1 - Depart Nadi for the Coral Coast
Outrigger Lagoon Resort | Bedarra Inn
Sandunes, Pottery Village & Hill Fort
Day 2 - Viti Levu
Take a Tour up the Sigatoka River
Day 3 - Pacific Harbour
Pearl Resort | Uprising Resort
Zip-line / Arts Village
Day 4 - Pacific Harbour
Early rise for Navua River Rafting expedition
Day 5 - Suva
Fiji Museum, Walking Tour of Historical City
Day 6 - Sun Coast
Volivoli Beach Resort or Rakiraki Hotel
Sightsee remote Coconut Coast - Natalei-ra Village -
Day 7 - Sun Coast return to Nadi
Day at Navala Village - Scenic drive back to Nadi