In this Article by South Pacific travel expert Ian Osborn
Coral Coast Holidays — Sigatoka & River Valley — Korolevu & Rainforest
The Coral Coast is popular as a family holiday destination and it's easy to see why. The main town of Sigatoka takes just an hour to reach by road from Nadi Airport so there's no hanging around for a boat or plane - just hop in a taxi or coach and you're there no matter what time of day you arrive. But the other great appeal is that there is plenty to see and do along the beautiful coastline from great golf courses to river rafting through tropical forests and waterfall treks. The beaches aren't the best though - they are pretty enough to look at but usually of coarse sand and the lagoon in places can be too shallow for swimming or snorkelling.
With a dozen or so large resorts on the Coral Coast and at least as many more smaller accommodations there's plenty of places to stay and all offer good value for money and popular too for families seeking an affordable holiday compared to the offshore "island resorts" which sell at a premium.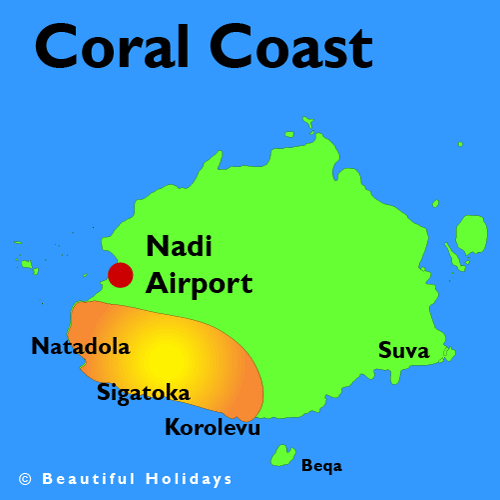 Coral Coast Map & Pictures
Reasons to Visit Coral Coast
Coral Coast Holidays Overview
The Coral Coast meanders for around 50 kilometres starting off as dry rolling hills around Sigatoka and gradually turning to a more rugged landscape of tropical mountains covered in dense rainforest. The beaches here are pretty but with only narrow and often shallow lagoons for swimming and snorkelling.
Sigatoka, a small market town beside the river, is a 1-hour drive from Nadi Town and is the market centre for the Coral Coast villages. The town has a lively outdoor market where fresh produce is brought down from the fertile Sigatoka River Valley by truck or boat. There is excellent sightseeing in this region, both up the valley and along the coast with the Sigatoka Sandunes National Park a highlight. Nearby Natadola Golf Course is the best in Fiji.
Further east towards Suva the rainforest kicks in making it a great spot for adventure, especially around Pacific Harbour. Here there are shard dives, white water river rafting and zip lines through the rainforest. Pacific Harbour is a 2hr 30min journey from Nadi Airport and just 40-minutes from Suva City.

One of the most scenic drives in Fiji meanders along the Coral Coast darting in and out of sleepy roadside villages and crossing numerous creeks descending from the mountains. There are few specific attractions on the Coral Coast apart from its scenery, but situated mid way between the sites of Sigatoka and the activities of Pacific Harbour, and with plenty of accommodation, it makes a good holiday base to enjoy the two.
Natadola Beach & Yanuca Island
Sigatoka marks the official start of the Coral Coast although two of Fiji's largest resorts lie just before the town: The Shangri-La Fijian Resort is located on rocky Yanuca Island connected to the Queens Highway by bridge and there's a small cultural centre opposite with a reconstructed ancient Fijian village. You can also catch a beautified colonial sugar train to Natadola Beach which lies 10-minutes up the coast towards Nadi. Natadola is the best beach on the main island of Viti Levu and has good body surfing and a couple of reasonable beach breaks good for beginners. It's a popular spot on weekends with locals.
Intercontinental Fiji Resort
price on enquiry


The large majestic Intercontinental Resort has beautifully appointed contemporary styled rooms and suites aimed at both couples and families. Set on the white sands of Natadola Beach, the Intercontinental offers a private golf course, three swimming pools and a spa centre.
Shangri-La Fijian Resort
F$ 630 - 1,875


This is the largest resort in Fiji and is great for both families and couples with separate wings dedicated to each. The hotel has a plenty of watersports and day tours along the coast, a 9-hole golf course, tennis, beautiful wedding chapel and five restaurants for dining out.
Sigatoka Town & The Sigatoka River Valley
Just before reaching the market town of Sigatoka is the Sandunes National Trust Site. Fijian guides can be provided from the information centre and there are well maintained tracks leading through coastal forest to the sand dunes which help preserve and protect this fragile ecosystem. Pottery sherds dating to 3000 years ago are scattered in the sand, evidence of settlement by the early Lapita people. The sand dunes reach heights of up to 50 metres and the wild beach with crashing waves makes an exceptional place to walk and surf.
Two scenic dirt roads lead inland from Sigatoka Town running either side of the the Sigatoka River and each offers great sightseeing through valleys and rural farms with two points of notable interest. On the Sigatoka Town side of the river, about two kilometres inland, is the Nakabuta Pottery Village. The village makes traditional style pottery and demonstrations are displayed in the large Meeting House bure. On the Suva side of the river is the Tavuni Hill Fort National Historic Site. A trail leads up a steep hill, the top of which an ancient Tongan Fort remains. Highlights of this historic site include the killing stone, used in the times of Cannibalism, and sweeping views across the Sigatoka River Valley.
There are several small beach motels and restaurants in the beach suburb of Korotogo known as the Sunset Strip as well as the large Outrigger Lagoon Resort perched on a hill overlooking the ocean and with a beautiful spa centre. Opposite the resort is the interesting Kula Eco Park which has many of Fiji's endemic species of wildlife.
Outrigger Resort
F$ 495 - 1,295


The Outrigger Resort combines modern rooms with with traditional Fijian bures. The beach front is OK for sunbathing although not good for swimming or snorkelling.
Bedarra Inn
F$ 180 - 195


Bedarra Inn is a budget motel situated across the road from the Sunset Strip beach in Korotogo and has easy access to the fantastic sights and shopping around Sigatoka.
East of Sigatoka Town, the scenery begins to change from rolling grassy hills to a more rugged coastline doused in denser forest. There is also a distinct change in climate - here begins the wet tropical side of Viti Levu. For many, this vibrant scenery with swathes of emerald green are refreshing. Here too begins a parade of traditional fishing villages along the coastal highway.

Fiji Hideaway Resort

F$ 355 - 595


Fiji Hideaway Resort is located alongside the Queens Highway on a small sandy beach with shallow lagoon and surfing passage. This is a lively resort with organised events throughout the day and night, ideal for young couples or families with teenage kids.

Tambua Sands Resort

F$ 195 - 230


Tambua Sands is a small beach resort on a picturesque beach about 20-minutes drive from Sigatoka. This is a quiet resort, ideal for couples looking for a more intimate atmosphere.
Korolevu & The Rainforest
Heading east from Korolevu towards Pacific Harbour and Suva, there are several tours available into the rainforest to see waterfalls, caves and local villages. As the hills become more rugged, the coastal highway detours inland. Set in secluded bays off the highway are several lovely small resorts, Mango Bay for young budget travellers. All are on picturesque beaches and have access to great snorkelling, game fishing and shark diving off Beqa Island.

Warwick Fiji Resort

F$ 595 - 995


The Warwick has a protected swimming lagoon fronted by tall coconut trees plus two swimming pools, one for couples or one for kids. Tennis courts and a small golf course make this a good option for active holidays.

The Naviti Hotel

F$ 470 - 940


The Naviti is a large resort aimed at families with young kids and is set on a small beach with two swimming pools.

Crusoe's Retreat

F$ 275 - 350


Crusoe's Retreat offers affordable bures for adventurous couples tucked into a pristine bay, surrounded by tropical rainforest and adjacent to a traditional Fijian village. Crusoe's is close to the fabulous sightseeing around Pacific Harbour.

Mango Bay Resort

F$ 200 - 280 per couple / $ 30 dorm


Mango Bay Resort is a budget resort located on a picturesque beach in a secluded bay and with water sports including diving and surfing excursions plus a vibrant atmosphere at night.

The Beachouse

F$ 150 - 180 per couple / $ 45 dorm


The Beach House is a backpacker hang-out attracting travellers of all ages. With a pretty beach side location, tall coconut trees and mature landscaped gardens, the Beachouse is a great spot for chilling or exploring the tropical rain forests.
Other Accommodation on the Coral Coast
Beach Cocomo, Coral Coast
Crow's Nest, Coral Coast
Tubakula Beach, Coral Coast

Extending east from here is Pacific Harbour with its adventure tours and river rafting into the mountainous highlands and shark dives around Beqa Lagoon. If looking to explore Suva on a day tour the drive along the Queens Highway takes just over an hour.

Find out more about Pacific Harbour & Beqa Lagoon

Back to Fiji Islands Travel Guide
Other South Pacific Islands