In this Article by South Pacific travel expert Ian Osborn
Suva City Centre — Nightlife in Suva — Suva's Top Sights — Suva Suburb
As the country's capital, and for the 80,000 people living there, Suva City has a lot going for it. Shopping is good and the nightlife excellent with a cheap cinema, trendy bars, lively restaurants and busy nightclubs, even on week days. There's a good range of facilities from spa and massage centres to sports grounds. Suva is also the regional hun for the South Pacific islands and home to many of the South Pacific regional headquarters for charitable, political, theological and educational organizations.
Despite being a hub for Pacific people, for tourists Suva is mostly portrayed as a grubby city with no beach, no amusement parks, no resorts and where it rains almost constantly. It has little holiday appeal except a quaint museum and perhaps to experience the edgy and often seedy side of Fijian life. But spend some time here and you'll discover a vibrant cosmopolitan city with strong community bases not only from all corners of the Fiji archipelago but also from the entire South Pacific region with some interesting and sometimes radical urban characters.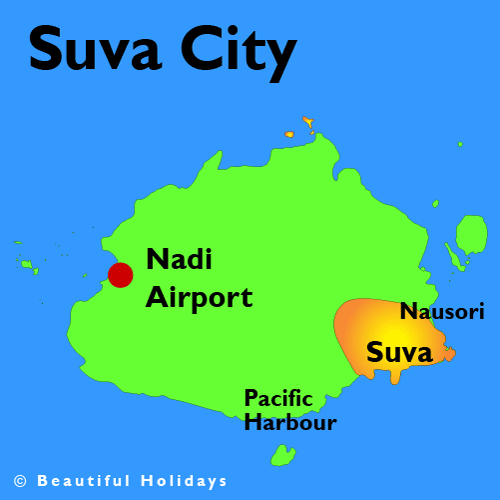 Suva City Map
Reasons to Visit Suva City
Suva City Holidays Overview
The hub of the city, Suva Central, is not even half a square kilometre in size and runs south of Nubukalou Creek to Gordon Street. At its heart is The Triangle a tiny park where locals congregate under an impressive ivi tree for idle gossip. Busy Scott Street has Village Six Cinemas with the latest Hollywood and Bollywood flicks. Behind the Post Office, between Central and Edward streets facing Stinson Parade is the staid Handicraft Market with fifty stalls all selling pretty much the same stuff and each plying desperately for your attention with false welcomes.
Other Accommodation in Suva City
Suva Nightlife: restaurants bars and clubs
One of Suva's most enduring charms is its diverse nightlife. Most of the bars and night clubs are in one block around Victoria Parade and Carnarvon Street making it easy to hop from one to another and sample the different atmospheres. Fijians like to drink communally, as if drinking yaqona - if you buy a Fiji Bitter long neck which are more economical, it will be shared by passing round a small glass to down in one. It's a quick way of getting drunk, which Fijians excel at, and with their love of boxing, punch ups often flare. But they are equally protective of their guests and on most occasions you'll be well looked after. Girls on their own or in groups should be cautious. Taxis are advisable for the ride back to your hotel even if it's only a couple of streets away. A few of the rougher pubs in Suva North are wild if you have the stomach for it - if you're curious try the Kings Hotel on Waimanu Road and befriend one of the bouncers before heading inside.
The most common restaurants in Suva are Chinese owned and many of these whip up quick meals from unhygienic kitchens for around $6 a serve. Counter cooked food is also best avoided, unless purchased from one of the two busy food courts: one at Dolphin's Plaza in Suva Central off Renwick Road; the other at Downtown Boulevard in Suva South on the corner of Victoria Parade and Loftus Street - both are open between 8am- 5pm but closed on Sundays. Otherwise, there's a good variety of cuisine and prices seldom exceed $20. BBQ hawkers set up on Victoria Parade beside Sukuna Park from 6pm every day selling large serves of chicken and sausage with dalo and salad for $5.

Suva's Top Sightseeing Attractions & Tours
Suva has some interesting colonial buildings and churches most of which can be seen on a short walking tour around the city centre. Other attractions in and around the city centre include the Fiji Museum, Parliament House and Government House, all at the southern end of town extending from Victoria Parade.
Albert Park & Old Parliament
At the end of Carnarvon Street and facing Victoria Parade and Albert Park is the solemn looking Old Parliament, built in 1939 but now more appropriately the judicial headquarters and offices of dour government departments. There's usually a rugby game going on in Albert Park, or if not, then a cricket match takes over the muddy quagmire
Thurston Gardens & The Fiji Museum
Opposite Albert Park is Thurston Gardens with Suva 's most rewarding attraction, the Fiji Museum. The museum is neatly laid out with a grand hall displaying a double hulled war canoe, some impressive oars twelve metres long and lots of intriguing daily items such as tattooing tools and head wigs. The adjoining gallery maps out the arrival of the first Europeans including part of the HMS Bounty's rudder, a piece of eight from the shipwreck Eliza- and a shrine to the death of Reverend Thomas Baker, eaten by cannibals in 1864. Upstairs is the Indo Fijian Gallery recounting the history of girmit. The gift shop on the ground floor has a great selection of books about Fijian history and culture, many of which are discounted.
Government House and Suva Point
A little further down from the museum is Government House, built in 1928 and now the private residence of the President of Fiji - its entrance is guarded by the much-photographed presidential guards in red tunic and white serrated sulu. Following Queen Elizabeth Drive is the paved Nasele Walkway which hugs the stone seawall all the way to Suva Point making a fine hour-long stroll. The roadside is a popular romantic spot for courting couples, usually hiding in their cars away from the prying eyes of joggers.

Suva Hinterland
Raintree Lodge, Suva Suburbs
F$ 67 - 165 per couple / $ 35 dorm


Tucked amongst pristine rain forest on the outskirts of Suva (15-minutes drive to the city) and fronting the Colo-i-Suva Forest park, Raintree Lodge is a budget eco retreat for nature lovers
The four Suva Suburbs of Muanikau, Samabula, Tamavua and Cunningham are mostly residential areas but with several places worth exploring. Local buses run to the suburbs regularly from 6am to 6pm departing from the Suva bus stand.
Muanikau
Muanikau flanks the southern side of Suva Peninsula, south and east of the city. Immediately east is the upmarket residential area of The Domain, sitting prettily on a hill with large houses hidden behind security fences and thick tropical landscaping. Forum Secretariat established in 1971 to voice the collective political, economical and environmental concerns of the South Pacific are here. Close by, on Battery Road, is Parliament House, reflecting the design of a traditional bure but made instead of steel with a bright orange roof.
Further east, in Laucala Bay, is the Fiji campus of the University of the South Pacific which has a public library, including the extensive Pacific Collection, for which visitors must pay a $20 temporary membership fee to access. There's also an excellent University Bookshop. Close by is the National Stadium with a capacity of close to 20,000 and across the way in Sports City is the new Olympic Swimming Pool and Vodafone Indoor Sports Arena.
Tamavua, Samabula and Cunningham
Some of the most expensive residences in Suva are perched on the steep cliffs of Tamavua with fantastic views of the harbour. They also look down on industrial Walu Bay with its ship yards, oil storage tanks and car retailers. At the far end of this gloom are the thick limestone walls of Suva Prison. Across the Queens Road is the Royal Suva Yacht Club, a pleasant spot to have a beer and watch the sun set over the volcanic plug of Joske's Thumb.
Samabula, east of Central, is divided between the middle class houses along Rewa Street, with the Mariamma Hindu Temple which has spell-binding fire walking ceremonies in August, and further south, the appalling housing estates around Raiwaqa. Cunningham is the newest municipality on Suva's northern and eastern boundary heading along the Kings Road towards Nausori. It includes the busy suburb of Nabua as well as Queen Elizabeth Barracks.
Lami Town
Five kilometres west of the city centre along the Queens Road, is the pretty seaside residential area of Lami Town with nice views looking back across the harbour to the Suva skyline. Beyond the town is the tranquil setting of the Bay of Islands with three rocky islets offshore from the Novotel Suva and yachts bobbing in the bay.
Novotel Hotel, Suva Suburbs
F$ 195


Novotel Suva is in a pleasant oceanfront location but in an out of the way location being in Lami Town twenty minutes drive to Downtown Suva. Internationally branded hotel rooms make a reliable but not very convenient base for business people.
Other South Pacific Islands