In this Article by South Pacific travel expert Ian Osborn
Nadi Holidays — Nadi Town — Sightseeing around Nadi
Nadi is the tourist hub of Fiji located on the sunny west coast of Viti Levu, the big island of Fiji. Known as the Jet Set Town, Nadi is dominated by the International Airport and the tourists it brings in and there are plenty of hotels in Nadi to stay at, either in transit or for a full blown holiday.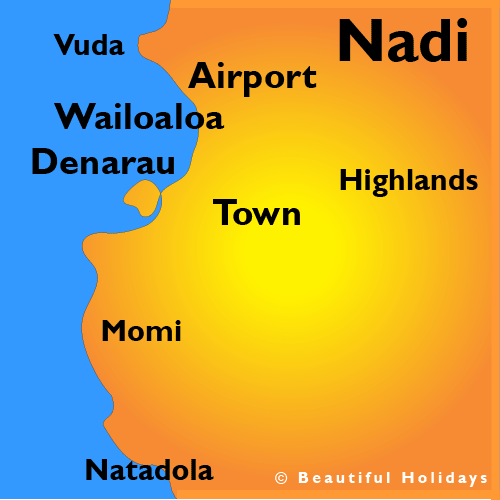 Nadi Map
Nadi Holidays Overview
There is no real centre to Nadi, instead it sprawls along a 10-km inland road between the airport and town with two popular beach suburbs: Wailoaloa, a quiet residential area where you'll find a handful of affordable beach accommodation; and Denarau Island, an upmarket lifestyle complex with large internationally branded hotels. Nadi has a population of around 30,000 and is surrounded by sugar cane fields with beautiful mountain scenery and villages in its highlands and the stunning offshore islands of the Mamanucas which can be visited on day cruises.
Nadi serves two purposes. For most tourists it is a place of transit before heading off to other islands in Fiji or for spending the last few hours of their holidays browsing the shops of Nadi Town before flying home. For others, it offers a convenient and very affordable holiday base for sightseeing both in the interior and on day cruises to visit the beautiful small coral islands which lie right off its coast.

If you're here for a beach holiday, there are three options upmarket Denarau Island is a lifestyle resort within a gated community offering shopping, restaurants, bars, marina and luxury residential homes. It's good if you have no intention of discovering Fiji, but rather here to relax and unwind. If you want something more Fijian, there are a couple of nice beach resorts at Vuda Point worth considering and from where you can explore the rural countryside and local villages, or head further south to beautiful Natadola Beach where there are two beach resorts.
Nadi Airport is where the holiday begins or ends. For those in transit not able to get to their island, there are a couple of hotels directly opposite the airport entrance with courtesy shuttle buses provided for pick-up and drop-off. The hotels around Martintar take 10 minutes to reach by taxi, or otherwise heads to Wailoaloa Beach just 15-minutes by road and offering a holiday ambience with beautiful ocean and sunset views.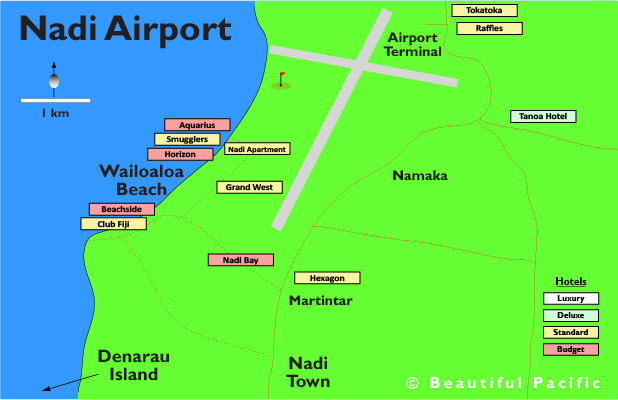 Nadi Holiday Guide
There is no single concentration of hotels in Nadi and deciding where to stay will be dictated mostly by your budget. For Transit, we recommend staying at a hotel in or around Nadi Airport which includes the roadside motels close to Nadi's restaurants and bars, or at Wailoaloa Beach in Nadi Bay which has some excellent value beach resorts and also popular with backpackers. For thoise looking to make Nadi their holiday destination, then the large resorts on Denerau Island are a good choice for familes; or couples on budget and wanting to sightsee should conside the small resorts at Wailoaloa Beach or Vuda
Nadi Bay & Wailoaloa Beach

Although Wailoaloa Beach doesn't have the picture postcard white sands and turquoise lagoons of the offshore islands, it does have stunning views and pleasant beach walks, cool ocean breezes and sunsets over the islands making it an attractive place to start or end your holiday, or as an affordable base for day cruises to the Mamanuca Islands and into the interior. It's also the most popular base in Nadi for backpackers and has a lively but relaxed beach ambience.
Club Fiji Resort, Nadi Bay
F$ 195 - 245


Club Fiji is located on a secluded section of Nadi Bay about fifteen minutes drive from the international airport. The resort offers duplex wooden bungalows along the beach front and has a great holiday style feel to it with a pleasant beachside restaurant and bar.
Smugglers Cove Resort, Wailoaloa Beach
F$ 155 - 225 per couple / $ 40 dorm

Smugglers Cove Beach Resort has affordable rooms overlooking lively Wailoaloa Beach and is popular with both backpackers and holidaymakers looking for an base to explore Nadi.
Aquarius Beach Resort, Nadi Bay
F$ 140 - 160


Aquarius is a converted beach house on Wailoaloa Beach offering a friendly and intimate place to stay beside Nadi's best beachfront location with just a handful of budget rooms.
Beachside Resort, Nadi Bay
F$ 120 - 140


Beachside Resort is a budget retreat for couples located in a rural setting a short walk to Wailoaloa Beach and about fifteen minutes by road from Nadi Airport and Nadi Town. The resort is set in tropical gardens with a swimming pool with clean simple rooms in a courtyard.
Nadi Beach Apartment, Wailoaloa Beach
F$ 110 - 180


Nadi Beach Apartment at Wailoaloa Beach has three rental apartments for long stay holidays and expatriate work placements.

Travellers Beach Resort fronts Wailoaloa Beach with a restaurant, small swimming pool and is a good choice for backpackers looking for cheap "no thrills" accommodation.
Beach Escape, Wailoaloa Beach
F$ 60 - 95


Beach Escape offers eight cottages set around a swimming pool a few hundred metres set back from the beachfront at Wailoaloa.
Nadi Airport
For convenience, staying overnight at a Nadi Airport hotels offer excellent value for money and the chance to recuperate from your travels before heading off to an outer island or to relax before heading back home - most hotels at Nadi Airport offer day rooms to make use of if you have an afternoon or evening flight.
There are several hotels opposite the airport entrance which make a convenient base for stopovers or for day rooms. The downside is that that's not much going on around the airport with the closest shops and restaurants being in Namaka, a five minute drive towards the town. If staying here you're a bit cut-off from the action.
Tanoa Hotel, Nadi Airport
F$ 205 - 240


Tanoa Hotel is spread across 15 acres of tropical gardens just five minutes from Nadi International Airport and has a swimming pool, beauty salon, massage, restaurant and lounge bar.
Raffles Gateway Hotel, Nadi Airport
F$ 205 - 340


Raffles Gateway Hotel is the ideal transit hotel located directly opposite the entrance to Nadi Airport and less than five minutes walk to the international and domestic terminals.
Novotel Hotel, Nadi Airport
F$ 195


Novotel Nadi is perched on a hilltop overlooking a 9-hole pitch and putt golf course five minutes from Nadi International Airport but in an otherwise inconvenient for getting around Nadi.
Tokatoka Resort, Nadi Airport
F$ 210 - 275


Tokatoka Resort is a convenient airport hotel with spacious grounds, a large swimming pool with water slide and just five minutes walk to the international airport.
Half way between Nadi Airport and Nadi Town is the lively suburb of Martintar. Here you'll find lots of good restaurants and bars, a large supermarket and several mid size hotels along the main road. There are plenty of public buses running between the airport and town making it easy to get around this area. Stay in Martintar if you're not fussed about the beach and would rather explore the surrounding countryside or enjoy Nadi's local nightlife.
Mercure Nadi, Martintar
F$ 195


Mercure Nadi is located in the busy suburb of Martintar alongside the main highway through Nadi. The hotel is walking distance to bars, cinema and local restaurants on the main Nadi road.
Grand West Villas, Martintar
F$ 180 - 195


Grand West Villas is located a pleasant garden setting on the road to Wailoaloa Beach in Nadi. Grand West is an affordable base for families.
Hexagon Hotel, Martintar
F$ 120 - 190


Hexagon Hotel is a centrally located roadside motel close to restaurants and bars making it a convenient budget base for those looking to enjoy the nightlife of Nadi.
Nadi Bay Resort, Martintar
F$ 95 - 205 per couple / $ 40 dorm


Nadi Bay Hotel is a lively backpacker hostel with two swimming pools, mini theatre and games room, and walking distance to Nadi's best bars and night-clubs.
Nadi Town
Nadi Town is the commercial centre and has lots of boutique shops selling flowery shirts and tacky handicrafts, several good restaurants and a bustling local produce market. It's a functional town although here the tourism touts are on the streets trying to befriend you to look inside their shop, sell their tours or tempt you with some wacky backy. There is a fine Indian temple at the southern end of town that is worth browsing around for a little peace and quiet. Getting around by taxi is easy and cheap. There is no accommodation in Nadi Town apart from two very basic and ageing backpacker hotels.
Other Accommodation around Nadi
See Also:

Denarau Island & Coastal Nadi
Sightseeing around Nadi

If you want to get out and see the countryside, head north of Nadi to Koroyanitu National Park with its hiking trails and waterfalls. The main loop trail starts from the local village of Abaca and heads either into the tropical rainforest to waterfalls, or along the grassy mountain ridges following the ancient paths that connect the villages of the interior. You can hire a guide from Abaca Village and walk cross-country for days. For those with less time, the three hour loop trail offers a great variety of scenery and four waterfalls.

The Nausori Highlands inland from Nadi makes an excellent day trip by hire car, climbing high into the interior. There are some stunning vistas along the dirt road, several walks and the ancient village of Bukuya which has some unique legends, sacred waterfalls and a village walking tour.

If you have just a few hours to spend, the Garden of the Sleeping Giant is a good place to take in landscaped and wild gardens with plenty of local orchids to spot along the way. Also in the region are the Sabeto Mud Pools where you can bath in bubbling mud pools warmed by volcanic streams and absorb its supposed health benefits.
Accommodation in Nadi Hills
If you enjoy shopping consider heading to Lautoka just 20-minutes drive north of Nadi Airport along a quite scenic drive past the foot of the Sabeto Mountains. Lautoka has a good variety of clothes shops, a great market and it's not a tourist town like Nadi so you wont get hassled.

Accommodation around Lautoka
Other South Pacific Islands