Independent review for Bibi's Hideaway on Taveuni Island in Fiji

Bibi's Hideaway Fiji is a family run plantation with 6 guesthouse style cottages on the gentle slopes of Taveuni's protected north west coast, five minutes from the airport. This spacious property has lovely ocean views and peaceful gardens which lead down to the main road across which is the picturesque Prince Charles beach with its white sand backed by tropical trees and good snorkelling.
Recommended For:
Singles & Couples
Diving Groups on a Budget
Exploring Taveuni
Quick Facts
7 Units
Outer Island - Across Road from Beach
Self Catering


Fiji Islands Map

Taveuni Map
Bibi's Hideaway Room Details & Rates
Room Category
(click for details & pix)
Sleeps
(c = child)
Hotel Public Rate
(for 2 people)
Standard Cottage
2
F$ 80
Top Cottage
2
F$ 95
Honeymoon Cottage
2
F$ 110
Family Cottage
4
F$ 130

NOTE: A 5% Hotel Turnover Tax is not included in the rates and is payable direct to Bibi's on arrival
Bibi's Hideaway Information & Facts
Hotel Location: Tropical Plantation, across road from Beach, North West Taveuni
Getting There: 1 hr 20 mins flight Nadi to Taveuni Airport+5 mins by road
Unique Qualities: Spacious grounds, family guesthouse, excellent value base
Ideal for: Couples, Families, Groups
Hotel Features: 6 Rooms
Dining: No restaurant at the hotel - 2 restaurants walking distance (20 mins)
Children Policy: All ages welcome
Local Attractions / Tours: Hiking, Bird Watching, Waterfalls, Scuba Diving, Island Tours
The Beach: Prince Charles Beach across road - Fine sand with lush tropical backdrop
The Ocean: Good for swimming - part sandy bottom
Snorkelling: Good - offshore from beach
Other Activities: Scuba Diving Centre & Game Fishing across road
Room Information
The Twin Cottage is a simple room with twin beds only and is suitable for single travellers with a shared bathroom.
The top cottage is located at the highest point of the plantation and has a double bed with studio style kitchenette and en-suite bathroom (cold water only).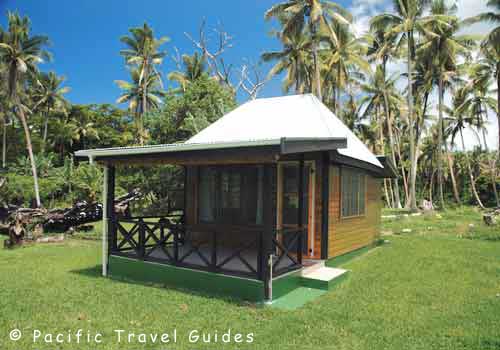 top cottage
interior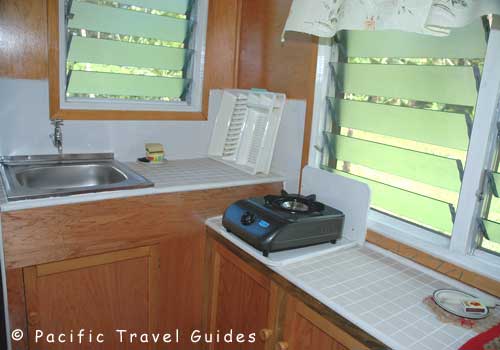 kitchenette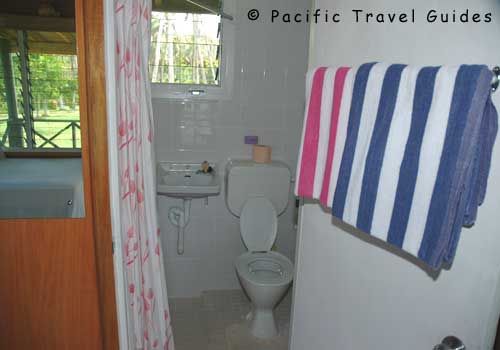 bathroom
The Honeymoon Cottage is slightly more spacious than the Top Cottage with a large veranda and is located on the lower slopes with ocean views through the coconut trees.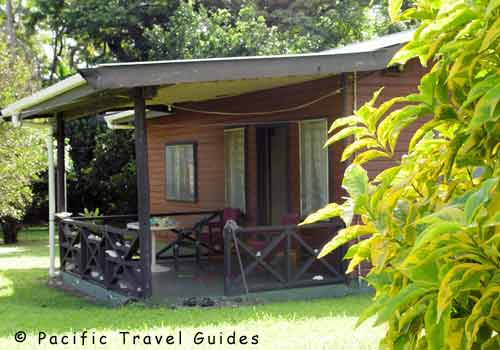 honeymoon cottage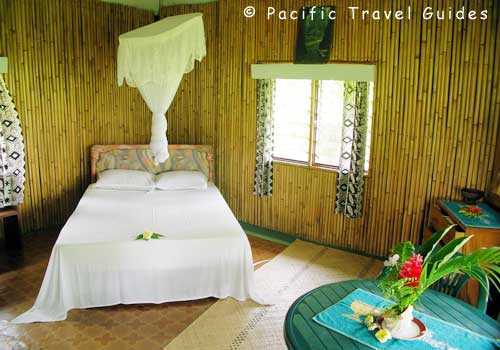 interior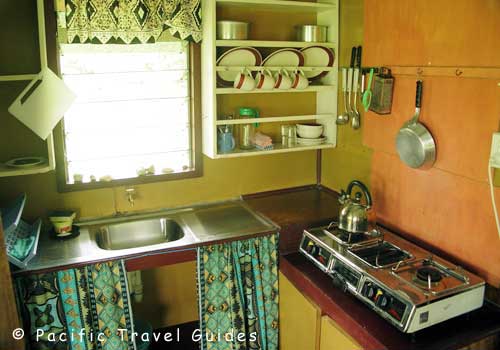 kitchen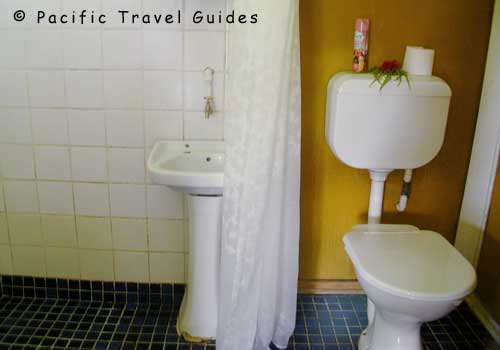 bathroom
The two family cottages are colonial style single storey wooden houses, each with two bedrooms, kitchen and lounge (all cold water showers only). All cottages have screen windows and mosquito nets over the beds.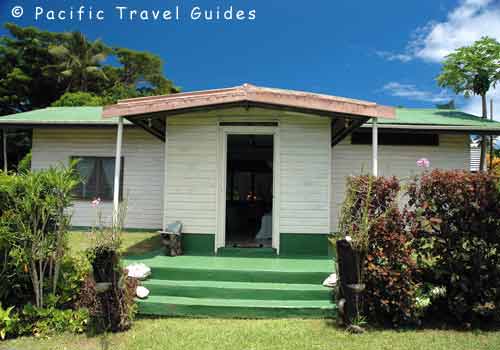 family cottage 1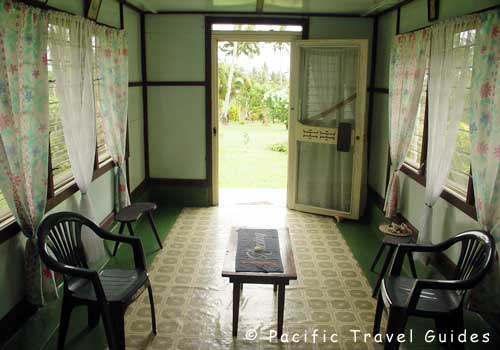 entrance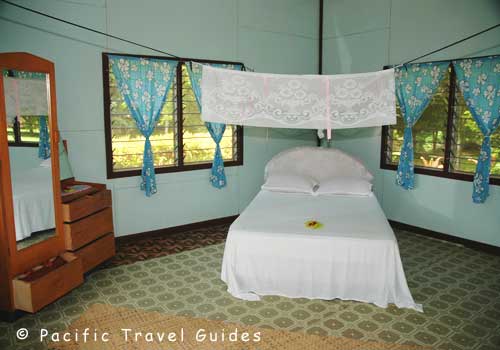 bedroom 1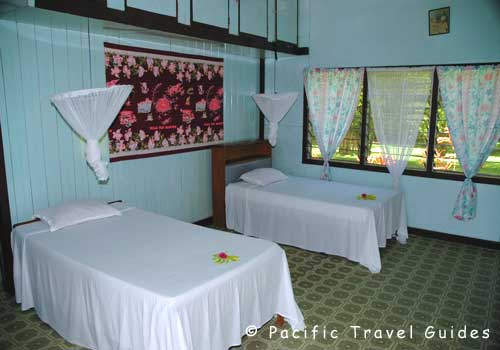 bedroom 2
Hotel Amenities
Bibi's offers a total of six cottages set around the hillside plantation, all with screen windows and mosquito nets over the beds.

There are several independent restaurants a 10-minute walk away in Matei settlement and at the point. Your local hosts can organise all tours around Taveuni from private 4WD van tours to snorkelling, bush walks and scuba diving to the Rainbow Reef which is just 20-minutes by boat.