Independent review for Lomalagi Resort on Vanua Levuin the Northern Fiji Islands

Lomalagi Resort is a romantic getaway located amongst 25 acres of tropical hills overlooking secluded Natewa Bay on Vanua Levu. Lomalagi has just six large and very private villas aimed at couples only, with either self-catering or private dining options. This is a therapeutic retreat with dreamy views, great dolphin spotting opportunities, peaceful forest walks and tracks and some good snorkelling in the bay.
Recommended For:
Romantic Couples & Adventurous Families
Nature Lovers - Off the Beaten Track
Scuba Diving or Snorkelling
Quick Facts
6 Villas
Small Island - Beachfront Location
Restaurant & Bar, Swimming Pool


Fiji Islands Map

Vanua Levu Map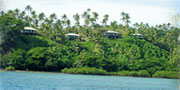 lagoon setting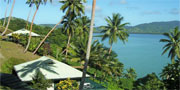 beach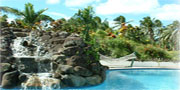 main area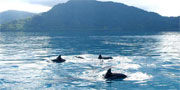 poolside view

<
Lomalagi Resort Room Details & Rates
Room Category
(click for details & pix)
Sleeps
(c = child)
Hotel Public Rate
(for 2 people)
Deluxe Hillside Villa
3a
US$ 210
Honeymoon Villa
3a
US$ 500
Lomalagi Resort Information & Facts
Hotel Location: Plantation setting across road from lagoon
Getting There: 1 hr flight Nadi to Savusavu Airport + 20 mins by road
Unique Qualities: Remote tropical setting with fantastic snorkelling
Ideal for: Couples, Scuba Divers and Nature Lovers
Hotel Features: 6 Villas, Salt-water Swimming Pools
Dining: Restaurants & Sunset Bar on site
Children Policy: Under 12yrs on request only
Local Attractions / Tours: Dolphin Watching, Hiking, Bird Watching, Waterfalls, Village Visits
The Beach: Oceanfront - located on hillside overlooking bay - narrow tidal beach
The Ocean: Good swimming with deep clear water
Snorkelling: Good offshore from coast
Other Activities: Kayaking, Game Fishing, Scuba Diving
Hotel Amenities
The resort atmosphere is very laid back with a central lounge area beside a salt water swimming pool where guests can come together and offering splendid views over the bay. All villas have full kitchens and there are three options for guests: to either prepare all meals themselves; to have all meals prepared and served in their private villa with dining on a huge private wooden veranda with splendid views: or to prepare their own breakfast and be served dinner.

The resort is set in 25 acres of private grounds with the main resort area set in informal plantation style gardens amongst the rolling hills and backed by lush tropical rainforest with walking trails and mountain bike tracks. On the water, guests can kayak to a secluded beach, snorkel off the coast, take a boat ride to spot a pod of playful spinner dolphins, game fish or scuba dive the local reefs within the deep water bay or across the isthmus in the open sea.