Finding your perfect Hotel in Aitutaki Island

Accommodation Overview
Aitutaki is the second most popular island to visit in the Cook Islands, a 40-minute flight north of Rarotonga with approximately ten flights per day. Aitutaki is extremely laid back with little commercial offerings except a few restaurants and day cruises in the lagoon. There are no large hotels on the island, the largest beach resort having just 37 rooms.
Most Aitutaki accommodation is located on the north-west coast of the main island, just north of Arutanga Village, the community hub of the island. This stretch of coast has the nicest beach on the main island and excellent snorkelling off the beach. There is another collection of bungalows at Ootu Point on the southern tip of the island facing the lagoon and from where most day cruises depart. Ootu has a much narrower strip of sand but has a beautiful outlook to the offshore islands and the meandering lagoon here is shallow and great for swimming and kayaking. Both areas are about a ten minute van ride from the local airstrip.
Although most people visit Aitutaki to explore its stunning lagoon, there are only a couple of places to stay on the fringing islands known as "motu". The majority of these motu remain blissfully uninhabited except for tourists visiting on day cruises, fishing enthusiasts trolling the shallow waters for bonefish and local land-owners coming every so often to tend garden plantations or gather coconuts.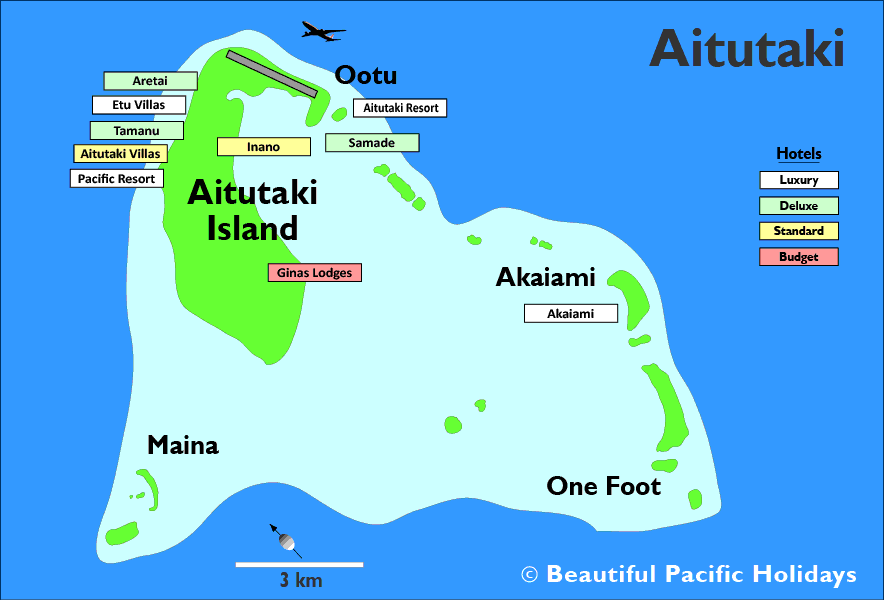 Accommodation in Aitutaki Island
The most popular style of accommodation on Aitutaki is the traditional styled bungalow with open plan living, high ceilings cooled by fan and some with thatch roofs. There's just three hotels on Aitutaki with over 20 rooms, all three being upmarket beach resorts aimed more at couples than families, although families are welcome at two of them. These three hotels offer the bungalow style of accommodation as opposed to cement block rooms. There's also a dozen small properties with between 10 to 20 beach bungalows or units although few of these have their own restaurants - Aitutaki Village being the exception with a lovely dining hut overlooking the lagoon and open to the public. The only accommodations on Aitutaki that has villas directly on a full-tide sandy palm-fringed beach is along the west coast of the island including Pacific Resort, Etu Moana and Aitutaki Beach Villas. Accommodations around Ootu point such as Ranganui's Retreat, Aitutaki Village and Tai Roto Bay are on a tidal beach only.
Holiday-makers visiting Aitutaki will find the main island small enough to explore in a day although you could easily spend a week cruising around the vast central lagoon with its fringing motu islands, snorkelling amongst giant clams, spotting nesting sea-birds and leaving perfect footprints in an otherwise untouched sandy beach. Or you can simply lie back in a hammock strung under the shade of two coconut trees and chill out for the day.
The three resorts on Aitutaki all have swimming pools, a restaurants sunset bar and tour desk to book lagoon cruises and usually have cars or mopeds for rent if you want to explore the island. Internet access is available through BlueSky and vouchers can be purchased in shops and hotel receptions but speeds can sometimes be as slow as the island pace of life! Moped hire or buggy rentals is a good option to explore the island and dine out at night.
Travel Information
There are five to eight daily flights to Aitutaki from Rarotonga, but no reliable passenger ferry. The large island is the only one with villages although there is no public bus around the island. Car and moped hire is readily available, there are a couple of independent restaurants, a shop and supermarket in the main village. Four tour companies offer day cruises around the lagoon or you can hire a private water taxi.
Hotels in other South Pacific Islands