South Pacific Travel Experts
Welcome to my personalised travel guide for the South Pacific. My name's Ian and I've been exploring and promoting independent holidays to the South Pacific Islands for over 30 years. I've written several travel books along the way including Rough Guide to Fiji (Penguin) and Eyewitness New Zealand (DK); and published two photographic books. More recently I've created a Beautiful Pacific YouTube Channel featuring some of my favourite island destinations for adventure travel enthusists. I hope you enjoy reading my free travel guide to the South Pacific Islands ...

.

South Pacific holidays are the stuff of dreams. Whether you're looking for a laid back beach holiday in the Cook Islands, a family retreat in the Fiji Islands, a more adventurous trip exploring the cultures and kastom villages of Vanuatu, or simply to marvel at the world famous coral reefs and wrecks in the Solomon Islands, you're at the right place to find all about the beautiful South Pacific Islands:
If this is your first time visiting the South Pacific islands and you need help selecting a destination, we suggest you start at our South Pacific Holiday Comparison Chart which gives a great overview of what each island has to offer compared to its neighbours. Or if you're more of a reader, then find out more from our detailed South Pacific Holidays Planner
Latest Video: Exploring the Solomon Islands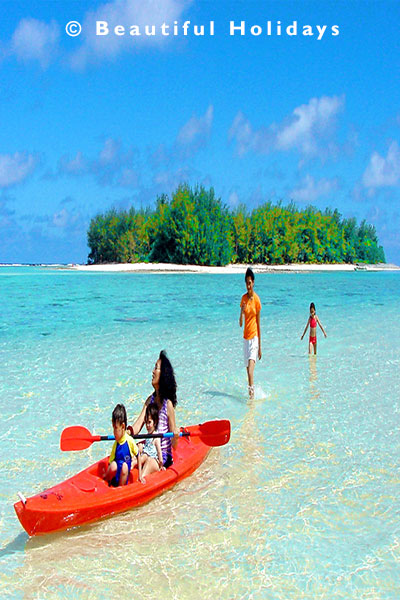 Cook Islands holidays epitomise the South Pacific Islands - small, charming, exceptionally laid back and of course offering fantastic beaches. Head to stunning Aitutaki lagoon or enjoy the fantastic restaurants and beach resorts on Rarotonga.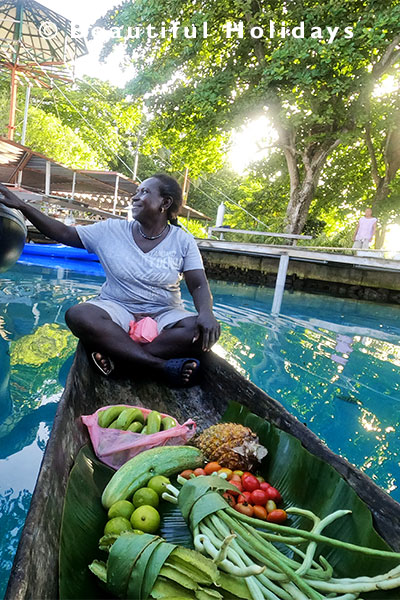 Off-the-beaten track travel with few tourists, incredible scuba diving, the most friendly people in the South Pacific and beautiful traditional villages. Experience a very different way of life.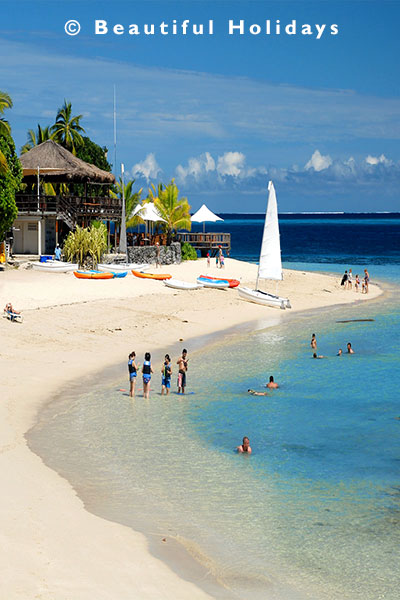 The most popular holiday destination in the South Pacific islands, there are loads of beach resorts in Fiji for both families and couples. The 300+ islands offer excellent scuba diving and snorkelling plus plenty of day tours and cruises to keep you busy.
When it's hot and humid in the South Pacific (Dec-Apr), it's nicely cool north of the equator in Hawaii. Despite the tackiness of Waikiki Beach and being Americanized, there's world class surfing, pristine golf courses, magnificent hiking trails and breathtaking scenery.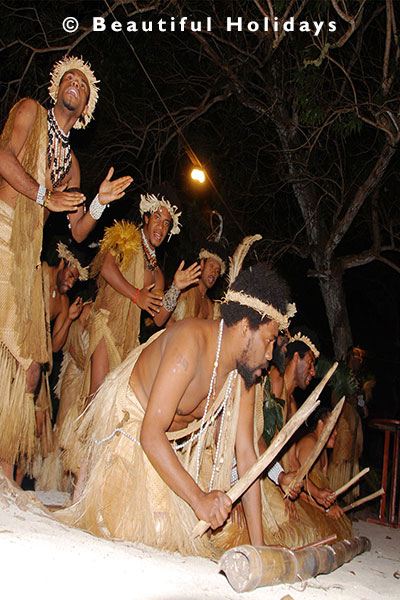 Boasting a fascinating culture, Vanuatu offers exciting adventure holidays with traditional villages to visit, active volcanoes to climb, dense rainforest for hiking and beautiful coral reefs for scuba diving including WWII wrecks. Port Vila resorts are popular too with families.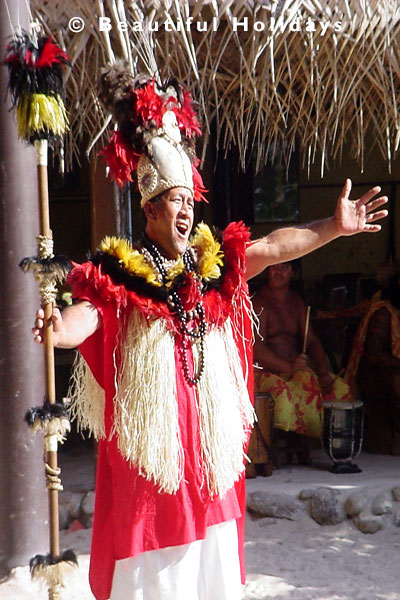 French Polynesia is vast and the majority of visitors arrive on honeymoon and stay in one of the many lavish over water bungalows on Bora Bora or Moorea islands. Enjoy striking tropical scenery and snorkelling / diving in the lagoons, but be prepared for inflated prices.
Popular with backpackers for its charming beach huts, Samoa has some interesting sightseeing with amazing waterfalls, lava fields and ancient star mounds. Apia is a lively seaside town but the locals are not always as hospitable as its Pacific neighbours.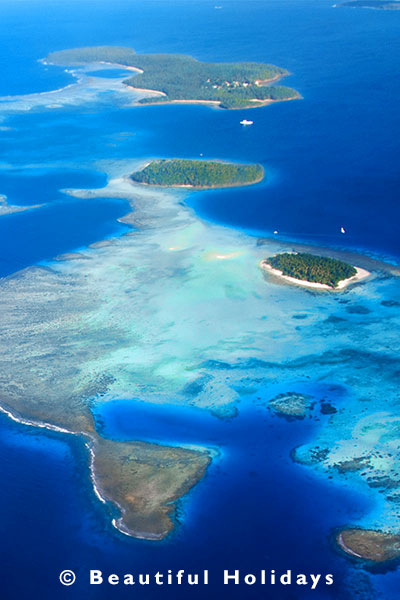 The tiny Kingdom of Tonga is a tourism backwater, shackled by Christendom, its King and Chinese politics. Despite this there are uninhabited tiny islands for travellers to explore and whale watching is outstanding.
From the affluent French colony of New Caledonia to the massive atolls of Kiribati and the utterly remote speck of Pitcairn Island ... the lesser known South Pacific Islands are a treasure trove for explorers.

Beautiful South Pacific Holidays
If you've ever watched Castaway or Mutiny on the Bounty and fancied swimming in that clear blue sea or sitting on that secluded beach, then you should look at our inspiring South Pacific Islands Overview to get an idea about what's unique about each island destination and from there you can start planning where to stay for your next holiday. Whilst cloud-less skies, uninhabited islands, swaying palm trees and friendly locals are all stereotypes, they are associated with the islands because that's what you get! Of course there's a lot more to do than just relax around the beach. Surprisingly, the islands offer a great variety of activities, not just snorkelling and scuba diving but world class surfing, whale watching, rainforest hikes and white water river rafting. If that's all too much to get your head around then head to our South Pacific Tours page to see exactly what each destination offers in the way of activities.
Within the vast expanse of the Pacific Ocean there are literally thousands of tiny coral islands circled by sublime turquoise lagoons teeming with reef fish and dressed in colourful corals. You can swim in these unpolluted warm lagoons so clear that you can see a full 30 metres to the sandy bottoms or simply unwind on its exquisite soft white sand beaches under the cool shade of the iconic coconut tree. It's certainly no overstatement by saying the South Pacific Islands offer the best beach holidays in the world not only for honeymoons or getting married, but for families too.
Rising majestically from these pristine lagoons are steep rugged islands with volcanic mountain ranges, dense tropical rainforest and mysterious traditional villages offering great scope for adventure holidays. The people living in these delightful islands are by no coincidence amongst the most peaceful people in the world living a stress-free, happy-go-lucky life - a true paradise.
Map of the Beautiful Pacific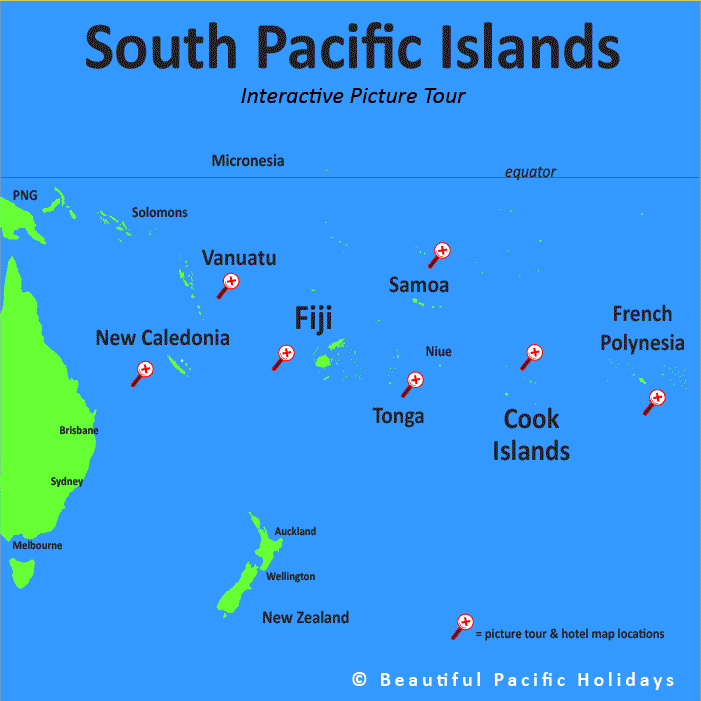 The Beautiful Pacific

"I just wanted to tell you that your website offers absolutely the best tourist information on the South Pacific. It blows all of the others away. I am so happy to have found it"

Shane & Matt, Australia
We hope you too enjoy reading all about this exotic destination to find out the best things to see and do. Hopefully we have inspired you enough to make a booking through one of our affiliated booking agents promoted on each of our detailed hotel information pages ...